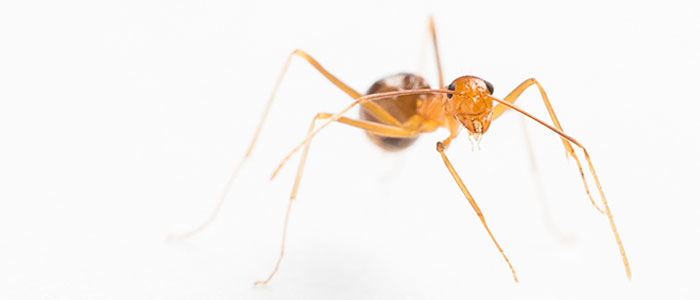 We have exciting news! The Queensland Government has locked in $9 million over the next three years for the fight to protect the Cairns region and Australia's Wet Tropics World Heritage Area from invasive yellow crazy ants.
The funding matches the $9.2 million set aside by the federal government in its 2019 budget, and together ensures the future of the Wet Tropics Management Authority's Yellow Crazy Ant Eradication Program at least until 2022.
The Invasive Species Council worked closely with Cairns community groups, business leaders, cane farmers and local politicians to help secure the funding.
On the list of 100 of the world's worst invasive species, yellow crazy ants have the potential to spread rapidly and devastate the unique fauna and flora of the Wet Tropics World Heritage Area.
Under threat is the oldest continuous surviving tropical rainforests on earth and the greatest biodiversity found anywhere in Australia. Rainforest Aboriginal people have managed these lands for the past 40,000 years.
Eighteen community, business and farming leaders signed an open letter to both the Queensland and federal governments calling for the funding commitments.
Paul Davis is managing director of Safeway Pest Control, a family-owned business that has worked in the Cairns region for more than two decades and whose clients include government, local councils and insterstate companies.
In the open letter he warned that he has never seen anything like yellow crazy ants in Far North Queensland.
"Eradicating yellow crazy ants from the region should not be considered an expense but an investment in the future of our region," he said.
"It is an investment to curb the economic burden that will otherwise come at the expense of landholders as well as costing the region billions of dollars in agricultural losses, diminished land values and lost tourism revenue."
Former Cairns mayor Jeff Pezzutti calls yellow crazy ants a silent, formidable enemy.
"I have seen the impacts of yellow crazy ants on sugar cane. Crazy ants cause diminished yields and financial losses to cane farmers.
"People outside the region have no idea of the damage they do. I am also concerned that yellow crazy ants destroy every living thing on the rainforest floor and along the creeks."
While we were seeking funding for the remaining ten-years of eradication program, this three-year commitment at the requested level is welcomed and will ensure that the work can go on. The Invasive Species Council will be supporting a new funding bid for 2022.
Thanks to the hundreds of supporters who wrote to the Queensland and federal governments. Now it's time to offer your congratulations.
Other yellow crazy ant news
Work continues on eradicating yellow crazy ants from Townsville. You can volunteer to assist the Invasive Species Council's efforts with Townsville City Council to eradicate ants from the Nome area. Townsville council is treating ants in several other locations in Townsville.
Last month, Biosecurity Queensland confirmed a new outbreak of yellow crazy ants at Shute Harbour in the Whitsunday region. Whitsunday Regional Council are currently confirming the extent of the infestation. More info >>
Two yellow crazy ant infestations at Lismore and Terrania Creek in NSW are being treated by NSW Department of Primary Industries. The ants were first detected in May 2018 and now extensive monitoring is continuing, including the use of an odour detection dog. Movement restrictions for vegetation and soil remain in place within a 5km radius of Lismore CBD. More info >>