Fire ants are on the march across Australia. The South East Queensland infestation is now just 5 kilometres from the NSW border, further south than ever before. It's another worrying sign that, without a major injection of funds, the fire ant eradication program could fail to protect the country from invasion.
Fire ants are known for their ability to spread long distances by rafting on water bodies and stowing away in freight. They can stow away in materials like soil, hay, mulch, manure, quarry products, turf and potted plants, which are often transported long distances.
So if we allow them to cross the Tweed River to the south, or get into the Murray-Darling Basin to the west, fire ants will quickly spread into the backyards, schools, farms, dog parks, playgrounds, BBQs, gardens and national parks loved by most Australians.
It doesn't matter if you live in Perth or Penrith, the Top End or Tasmania. Over 95% of Australia is vulnerable to fire ant infestation – they are a threat to your health, well-being, livelihood and local environments.
Here are eight things every Australian needs to know about fire ants.
They're one of the world's worst invasive species
Native to South America, red imported fire ants (a.k.a. fire ants), are a highly adaptive species that can survive in a range of climates and conditions. They can travel over and underground and fire ant queens can fly up to 5 kilometres (in rare cases up to 30 kilometres). During droughts they retreat underground and subsist only to remerge during flooding events to form rafts and spread throughout waterways and wetlands.
They were first found in Australia in 2001 and are believed to have entered through the Port of Brisbane. The fire ants in South East Queensland have spread to around 850,000 hectares so far.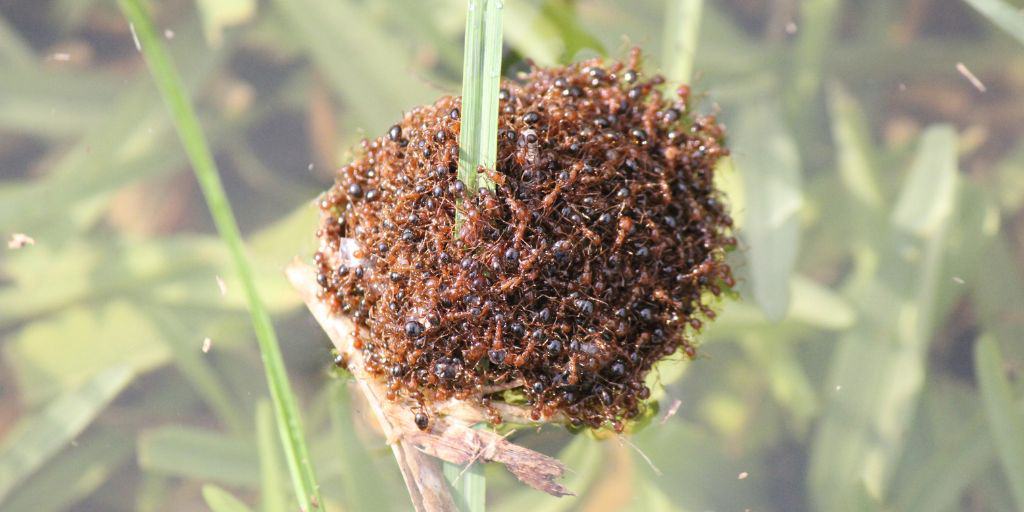 Fire ants binding together to survive a flood
They're dangerous to humans, pets, livestock and wildlife
Fire ants are predatory towards animals that nest, feed, or simply go near the ground, including insects, spiders, lizards, frogs, birds, sea turtles and mammals. An assessment of their likely impact on 123 animals in South East Queensland predicted population declines in about 45% of birds, 38% of mammals, 69% of reptiles and 95% of frogs. This would push some species to the brink of extinction.
Fire ants threaten our agricultural industry. They can kill livestock and attack the roots of agriculture and horticultural plants, killing them before they can grow. Farm outputs may drop by up to 40%, with many canegrowers and plant nurseries in South East Queensland already feeling significant impacts.
At home, it will be your dogs, cats, chickens and veggie gardens that are at risk as fire ants infiltrate the backyards and green spaces in your neighbourhood.
But it's not just animals and plants we need to be worried about. Fire ants are dangerous to people too.
In Queensland, sports fields and beaches are already being closed due to the dangerous, painful and venomous sting inflicted by fire ants. Modelling suggests that if fire ants spread across the continent, their stings could cause over 100,000 extra hospital visits and medical admissions in Australia every year. Over 85 people have already been killed by fire ants in the US.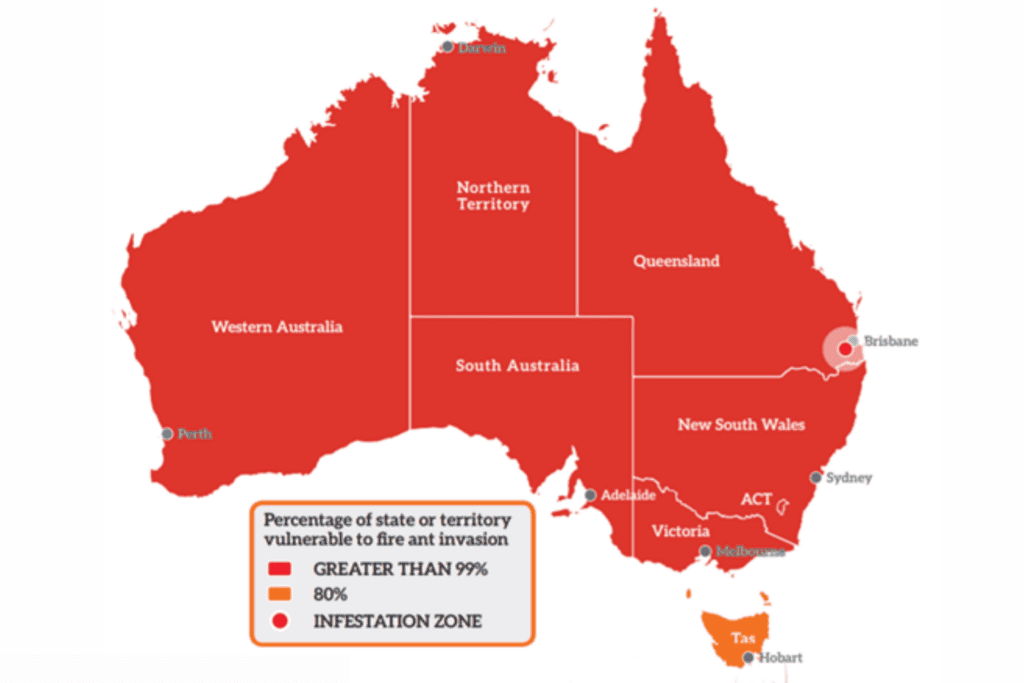 They can be tricky to identify
Fire ants are smaller than you think, often have concealed nests and look like a few other types of ants in Australia. If you need to identify them, please use great caution as they are aggressive and their stings can be lethal. To identify the nest, disturb it with a long stick and observe the ants that come out. Telltale fire ant signs include:
Info box: 'Insect Watch: Fire ants can be identified by a few distinguishing features'
Copper brown in colour with a darker abdomen.
Worker ants are quite small at 2–6 mm and they will swarm from the nest when it is disturbed.
The size of the worker ant varies within the one nest.
Fire ant nests usually have no obvious entry or exit holes, often appearing as domes of bare soil. Nests can also be under logs and garden materials or in hay and mulch but prefer direct sunlight.
More identification information – including fire ant behaviour and similar looking species – is available on our Insect Watch fire ants page.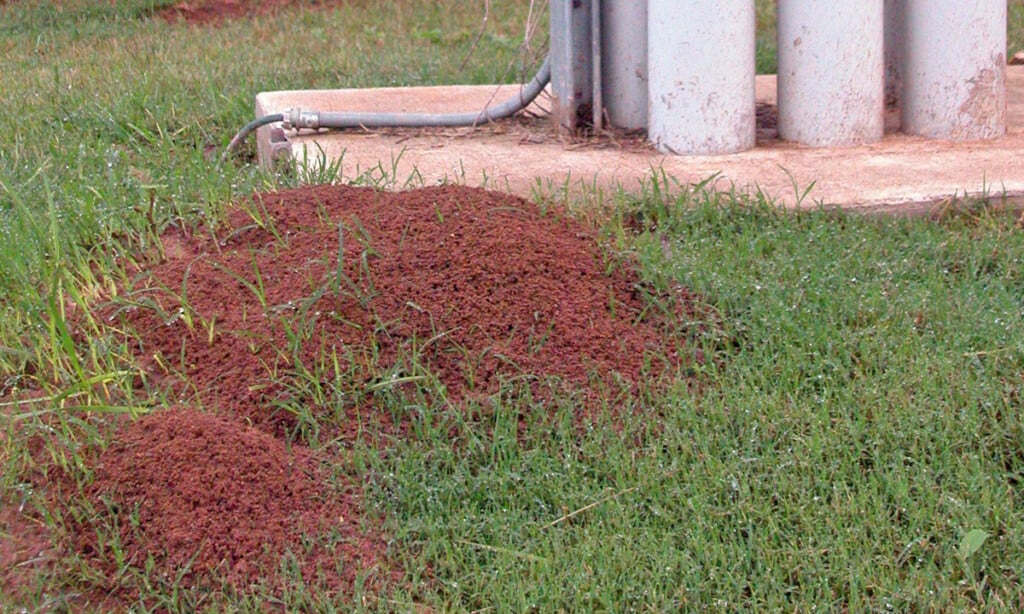 If you see them, you have to report them
Fire ants are a threat to all Australians, so everyone needs to do their part to keep our communities safe. In fact, if you think you've seen fire ants, according to biosecurity legislation you are required to report them. No collection of specimens is required.
Info Box: How to report fire ants – August 2023
If you think you've found fire ants or a fire ant nest anywhere in Australia, complete the online fire ant notification form or call Biosecurity Queensland on 13 25 23.
If possible, take and upload clear, close-up images of the ants and/or the nest if – while keeping your distance to stay safe
Need more information? You can find it here.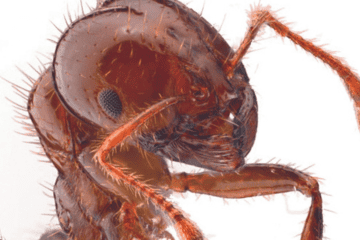 2023 was a crisis year for fire ants in Australia
Fire ants have an average spread of about 50-80 kilometres per year in China and the US. So far in Australia, fire ants have a much lower average annual spread of 5 kilometres per year.
This has largely thanks to ongoing eradication work since 2001 including the expanded 10 year program that we advocated for and secured in 2017. The program, run by the Queensland government, uses biosecurity zones and associated movement controls across parts of South East Queensland to suppress and contain fire ants. Without it, fire ants would most likely spread to most of Australia by now.
Experience and proven tactics have helped contain and suppress fire ants for years against a headwind of uncertain and limited resourcing. This year the under-resourcing was nearly catastrophic. Fire ants broke containment six times in six weeks in June and July this year. They were found within 5km of the NSW border, west of the Great Dividing Range near Toowoomba and further north threatening new environmentally sensitive areas.
130 fire ant nests were found on Minjerribah (North Stradbroke Island) threatening an offshore island habitat that was thought immune to fire ants. All of these incidents were a result of fire ants spreading in human freight.
These are signs that the fire ant containment dam is cracking. And we know why – we have underestimated fire ants for twenty years and underfunded our response to them.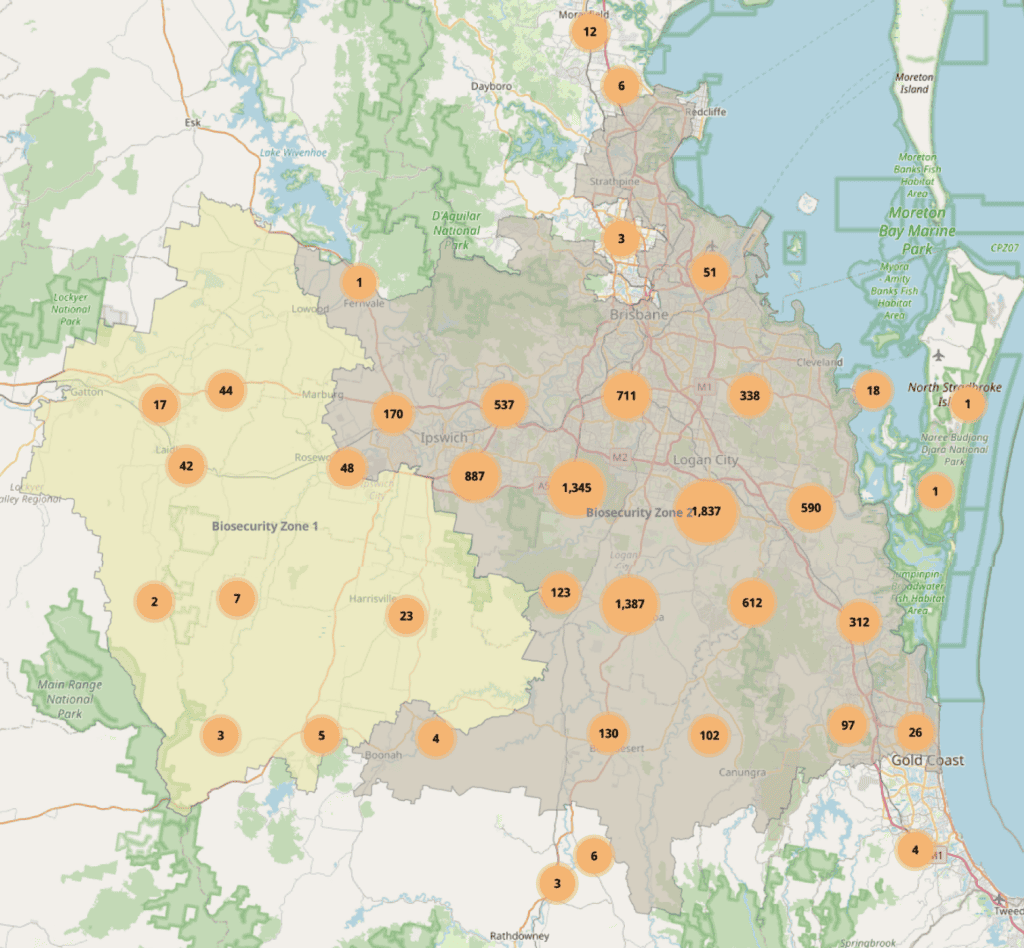 Brisbane Biosecurity Zones 1 and 2 showing the number of sites with fire ant infestations as of 10/11/2023. Note the infestations outside the biosecurity zones to the north and south.
6. Recent fire ant funding increases will not achieve full eradication.
Full eradication from Australia is the only way to stop fire ants from spreading across the country.
As a national problem the federal government, all states and territories say they are committed to fire ant eradication and a 10 year eradication plan has been developed which is our best shot at success.
This plan requires at least $593 million in the first four years, but so far only the Queensland, NSW and Commonwealth governments have committed their share of new eradication funding: $61 million, $95 million and $268 million respectively, of new eradication funding. This means that over $140 million is still desperately needed for the current response plan.
Victoria, South Australia, Western Australia, Tasmania, the ACT and Northern Territory governments are yet to commit their share. Send them a message here to step up and join the fire ant fight.
And while this new funding will buy us a reprieve and resource vital work turning the tide on fire ants, it is not enough to eradicate them. The most recent independent review found fire ant eradication would cost up to $300 million per year over 10 years – significantly more than the current level of commitment.
That might sound like a lot, but fire ants will cost Australia an estimated $2 billion dollars every single year if they aren't eradicated. And that doesn't include the huge environmental impact. We can't afford this fire ant future.
Fire ant eradication has been impaired by Australian, state and territory governments dragging their feet with continual funding delays. We cannot let this issue be put on the back burner or in the 'too hard basket'.
7. We've eradicated them before, we can do it again
The current outbreak isn't the only time Australia has fought fire ants. There have been 7 other fire ant incursions since 2001 through ports and airports in Brisbane, Gladstone, Fremantle and Sydney. All of those outbreaks were eradicated, with Fremantle declared fire ant free in October this year. Only South East Queensland remains.
That tells us eradication is possible. The southern Queensland infestation is the final fire ant stronghold on our continent. We have the people and the know-how to make fire ant eradication a reality, all we need now are the resources from our governments.
Stronger border protections will prevent fire ants from re-entering Australia from overseas while eradication activities are scaled-up.
8. We need your help
If you live in the current biosecurity zones set up by the National Fire Ant Eradication Program, make sure you do your bit to minimise further spread of fire ants by following the rules and advice for your local area.
Wherever else you live in Australia, keep a keen eye out for evidence of fire ants. If you suspect you have found them, use the information above to identify and report them.
And if you want to help us influence your local state or territory government to come to the funding table, you can use our simple online tool to send them a message now.
This isn't a problem that will disappear on its own. The longer we delay, the worse the impacts of fire ants will become. Please do whatever you can to save Australia from a future infested with fire ants.