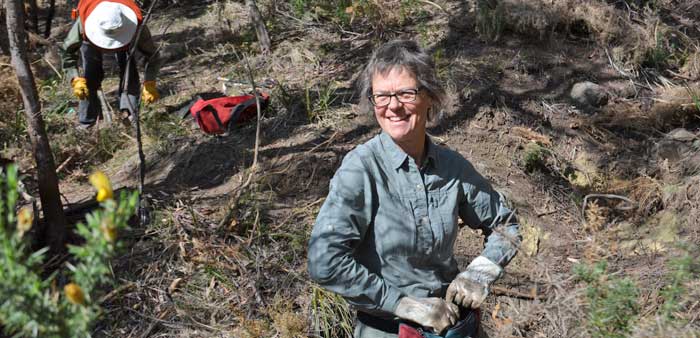 Biosecurity – protecting Australia from invasive species like weeds, diseases and feral animals – is one of the most demanding of national endeavours.
It has to regulate the activities of so many people in so many different domains – importing and transporting goods, travelling, farming, gardening, pet-keeping, managing land, even bushwalking.
Not surprisingly, 'the community' is often seen simply as the mass of people to be educated and compelled to comply with biosecurity laws. And from within biosecurity institutions, the perception of community is often an exasperated one – due to the careless or wilfully risky behaviours of many people.
We share that exasperation – we shake our heads at the use of pampas grass for wedding decorations and the disposal of unwanted aquarium fish in creeks.
Another dominant perception of the community is as a useful volunteer workforce – for weeding and controlling feral animals.
A few years ago, we surveyed community groups across the country to try and find out what their efforts are worth to the taxpayer. We came up with a figure of $600 million a year, undoubtedly a major underestimate.
However, we believe that the community – with its great wealth of expertise, skills and resources – could play a much larger role in biosecurity, including in areas traditionally not open to public involvement.
Notions of community
'Community' is an unwieldy concept. Referring to disaster responses, Olivia Patterson and colleagues (1)  discuss two contrasting notions of community, traced back to the political scientist Alexis de Tocqueville.
The first is of 'community' as an aggregation of individuals, with limited capacity to act effectively, who must be subject to administrative decisions that authorities impose on them. The contrast is of 'community' as an autonomous actor, with its own interests and capabilities, often motivated to act for the common good and not necessarily waiting for a higher authority to solve problems.
Of course, talking of community as a single entity is like grouping all invasive species as one threatening process. One of the daunting features of community is the variety of interests, often conflicting.
Community in biosecurity
Agricultural and other industry groups are far better defined than the community sector and easier to integrate into the biosecurity system. Their interests are usually clear-cut and aligned; their stake and roles obvious.
It is harder to define and integrate the community sector. It is largely self-organising and its interests are entwined with amorphous contested concepts such as the public good. There are legitimate questions about who should be given a voice to speak for the community.
For a long time, it has been mainly the first notion of community as an aggregate of individuals that has prevailed in biosecurity.
However, there is now increasing acceptance of the community as part of what we call the biosecurity collective. This has come about from an increased focus on partnerships and the environment, the insistence by community groups that they are stakeholders with as much legitimacy as industry groups and the recognition of benefits in involving community groups.
Some excellent recent examples of progress include:
Environmental biosecurity roundtables.
The appointment of a Chief Environmental Biosecurity Officer.
The establishment of a national environmental biosecurity advisory group.
A federal commitment to prepare yearly state of environmental biosecurity reports.
There are examples at a state level as well – for example, the process for collaboratively developing policies instituted by Biosecurity Queensland that includes community representatives.
These examples mark a great change from recent times when a few environment groups were occasionally invited to participate in government-run 'industry' working groups or 'forums.
Evolving perceptions
Nonetheless, the involvement of community groups within the biosecurity system is still patchy. It is often viewed as an exercise in stakeholder relations but not essential for effective biosecurity.
We want to see this perception evolve. Rather than an accommodation, involving community groups should be regarded as an opportunity to better tap into the energy, expertise, skills and resources of the community sector to contribute to biosecurity.
And by other sectors, it should be seen as an opportunity to strengthen biosecurity as a whole through collaboration.
Obviously, there are also competing interests, particularly over-funding allocations. Environmental biosecurity needs far more resources – as was recognised in the 2017 national biosecurity review – which is why it is important for biosecurity sectors to work together to expand the overall pool of resources rather than spread existing resources more thinly.
Community contributions to biosecurity
The Invasive Species Council is primarily an advocacy organisation. And we have often met with the perception (however false it is) that while the agricultural sector actually does biosecurity we mainly just talk about it.
About three years ago we decided to undertake practical biosecurity projects that would fill some of the gaps in environmental biosecurity, build our on-ground expertise and knowledge of the system, and help demonstrate the value of the community sector.
Prevention
As one example of a non-traditional contribution, the Invasive Species Council has been working with Monash University to identify high-priority potential insect invaders that could harm the natural environment.
We had long advocated the development of prevention priorities for environmental biosecurity – as has been done for agriculture – so, in 2016, lacking a commitment from government to do that work, we obtained philanthropic support to do it ourselves.
The Ian Potter Foundation recognised its importance and the Australian and Queensland governments provided additional funds.
Another example of a community group contributing to prevention was the successful campaign by WWF-Australia in the mid-2000s to tighten up the permitted imports list. This closure of major quarantine loopholes has prevented the entry into Australia of many new weeds.
Surveillance and monitoring
With 25 million sets of eyes, there is huge potential for the Australian community to undertake surveillance and monitoring.
The community already plays a large role in ad hoc surveillance. Members of the public have been responsible, for example, for most detections of red imported fire ants.
It also conducts organised surveillance and monitoring. Indigenous rangers, for example, play a vital role in surveillance, particularly in remote areas. Community groups are involved in monitoring invasive species – Kuranda Enviro Care and the Invasive Species Council, for example, monitor and treat yellow crazy ants in Queensland.
The Invasive Species Council has also surveyed a potentially dangerous new invader, the smooth newt, established in Melbourne in 2011. Recently we secured funding for further surveys using eDNA methods (in collaboration with Melbourne and Monash universities and Melbourne Water). We hope this community-led delimitation exercise will demonstrate a potential for eradication.
Online movement
One exciting new development in community action is the use of apps to engender community participation in surveillance. For example, QuestaGame is like a version of Pokémon Go for the natural world. Players are challenged to find particular plants and animals in the wild, including invasive species, to earn points and rewards.
It is now the major provider of data to Atlas of Living Australia. Players have already documented new pests, including the first sighting of European paper wasps in Victoria. There will be a QuestaGame challenge over the next year focused on invasive ants.
The citizen science movement also offers great potential. Volunteers could be drafted for example to undertake regular surveillance in high-risk areas. This can provide a meaningful reason for people to engage with nature. However, to realise this potential we need supporting structures and processes to make sure their efforts are not wasted.
Awareness building
One very important role for the community sector is building public awareness and support for biosecurity.
More-innovative approaches to engagement are needed, including through social media. One challenge for all of us is how to better frame biosecurity as a community effort. We need to generate more inspiration about what we're trying to achieve. This can be challenging when it is focused on killing animals and plants and preventing hypothetical threats.
Compliance
Another non-traditional area with potential for community contribution is compliance. In 2015, Invasive Species Council volunteers carried out work monitoring the sale of prohibited species via eBay and other online platforms.
We showed how easy it was to import by post the seeds of Mexican feather grass and Kochia scoparia, highly invasive weeds banned for sale in Australia.
Online trading is a rapidly growing high-risk pathway for new introductions, and monitoring it is an ideal task for community volunteers. We are currently seeking funds for a pilot project.
The community could also contribute to compliance if there were third party rights for enforcement in biosecurity laws, as there is for several environmental laws. Empowering the community in this way has resulted in improved enforcement and useful legal precedents for environmental law.
Policy analysis and advocacy
Fundamental to increasing the involvement of the community sector is a meaningful role in policy formation and the valuing of community advocacy.
Major government reforms rarely occur without strong community support. Facilitating community advocacy is very much in the interests of those committed to stronger biosecurity, inside and outside government.
One of the Invasive Species Council's core tasks is to strengthen the voice of the community sector. We need more community groups to recognise that biosecurity reform must be a top environmental priority. And we need to strengthen collaborations with other sectors.
Realising the potential
We have exemplified just a smattering of the ways in which the community already contributes to biosecurity, and how it could do so much more. To realise this potential will require stronger partnerships between community groups, biosecurity authorities and industry sectors.
As a starting point, it would be useful to audit existing community contributions to and resources for biosecurity, and then work out how to expand and diversify those contributions. The community could be supported to contribute more to biosecurity through the likes of joint projects, grants to fund community projects (as are offered by governments for environmental work) and innovation grants for new technologies to better harness community contributions.
Environment Health Australia
Ultimately, the Invasive Species Council wants to see the establishment of a body to foster community endeavours for biosecurity.
Environmental NGOs have long advocated the establishment of a national body – Environment Health Australia – to bring together major participants in environmental biosecurity, effectively involve the community sector, and facilitate cross-jurisdictional, cross-sectoral collaboration.
This body is proposed as the environmental equivalent of Animal Health Australia, Plant Health Australia and Wildlife Health Australia, which are excellent models for industry-government partnerships. A major reason that agricultural biosecurity is considerably more advanced than environmental biosecurity is the existence of these bodies.
A similar collaborative approach with similar levels of public resources, focused on environmental and community biosecurity priorities and with meaningful involvement of the community sector, would greatly strengthen Australia's overall biosecurity capacity.
The Invasive Species Council looks forward to a continued strengthening of collaboration with biosecurity agencies and other biosecurity stakeholders – including our esteemed partners for the biosecurity symposium, Animal Health Australia and the Centre for Invasive Species Solutions.
This talk was presented at the inaugural Australian Biosecurity Symposium (12–13 June) by Invasive Species Council CEO Andrew Cox and Policy Officer Carol Booth looking at the considerable benefits of enabling the community to play a greater role in biosecurity.
References
1. Patterson O, Weil F, Patel K. 2010. The role of community in disaster response: conceptual models. Population Research and Policy Review 29: 127–141