The Kosciuszko galaxias lives in Ngarigo country, in the clear cold waters of three small creeks in the far upper reaches of the Snowy River and a small glacial lake. Although slight (8cm long) and delicate-looking, these galaxias are rugged survivors, living below ice and snow for months each year when the creeks freeze over.
With all their habitat protected in a national park and a national heritage place, Kosciuszko galaxias should be safe. But the species' existence hangs by a thread. For just downstream are predators that would quickly eat every single one of them.
Invasive rainbow and brown trout are abundant almost everywhere in the upper Snowy catchment – deliberately introduced for recreational fishing. Trout have already eliminated Kosciuszko galaxias from most of their former range and the risk is high that they will breach the final barriers to the last galaxias refuges, by themselves or with human help.
These refugia are also at great risk from degradation by feral horses, an increasing intensity and frequency of fire, droughts and floods.
Unless something changes, the Kosciuszko galaxias could be doomed. Experts have given it a 65% probability of extinction by 2040.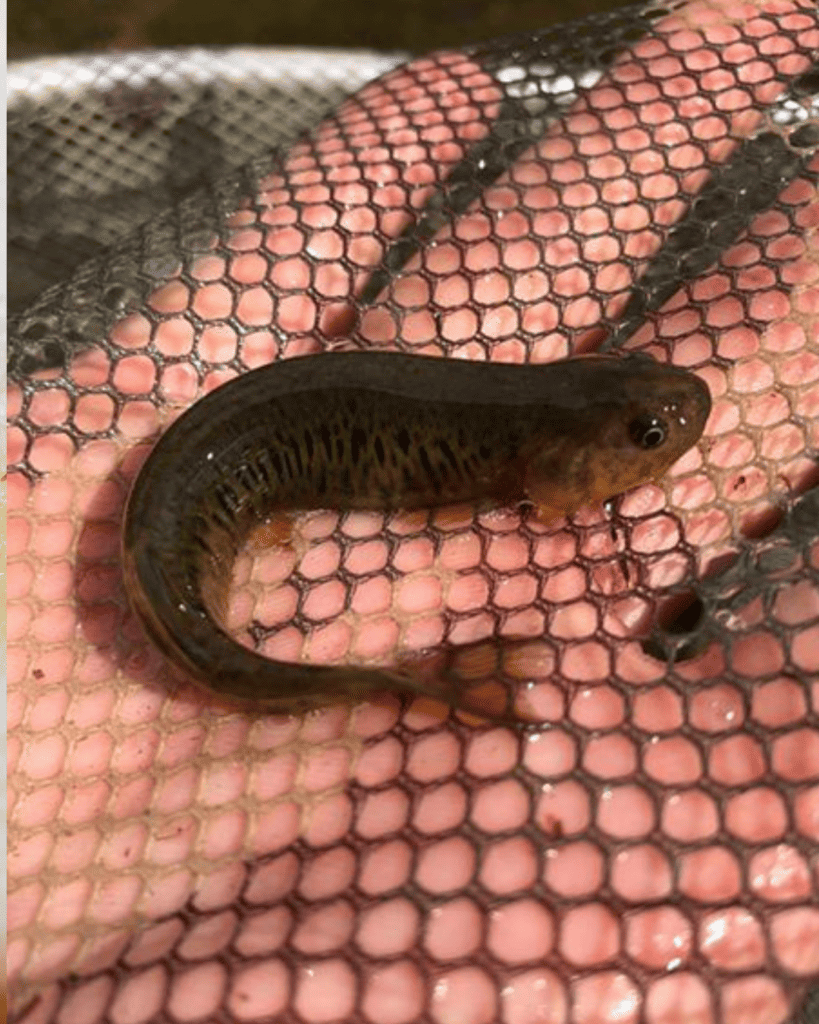 The Kosciuszko galaxias and 11 other galaxias have only recently been listed as threatened under our national environmental law (the EPBC Act).
These twelve species are in addition to eleven that were already on the brink of extinction and one, the Pedder Galazias that has already been lost forever. Of these 23 still hanging on, thirteen are listed as critically endangered, seven as endangered and three as vulnerabe.
Nine are listed as critically endangered, one as endangered. All are highly threatened by invasive trout and most of them are also under threat from adverse fire regimes and other manifestations of climate change. Some have the added weight impacts from invasive species like feral horses and pigs.
12 new galaxias species listed as threatened under the EBPC Act in 2023:
| | |
| --- | --- |
| East Gippsland galaxias (Galaxias aequipinnis) (Vic) | Critically endangered |
| Short-tail galaxias (Galaxias brevissimus) (NSW) | Critically endangered |
| Shaw galaxias (Galaxias gunaikurnai) (Vic) | Critically endangered |
| Tapered galaxias (Galaxias lanceolatus) (Vic) | Critically endangered |
| West Gippsland galaxia (Galaxias longifundus) (Vic) | Critically endangered |
| McDowall's Galaxias (Galaxias mcdowalli) (Vic) | Critically endangered |
| Dargo galaxias (Galaxias mungadhan) (Vic) | Critically endangered |
| Yalmy galaxias (Galaxias sp.nov. 'Yalmy') (Vic) | Critically endangered |
| Kosciuszko galaxias (Galaxias supremus) (NSW) | Critically endangered |
| Roundsnout galaxias (Galaxias terenasus) (NSW, Vic) | Endangered |
| Morwell galaxias (Galaxias sp. nov. 'Morwell') (Vic) | Critically Endangered |
| Hunter galaxias (Galaxias sp. nov. 'Hunter') (NSW) | Critically Endangered |
The Conservation Advice for each species can be downloaded here. Please note that this list above does not include the 11 galaxias that were previously listed under the EPBC act, bringing a total to 21.
What's a galaxias?
The galaxias are members of an old Gondwanan fish family (the Galaxiidae) that live in cool water ecosystems in the southern hemisphere. They have managed to survive for millions of years in the freshwater ecosystems of Australia.
But wherever introduced trout exist, galaxias almost always vanish. Brown trout have already eliminated one of our species called the Pedder galaxias from its original habitat. Other galaxias species may have been lost to trout before they could even be scientifically described.
At least 15 galaxias have been assessed to have a higher than 50% probability of extinction by 2040, due largely to trout.
The situation is so dire that several galaxias species now only persist in small streams above waterfalls that block the trout – for now.
Bushfires greatly exacerbate the threat. When ash and silt from fires clog up their streams, galaxias have nowhere to go except downstream into the mouths of trout.
To stop extinctions, which the federal government has promised to do, Australia has to tackle the threat of invasive fish. Trout and other exotic fish such as gambusia, redfin perch and carp have to be a very high priority for national threat abatement.
Invasive fish were nominated as a key threatening process in 2007 and recommended for listing by the Threatened Species Scientific Committee in 2011. The Environment Department's website describes it as 'one of the major conservation issues in inland aquatic environments'.
But in 2011, the Australian environment minister rejected the advice and decided not to officially list invasive fish as a threat. No reason was provided on the departmental website, but if the listing had been accepted and a subsequent threat abatement plan is prepared, our galaxias and other threatened native fish might not be in such dire straits.
Urgent reforms needed
Australia is facing an extinction crisis with invasive species being one of the major drivers of the decline of our native biodiversity. Scientific experts and the federal government's own independent review have found national environmental laws are fundamentally broken.
We must ensure the federal government keeps true to its commitment to zero extinctions by enacting stronger environmental laws and providing the funding needed to meaningfully tackle the major threats to nature.
If we get this right, Australia can not only stop extinctions but start recovering the diversity and abundance of native wildlife we have lost across the country.
Sadly, in recent news, twelve more species of native galaxias have been listed as nationally threatened.
These native freshwater fish species, collectively known as the mountain galaxias complex, are threatened by invasive fish, feral horses and climate change. It is crucial to recognise the urgent need for reform to combat invasive species and other threats to nature so we can stop the root causes of extinction.