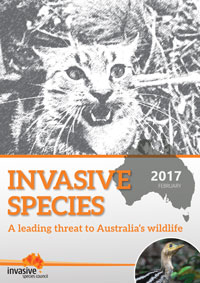 A new report written by acclaimed natural history writer Tim Low reveals that feral animals and diseases introduced into Australia pose a greater ongoing threat to many of the nation's most vulnerable native animals than habitat loss.
It reaffirms the importance of our work fighting for better protection of Australia's unique native plants and animals from dangerous new invaders, but we can't do it alone. Your gift today will help fund our work.
Please use the secure form below to make your credit card donation or select other payment options. Donations are tax-deductible for Australian taxpayers. Fields marked * must be completed.
Andrew Cox, Invasive Species Council CEO
Donate via credit card
This secure PCI-certified payment system is 

Donate by cheque, direct debit or credit card (post or email us)
Donate by filling in our pdf Donation Form that offers three payment options:
cheque
credit card (instead of filling out your details above)
direct debit (initiated by us)
Download the pdf form and fill it in, either by typing or writing. You can then either print and post the form or email the filled-in form directly to the email address on the form. Make cheques out to 'Invasive Species Council'. Our postal address is PO Box 166, Fairfield Vic 3078.
For direct debit payments from your bank account, we use a secure system provided by our bank to initiate the transfer from your bank account based on your instructions. This direct debit Service Agreement applies.
Donate by direct bank transfer
Donate directly via a bank transfer from your bank account. Notify us of the amount and your contact details so we can email you a receipt. Our Australian bank account to receive donations is:
Account:        Invasive Species Council Inc.
Bank:             Bendigo and Adelaide Bank Limited
BSB:               633000
Account No: 117645358
Reference:    [enter your name]
Contact us if you wish to make a transfer from an overseas bank account.
Donate by Paypal    
Donate securely using your Paypal account. Select the link below depending on the type of donation you wish to make:
Donate once-off (a single donation)