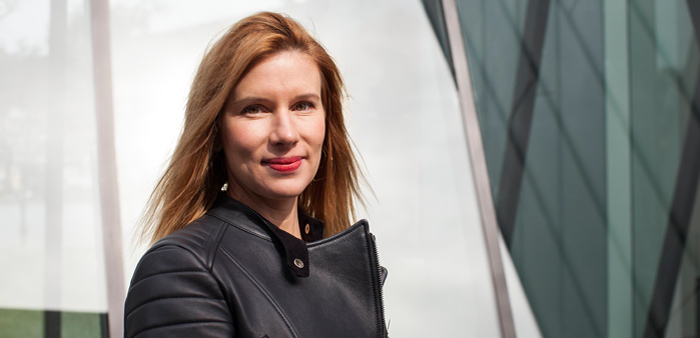 Turning an orange-toothed rodent the size of a giant feral cat into dinner seems a rather grotesque inspiration for a book about tackling invasive species by eating them, but that's where Kirsha Kaechele got her inspiration for Eat the Problem.
Back in the early 1990s a US celebrity chef called Paul Prudhomme tried to convince Americans they should put nutria on the menu in the hope it would become so popular it would be eaten out of existence by environmentally savvy foodies.
The giant swamp rat as cuisine experiment failed, but there does seem to be a market, if very tiny, for the animal's fur.
Kirsha says Eat the Problem is about 'turning shit into gold', transforming 'a flaw into a feature'. It is about seeing invasive species not just as a problem to be exterminated, but as a potential asset.
"The way we eat is taking a tremendous toll on the environment," she says in the book. "So if you can reframe an invasive species and suddenly see that you've struck gold – you've won the lottery – there's tons of these things, and no carbon-based energy has gone into creating them, no forest has been cleared, no fertilisers applied. It's free food and the faster you can eat it the better."
But is it really that simple? Of course not, and if it was it wouldn't be the focus of such a beautiful, intriguing and challenging book.
Foodies and foragers will delight in some of the recipes. A prickly pear margarita, lined with gold leaf, is stunningly photographed, as are all of the dishes. This is food porn at its finest.
However, even the most adventurous would probably baulk at fox tikka masala, sweet and sour cane toad legs or pussycat Tasmanian style, and who has room in the kitchen for an entire roasted camel?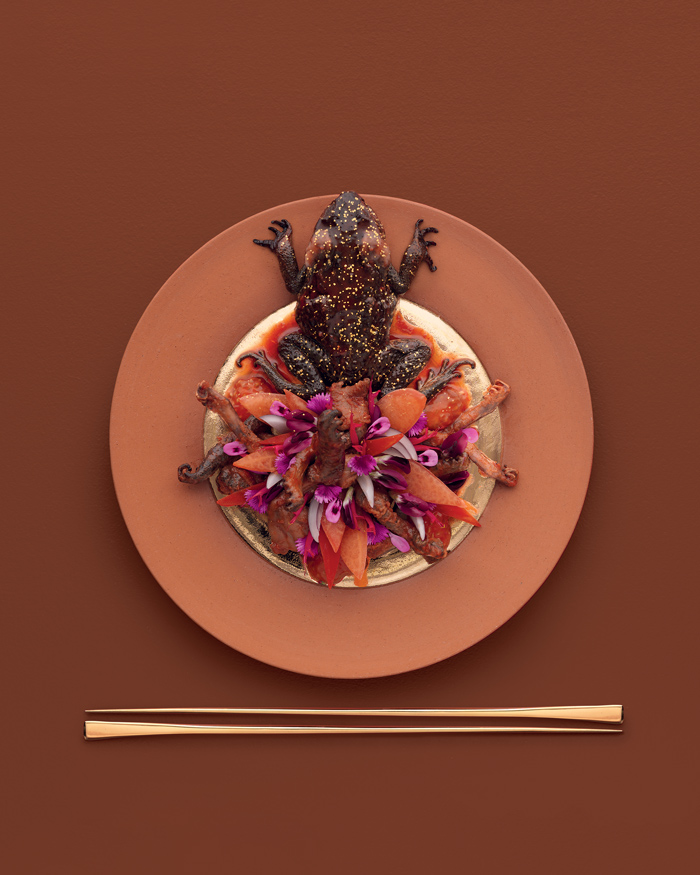 Deer, oh deer
How we deal with invasive species in Australia can be incredibly polarising, so it's refreshing to see a book that tackles this issue in such a visually and thought-provoking form.
One issue very close to Kirsha's heart is how we tackle the growing problem of deer. In her home state of Tasmania Kirsha is frustrated she cannot sell deer meat harvested from the property she shares with her partner David Walsh, owner and creator of MONA, to restaurants.
Feral deer are invading their coastal property and destroying the native vegetation. However, in Tasmania, deer are classified as a 'game species'. They can be shot by recreational hunters, who of course then use the meat, and they can be taken by landholders under crop protection permits, but the meat cannot be sold commercially.
Deer are a rapidly growing problem in Tasmania, they are spreading into the Tasmanian Wilderness World Heritage Area, causing increasing environmental degradation, and modelling suggests numbers could grow by 40 per cent in just ten years, exceeding one million by 2013.
There are mixed views on how deer should be dealt with. Should they continue to be protected as a game resource? Declared a pest species and dealt with appropriately? Or should Tasmania try to eat the problem by allowing recreational hunters and farmers to sell deer meat commercially?
Kirsha believes that allowing hunters and farmers to sell meat harvested from feral deer would keep the population from continuing to expand.
"Yes, killing them all and getting everyone to become a vegetarian would undoubtedly be better, but under the circumstances, this model is a far more sustainable and ethical way to source meat than cow or even farmed deer, and it would keep the deer population in check," she says.
Evidence from elsewhere suggests that, at best, hunters can supplement more effective methods of feral animal control or provide control in small, accessible areas.
In New Zealand, which has responded to the environmental problems caused by feral deer far more effectively than Australia, professional deer control is considered crucial to conservation.
Mostly due to commercial helicopter hunting, most deer populations have been reduced to 75-95% of the peak numbers seen in the mid 1900s.
The Tasmanian Government is about to conduct statewide aerial surveys and camera trapping to better understand the size of Tasmania's feral deer population as part of its response to an inquiry into the environmental impacts of deer on public and private land.
The Invasive Species Council wants deer in Tasmania declared a pest species and for the government to come up with a containment strategy that protects both the natural environment and agricultural properties.
As a solution to the destruction caused by feral deer commercialisation of the meat seems far more likely to increase demand and ultimately create an industry that would need an ongoing supply of wild deer as opposed to farm deer meat, rather than solve a growing problem.
Philosophical musings
As well as being well endowed with weed and feral animal food porn, Kirsha's book carries curious philosophical musings from an eclectic mix of writers, including Tim Low, a founder of the Invasive Species Council and author of the ground-breaking book Feral Future.
Tim writes eloquently about the idea of eating the problem.
"Logic might tell us that pest numbers fall when there is harvesting but in reality another principle prevails: those who benefit from pests sustain them as a resource."
Fly fishing is big business in Tasmania, people travel from around the world to fish its inland waterways for brown and rainbow trout, but these fish are not native to the island state, and their numbers are artificially maintained by regular stocking. Introduced trout and redfin perch are putting four of Tasmania's native fish at grave risk, including the swan galaxias.
"I have stood over rivers and streams, sometimes inside national parks, watching trout suspended in the water, looking upstream, eager to snatch anything alive that comes their way," Tim writes in the book.
"Tasmania's Inland Fisheries Service conducts the stocking. Its website has a page dedicated to the swan galaxias, admitting that because of trout and redfin perch it lives today 'only in small headwater streams'.
"How glad I would be if a trout dinner meant one less trout—but people who like trout dinners want more trout dinners."
Eat the Problem at MONA
As well as the book Kirsha has created an Eat the Problem performance exhibition space at Tasmania's MONA, which is also a feature of the museum's winter festival in Hobart Dark Mofo.
The space features the world's largest glockenspiel and engages visitors in various acts of transformation. It is the "culmination of Kirsha Kaechele's surrealist exploration of turning flaw into feature, using invasive species—including humans—in food and art".