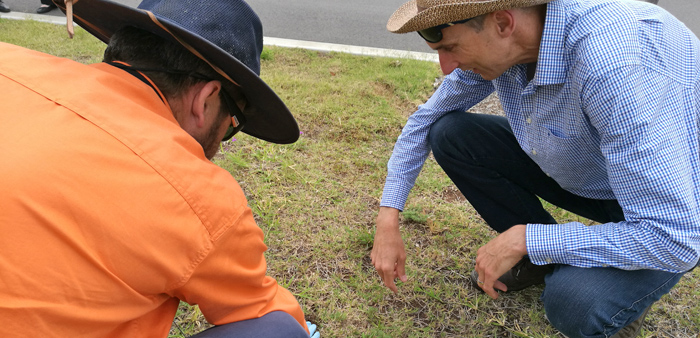 When I first laid eyes on a red fire ant mound in Brisbane's outer suburb of Ipswich late last year my heart sank. They were a familiar sight during my week-long visit to the United States just six months ago, and I had come to despise them.
Seeing first-hand Australia's very own fire ant nests – alive with the same aggressive, frightening, swarming fire ants – underscored the gravity of Australia's multi-million-dollar fight to rid itself of these ants.
Fire ants are winning the fight. Despite 15 years of effort, they are spreading and defying more than 100 eradication team members whose mission every day is to search and destroy fire ants.
In the brand-new housing estate at Ipswich, we found fire ant nests in newly laid turf, inside an NBN service box and hidden among the bark chips of a newly-planted tree. Tradesmen were putting the finishing touches to home interiors while fire ants were colonising the yards.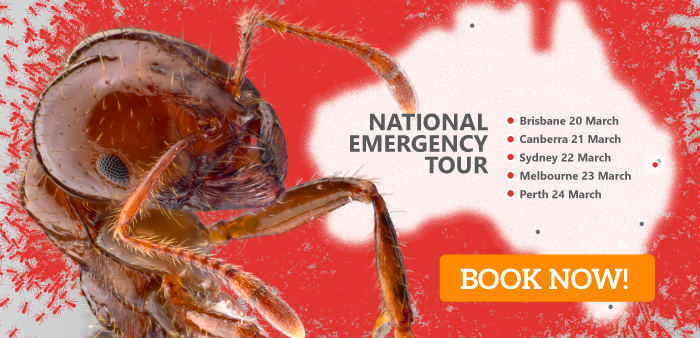 Fire Ants Down Under – a national emergency tour
In March we are visiting five capital cities across Australia with Texas fire ant expert Dr Robert Puckett.
The key task of our whirlwind tour is to warn as many Australians as possible of the dangers to our nation if we fail to eradicate Queensland's current fire ant infestations – they need to know we can't afford to let this genie out of the bottle.
Book your spot at one of our national fire ant forums in March. We have a serious message to deliver to Australia.
A painful legacy
The presence of fire ants in this new housing estate appears to be the legacy of a half-funded eradication program. Limited funds force difficult choices.
Sensibly, the focus over recent years has been on surveillance – confirming the greatest extent of fire ants. This came at the cost of less frequent baiting in known fire-ant infested areas. The recommended treatment is six bait applications over two years but because of tough funding choices many areas did not receive enough treatments.
Our tour of the southeast Queensland fire ant infestation zone was led by Biosecurity Queensland. First thing in the morning myself and our outreach officer, Reece Pianta, witnessed an army of field officers heading into treatment areas before the day became too hot. This level of effort is not cheap, and when you add the cost of aerial baiting and the extensive planning needed for this work you can quickly see how the yearly tally can reach $18 million.
We were taken to one of the research plots about half an hour's drive away. Among the grassy tussocks were scores of coloured markers signifying fire ant nests. Markers were visible everywhere we looked. This is one of the few places where fire ants weren't immediately treated and where nest densities approach those found in the southern United States – hundreds of nests to the hectare.
Few Queenslanders have experienced fire ants running rampant. To me this underscored the importance of warnings I heard from the people I met in Texas, South Carolina, Georgia and Alabama. Living with fire ants is hell and we should do everything humanely possible to get rid of them!
Fire ant action
We are leading the campaign to rid Australia of fire ants. To do that we need to ensure that in May, when Deputy Prime Minister Barnaby Joyce meets with state and territory agriculture ministers, the fire ant threat is taken seriously.
Now that an independent review of the fire ant eradication program has confirmed nothing short of a ten-year funding commitment of $38 million a year is needed to rid Australia of fire ants we must ensure agricultural ministers from every state and territory back it to the hilt.
We also need to build public awareness of this huge threat and plan to bring out a fire ant expert from the US in March 2017 to warn Australians of the nightmare that would take over our country if fire ants are not eradicated.
There are three things you can do to make this a reality:
1. Donate and support the fire ant tour >>
2. Sign the fire ant eradication petition >>
3. Sign-up for a fire ant event in your state >>
More info