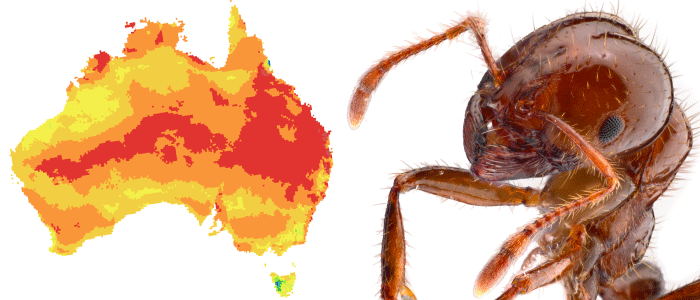 There is a silent invasion taking place in Australia that could fundamentally alter our way of life.
This isn't a tagline for a movie – people living in the southern United States have been tormented by these tiny invaders for decades. They are a real and present danger to the way we live our lives. The red imported fire ant, Solenopsis invicta, is in Australia.
Mainland invasion
Fire ants, natives of South America, are capable of infesting almost the entire Australian continent – making them a very real national problem.
Climate mapping shows they can live everywhere that humans live, work or farm.
The map below reveals just how much of Australia is vulnerable to fire ant invasion. Any area covered in yellow through to red (5-10) could be colonised by fire ants if they are not eradicated. As you can see every mainland capital city and major rural town is open to fire ant invasion.
We need to build public awareness of this huge threat and plan to bring out a fire ant expert from the US early next year to warn Australians of the nightmare that would take over our country if fire ants are not eradicated.
There are three things you can do to make this a reality:
1. Donate and support the fire ant tour >>
2. Sign the fire ant eradication petition >>
3. Sign-up for a fire ant event in your state >>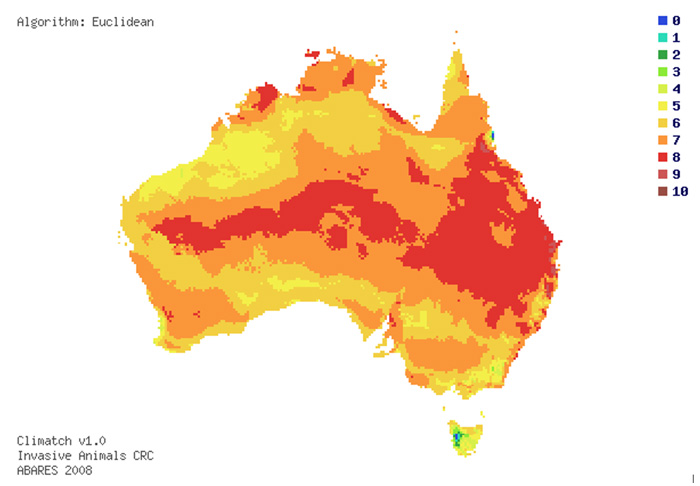 The problem
Fire ant venom is potent, particularly to sensitive human skin. Swarming their victims fire ant stings can lead to anaphylaxis, a serious allergic reaction that has resulted in the death of 85 people in the US alone. Venom victims develop pustules on their skin that can remain for several days. These ants are a serious environmental and public health issue.
Red fire ants attack wildlife and cattle, inflicting serious injury. They are deadly to young, weak and sick creatures. Their nests displace or eliminate lizards, frogs, birds and mammals.
Red fire ants are ruled by highly mobile queens that can fly high into the air to establish new nests up to two kilometres away. Once fire ants have breached a new territory their queens can rapidly expand the number of nests, creating dense populations and dominating the surrounding area.
Although fire ants primarily nest in open, outdoor spaces nests have been found beneath buildings, pathways and roads, damaging the integrity of surface structures. Once they have taken over an outdoor area, such as sporting fields or school grounds, recreational activities can come to a standstill.
In the US the impacts of fire ants have been costed at $7 billion a year. In Queensland, ground zero for Australia's fire ant infestation, the damage bill if we do not eradicate fire ants has been put at $45 billion over 30 years.
For such a small invader, fire ants have significant economic, health and environmental impacts.

The solution
So far their main route into Australia has been through major trading ports, first catching the attention of authorities in 2001 when they were identified in the Brisbane suburb of Wacol. It's thought they arrived via Brisbane port. Since then they have been found twice at Gladstone in Central Queensland, and once at Sydney's Port Botany just two years ago.
State and federal governments have spent more than $320 million trying to control and eradicate Australia's fire ant infestations. Eradication is close to complete at Gladstone and Port Botany. However, the large infestation between Brisbane and the NSW border remains a major headache for authorities, and may prove more difficult to control if it spreads deeper into the Brisbane hinterlands and into northern NSW.
The Queensland eradication program has suffered from insufficient and uncertain funding as well as arguments over how best to achieve eliminate the fire ant threat.
However, a recent review of the program concluded that eradication remains technically feasible and in the national interest. What is lacking is a commitment from all state and federal governments to fund the resources needed to get on with the job.
The decision
Early next year Australia's agricultural ministers will consider fully funding the eradication of red fire ants. Queensland cannot tackle this problem alone, but with the backing of state and federal governments a fully funded eradication program will eliminate the fire ant threat.
As always, prevention through strong biosecurity protections at our country's entry points is the quickest, cheapest way to stop dangerous new invasive species from entering Australia. Once they are here, as in the case of the fire ant, they must be dealt with quickly and with the full force of state and federal authorities.
Take action
Australia faces a national emergency if federal and state funding of the country's red fire ant eradication program is not fully funded.
Please join us in calling on federal and state governments around Australia to properly fund the red fire ant eradication program by signing our petition today!
[button link="https://www.change.org/p/barnaby-joyce-rid-australia-of-its-deadly-fire-ant-menace" size="large"]Sign the petition[/button]