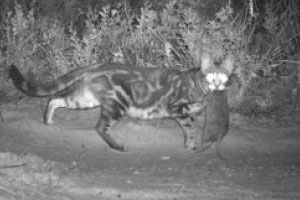 Solving the problem of feral cats in the Australian environment will require long-term, well-resourced steps. But with the right will, it can be done.
Conservation managers learnt a long time ago that feral animal control is not simply a matter of blasting away at individual animals, and this is especially the case for cats.
With the much-needed emerging focus on feral cats, we can be certain there will be lots of strong opinions and a proliferation of unrealistic 'silver bullet' solutions.
But as Professor John Woinarski explains, managing feral cats is a "formidable challenge" needing action on many fronts.
Feral cats have long been recognised as a threat — the first national threat abatement plan was published in 1999 — but like many invasive species threats, efforts have been hampered by short-term, inadequate funding, limited focus on environmental priorities, failures to implement plans, lack of coordination between governments and a desire for simplistic solutions. For feral cats, we have also been stymied by a lack of effective control methods.
As with most complex problems, success in addressing feral cats will require a long-term, well-resourced endeavour with sustained leadership.
Be ambitious but realistic: With the survival of many Australian mammal species hanging in the balance, it is heartening to hear our national environment minister, Greg Hunt, embracing feral cat management as a high priority.
But any effort has to be founded on biological (and socio-economic) realism. Minister Hunt's goal to eradicate "all of the significant populations of feral cats around Australia" through a 10-year plan is not realistic.
In the short-term it will be realistic to eradicate feral cats from some sanctuary islands and to better protect threatened species. Enduring solutions will require a much greater research effort, and much better management of interacting factors such as fire, dingoes and other invasive species (such as rabbits, rodents and foxes).
Implement a plan and involve the right people: We don't have to start from scratch. The 2008 national threat abatement plan for predation by cats can be dusted off and updated to serve as a basis for national action. Implementation should be overseen by a capable team from within and outside government with a mandate for action by state and federal environment ministers.
Match rhetoric with resources: Funding will be the key test of the government's resolve. Significant new, long-term resources are needed for research and control programs. This means reversing the downward funding trends of the last decade.
Prevent new or worse problems: We should act on the axiom that prevention is better than cure by making sure we don't add to cat problems by allowing continual replenishment of feral cat populations, introducing new genes (through new breeds) or allowing colonisation of new places. This requires, for example, stronger biosecurity on cat-free islands and control of stray cat populations in places such as garbage tips.
Consider legal options: Pest declaration under state laws has been proposed as one solution. But on its own, this would have limited effect because few control options are available to landowners, and most effort to protected threatened species is required in remote areas. But it makes a lot of sense to have nationally consistent laws to enforce responsible pet ownership.
Address social issues: Effective national action on feral cats needs strong public support to maintain political support and funding. There will inevitably be vocal opposition to options that cause animal suffering or affect domestic cats, so there must be a commitment to achieving humane, socially acceptable options.
We have already lost too much of what is precious about Australia to feral cats (and other invasive species). It is realistic to believe that we can stop further irrevocable losses. And it is a goal worthy of a bold national commitment.
This post was first published at ABC Online on Fri 17 Oct 2014 as part of a series of articles accompanying an ABC Radio RN Background Briefing story: Feral cats rewrite the Australian story, broadcast Sun 12 Oct 2014.