Ants, Bugs and Biters: Q&A Debate at Monash University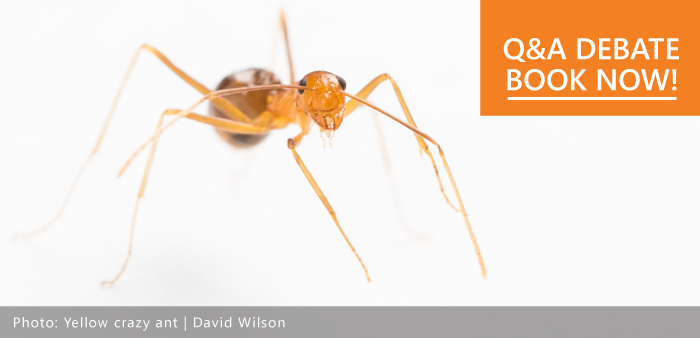 Invasive species are a leading threat to native plants and animals in Australia – invading insects are among the worst.
Brisbane is battling red fire ants, yellow crazy ants are attacking our Wet Tropics World Heritage Area. What's next?
Join our special Q&A event Ants, Bugs & Biters at Monash University's Clayton campus in Melbourne, Victoria on Tuesday 20 March 2018. There will be drinks and nibbles from 6pm before the debate starts up at 6.30pm.
You'll find us in Room G:03, Learning & Teaching Building (Bld 92), 19 Ancora Imparo Way. There is paid parking on site and the building is right next to the Wellington Rd bus interchange.  Download the Monash campus map for more detail.
Book now >>
Among the big questions we'll be tackling are:
Should we worry about invasive ants, bugs and other insects?
What are the next big threats?
Do the benefits of global trade outweigh the risks?
What can we do to keep Australia safe from dangerous new invaders?
Join leading experts on invasive insects as they tackle these difficult questions during an evening of provocation, entertainment and grappling with big questions.
Prof Helen Roy MBE, Centre for Ecology and Hydrology, United Kingdom
Dr Sabrina Kumschick, Centre for Invasion Biology, Stellenbosch University, South Africa
Dr Andrew Liebhold, Research Entomologist, US Department of Agriculture
Prof Melodie McGeoch, School of Biological Sciences, Monash University
Assoc Prof Treena Burgess, School of Veterinary and Life Sciences, Murdoch University
Moderator: Assoc Prof Andrew Robinson, Director, Centre of Excellence for Biosecurity Risk Analysis, Faculty of Science, University of Melbourne
Book now >>

More about this event
This event is brought to you by the Invasive Species Council and the McGeoch Research Group at the School of Biological Sciences, Monash University and generously supported by the Ian Potter Foundation.