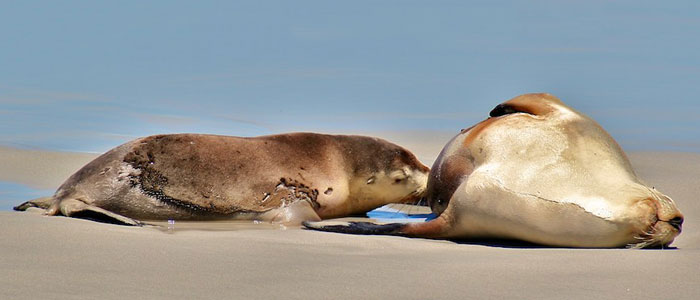 Kangaroo Island, often described as Australia's Galapagos Island, is rare for Australia in being free of many introduced species, including rabbits and foxes.
Now, after years of hard work, there is a realistic possibility that feral deer could soon be a thing of the past on Australia's third largest island. A highly successful part of this initiative was 'dob in a deer', which encouraged members of the public to report any deer they spotted on the island.
A recent invader
Feral deer are a recent arrival on Kangaroo Island, entering the wild after about 300 animals escaped from a deer farm in 1999. The escape rallied the island's cattle stud industry, which feared the potential of deer to carry strains of Johne's disease, which can kill livestock. There were also fears the feral deer would damage native vegetation, commercial agricultural crops, cause hazards on the islands roads and destroy gardens.
Ground shooting
Deer control was predominantly by ground shooting conducted by Kangaroo Island Natural Resources Management Board staff with help from some local hunters. Deer were targeted during all seasons but with a more intensive focus during autumn, when the bucks tend to roam widely and leave 'evidence' of their presence by rubbing their velvets against trees in an attempt to establish and defend small territories.
What worked:
The small and relatively localised deer population on Kangaroo Island made the eradication program feasible and possible.
Good planning in association with the community early in the piece provided the framework to plan and implement actions in a well thought out orderly way.
Sightings of feral deer were very well reported by the community throughout the program.
Multiple methods of monitoring population change have provided confidence in the detected trends.
What didn't work:
Use of tracking dogs was initially tried but dogs ended up dispersing deer.
Lures including deer feeders filled with cracked corn were initially attempted to draw out those deer that were hiding out in the scrub. This was not successful here but has worked in other areas.
Other pests
Deer are not the only feral animals in the spotlight. They are part of a much larger eradication project called Repel the Invaders. Originally launched in 2006 and funded by the Australian government, it aims to eradicate other feral pests as well, including goats, pigs, peacocks, ferrets and cats.
The program is close to eradicating feral goats from the island. Pet ferrets have escaped but at present there are no established populations. Feral cats are in its sights, with a plan to eradicate them from the island and to phase out all domestic cats by 2030. Two million dollars is being sought to undertake the feral cat eradication initiative.
More info