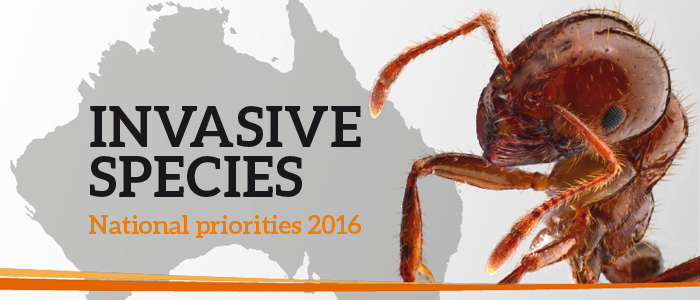 There is no better time to think about Australia's national priorities when it comes to how we deal with dangerous new invasive weeds, pests and diseases than during a federal election year.
That's why we've assembled a list of the top federal issues that, if acted upon, will make a difference to the growing invasive species threat in Australia.
Imagine if we could go back in time and stop the introduction of rabbits into Australia. How much damage could have been prevented? How many native animals would be in better shape? And how much money would have been saved by governments and private landowners?
Think also of carp, cane toads, prickly pears, fire-encouraging gamba grass and the willows that choke our waterways, think about the damage that could have been prevented to productive and wild lands if these species had been kept out of Australia.
Learn from the past, shape the future
Despite the lessons of the past, we have not heeded the message, and new destructive pests are arriving every year – myrtle rust, Asian honeybees, red imported fire ants, yellow crazy ants and smooth newts are some recent examples. At least 48 new potentially harmful species have been detected and established in the wild since 2000 because of biosecurity failures.
A 2015 Senate inquiry found incursions of harmful invasive species are 'a regular occurrence', while the Hawke review of the EPBC Act found that most states and territories are failing to prevent the deliberate movement of thousands of exotic plant species including many known weeds.
Turning this around will require a strategic and coordinated approach, underpinned by knowledge gained through innovative science and greater community involvement. Australia needs to give a much higher national priority to stopping invasive species arriving and quickly moving to eradicate any that do.
2016 national priorities
We have identified seven key areas where refocusing existing funding and targeting additional investment can deliver better outcomes, including large long-term cost savings, stemming biodiversity losses and enhancing agricultural productivity.
Here are our seven national priorities as a glance:
Implement findings of the 2015 Senate inquiry into environmental biosecurity.
Be better prepared through improved institutional arrangements for new environmental biosecurity risks, creating Environment Health Australia.
Invest invasive species research to underpin more efficient future management.
Know what we are aiming for as part of the national biodiversity strategy, set a strong invasive species target with a funded plan.
Reduce the spread of weeds into new areas by regulating the movement of pest plants between states and territories.
Put biosecurity above novelty pets, reducing risks to the environment from exotic pets.
Protect off-shore islands by stopping new pests reaching them and eradicating existing pests on priority islands.
Good biosecurity is not cheap, but it is much cheaper than the consequences.
More info
Download our full 12-page report.
See how the parties measured up.