Here's news about the policies you won't find on any party website. The results from our invasive species pre-election survey are now in.
The 2016 federal election is proving to be more interesting than the 2013 election when it comes to invasive species. Last year's Senate inquiry on the subject has clearly helped.
Invasive species are one of the greatest threats facing Australia's natural environment, and we believe they should be high on the political agenda, especially during an election.
The Greens are the standout party, with an 'excellent' rating for their commitments to stop new invasive species. Labor has improved significantly from 'poor' to 'fair'. The Coalition has slipped from 'weak' to 'poor'.
We are pleased the Greens and Labor have both backed implementing the Senate environmental biosecurity inquiry recommendations. While the inquiry report received unanimous support from senators from all parties, the Coalition government did not formally respond to it during the last term of government.
More than 12 months has passed since the release of the report.
[toggle title_open="See less" title_closed="See our full scorecard >>" hide="yes" border="yes" style="default" excerpt_length="0″ read_more_text="Read More" read_less_text="Read Less" include_excerpt_html="no"]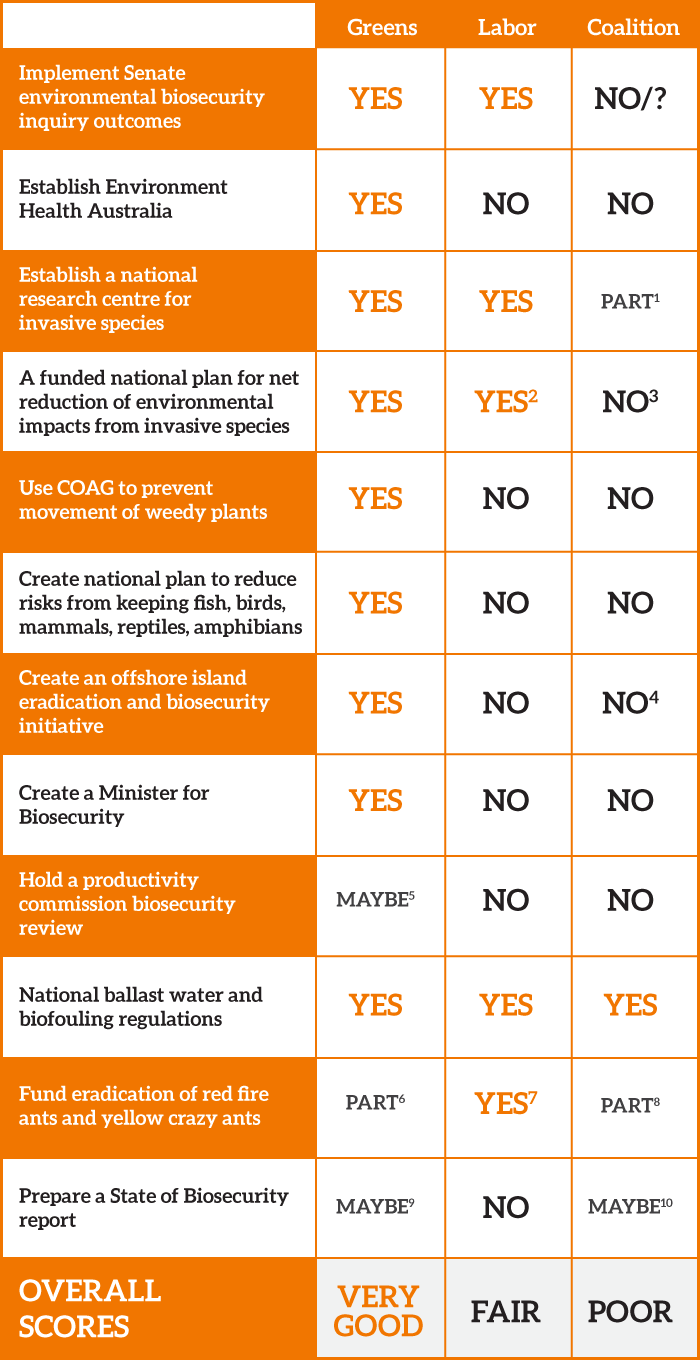 KEY
YES = Promised to implement initiative in full. Refer to individual responses.
NO = No.
NO/? Unknown
NOTES
The Coalition proposal for $20 million over 5 years for Invasive Species Solutions research centre will only address invasive animals.
While Labor answered yes to this question in their response to our survey, there is no funding commitment or detailed policy to support it.
Coalition action to reduce the impact of feral cats is taking place as part of the 2015 Threatened Species Strategy.
The Coalition promised to eradicate feral cats from five islands, with $500,000 each for Bruny and Kangaroo islands.
The Greens' response is conditional on biosecurity reforms not being successful after five years
The Greens promised $17.5M for yellow crazy ant eradication from Cairns and Kuranda. There is no information about their position on other yellow crazy ant infestations or red imported fire ants.
Labor answered yes to this question in their response to our survey but so far have only publicly promised $7.5M of the $11M shortfall of funds for yellow crazy ants from Cairns and Kuranda.
The Coalition promised $7.5M of the $11M shortfall of funds for yellow crazy ants from Cairns and Kuranda. There is no information available about the Coalition position on red imported fire ants. Opposed to funding eradication of other infestations of yellow crazy ants.
The Greens' response is conditional on biosecurity reforms not being successful after five years.
Under a Coalition government, the Department of Agriculture and Water Resources confirmed in 2015 that a national State of Biosecurity report will be prepared but there has been no public statement about this. Preliminary work commenced in 2016.
[/toggle]
Greens mean business
The Greens have backed 9 and a half of our 12 proposals, with two receiving qualified endorsement as being necessary only if their broader reforms fail to make a difference after five years. The response to the invasive ants question is partly met with $17.5 million for yellow crazy ant eradication.
The Greens have gone further than the 12 priority issues in our survey. They support an independent biosecurity authority and expert commission as recommended in the 2008 Beale independent biosecurity review. This is something we have long advocated.
In a sign of the maturity of their invasive species policies, the Greens' promises referred to in our survey have been costed by the Parliamentary Budget Office. The Greens say their biosecurity policy will be released in the coming days.
Good score for Labor
Labor has strengthened its response to environmental biosecurity, no doubt promoted by their leadership of the 2014-15 Senate inquiry. Their support for all of the inquiry recommendations is important because they will address many of the structural failings that currently lead to weak environmental biosecurity.
Labor's standout policy is their proposal to establish an Australian Institute for Biosecurity. This will give a permanent home for biosecurity research to replace the soon to be abolished Invasive Animals Cooperative Research Centre (CRC) and resurrect the long-ago abolished Weeds CRC.
The institute has a starting yearly budget of $25 million and will cover weeds, pathogens, animals and aquatic and marine pests.
We are pleased to see Labor's support for a plan to reduce the net environmental impact of invasive species, but without policy details and costings it is difficult to see how this can be achieved, especially since Labor's survey response appears to rely on the Institute for Biosecurity to deliver this.
Labor's backing for the eradication of red imported fire ants and yellow crazy ants from Australia is encouraging, yet so far they have promised only $7.5 million for yellow crazy ant eradication from the Cairns area, $4.5 million short of the needed funds.
Coalition steps backwards
The Liberal and National coalition did not answer our survey. The Liberals simply referred to their online policy platform, which at our deadline said very little about biosecurity and invasive species, while the Nationals didn't respond before our extended deadline despite initially confirming they could meet our deadline. The National Party released their agriculture policy hours before our publishing deadline and has been checked. (Update: A Coalition response was provided on 28 Jun 2016)
The Coalition's marine pests plan and their agricultural policy address only two of our survey priorities. The marine plan includes action on ballast water and biofouling and initial steps for implementation were underway prior to the election being called. The agriculture policy includes a proposal for a $5 million per year Invasive Animals Solutions centre, extending the life of the Invasive Animals Cooperative Research Centre, but failing to address research in weeds, insect pests, pathogens and marine and aquatic pests.
The Coalition have gone backwards in our scoring from the last election, when they promised to set up our proposed Environment Health Australia. Once in government they backed down on this promise. They also severely cut public interest research funding.
A positive step not scored is the 2015 Agriculture Competitiveness White Paper that offers $300 million for biosecurity and pest management initiatives. It remains to be seen how much will be spent on environmental priorities. In May, $1.3 million of these funds were promised for invasive ants in Queensland. Separately, there has been strong action on reducing the threat from feral cats and a promise of $7.5 million for yellow crazy ant eradication from the Cairns area.
In 2015 the Coalition was considering making an 'environmental biosecurity policy statement', but nothing concrete has emerged.
Lazarus and Wilkie commit to strong biosecurity
As well as the Coalition, Greens and Labor, our election survey was sent to all minor parties and independents in the current Parliament.
Andrew Wilkie, independent member for Denison in Tasmania achieved a perfect score by supporting all of our proposals, including the establishment of a national research centre for invasive species, funding the eradication of red fire ants and yellow crazy ants. The Glenn Lazarus Team supported all our proposals with two minor qualifications. The party prefer the Minister for the Environment to oversee biosecurity, a superior position to the proposal in our question while the work of our proposed national research centre would be undertaken by existing institutions.
Family First were the only other party to reply, scoring a weak 3 out of 12.
Further updates
There may be more policy promises released in the dying days of the election campaign.
We'll update this piece and post to our Facebook page and Twitter feed if there are any significant new developments.
Update 1: 24 Jun 2016. Adjusted footnote to Greens response to yellow crazy ant and red imported fire ant question following the release of the Greens policy to fund the Cairns yellow crazy ant eradication. The scoring was unaffected.
Update 2: 27 Jun 2016: The Labor Party released their agriculture policy. This has been added under 'Key Sources'. The scoring was unaffected.
Update 3: 28 Jun 2016: The Coalition survey response was received. The reply has been added under the 'Key Sources'. The scoring was unaffected.
Update 4: 29 Jun 2016: The Greens released their agriculture and biosecurity policy. This has been added under 'Key Sources'. The scoring was unaffected.
About the survey
The survey was based on questions in the Invasive Species Policy Document: Invasive Species Priorities 2016.
The questions represent seven areas of broad priority interest and five additional issues relating to specific initiatives.
The survey was sent to political parties and independents on 24 May 2016 requesting a response by 14 June. A follow-up reminder was sent on 15 June and the date for responding was extended to the close of business 22 June 2016. All offices were contacted directly to endeavour to check if they received the survey.
A survey was sent to each parties with elected members and elected independents in Parliament prior to the election being called. Due to capacity and timing issues, surveys were not sent to all parties contesting the election. Surveys were sent to:
• Australian Labor Party
• Australian Greens
• Australian Motoring Enthusiast Party
• Family First Party
• Glenn Lazarus Team
• Jacqui Lambie Network
• Liberal Democratics
• Liberal Party of Australia
• National Party of Australia
• Nick Xenophon Team
• Palmer United Party
• Senator John Madigan (independent)
• Andrew Wilkie MP (independent)
Scoring was based on survey responses, relevant party policy and media statements and, for the governing Coalition government, policies and activities while in government. Also considered was the clarity of policies and responses and the extent to which a response meets the stated goal for each survey question.
Key sources
The Invasive Species Council is an independent, science-based organisation. Authorised by Andrew Cox, 88b Station St, Fairfield Vic 3078.
Election graphic: Photo licence-CC BY-SA 3.0