The 2022 federal election has been labelled a "greenslide", with Australians turning out to vote for action on climate change and the environment.
Thanks to our advocacy, backed by the support of thousands of Australians, it also delivered some major developments for what the CSIRO ranks as the number one threat to our environment – invasive species.
Yellow crazy ants
This month's election appears to have turned the tide against yellow crazy ants.
These invasive ants are knocking at the door of Queensland's stunning Wet Tropics. Once they break into an area, they're known to leave entire ecosystems silent in their wake.
Yellow crazy ants spit acid to blind other animals, can live in multi-queen supercolonies reported to reach billions of individuals, are already preventing people from selling their properties in northern Queensland, and are making outdoor areas unuseable for local communities in Cairns and Townsville.
Those aren't the only regions dealing with yellow crazy ants in Australia, but they are regions where we still have a real shot at eradicating them before they start spreading out of control. The Townsville population has already seeded infestations in places like the Whitsundays.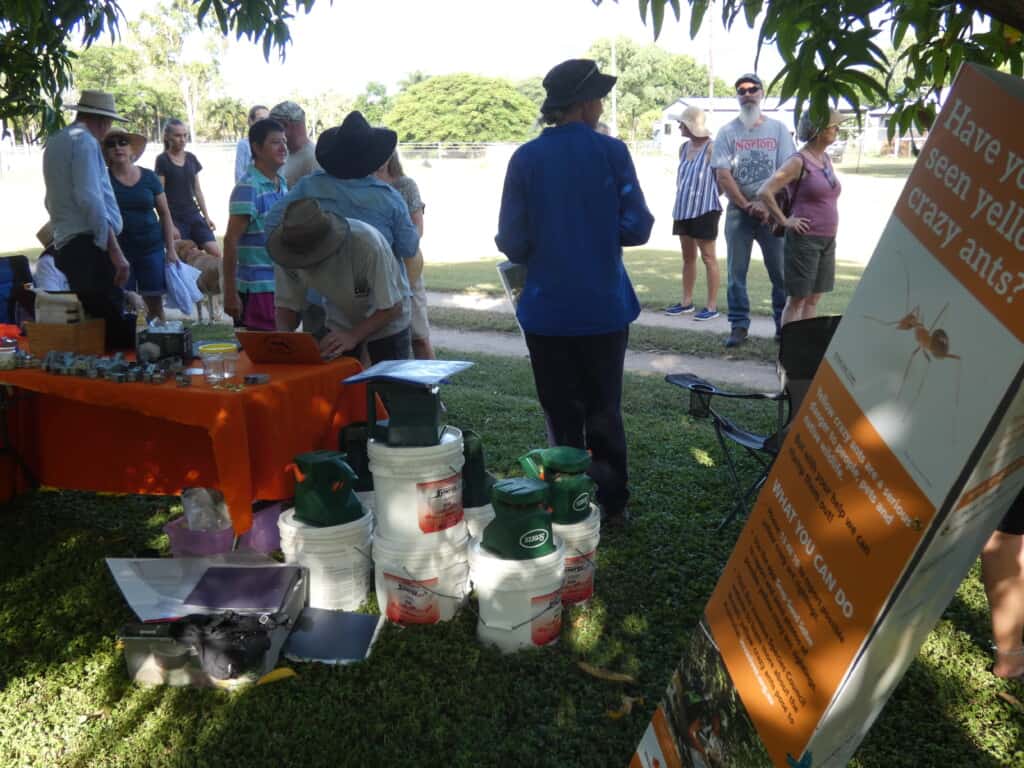 Standing on the shoulders of long-term work by community champions in Cairns and our Townsville Yellow Crazy Ant Community Taskforce Coordinator, Bev Job, we launched a campaign to get the major parties to commit to extending the eradication program for Cairns and establishing a new eradication program for Townsville.
After thousands of petition signatures and hundreds of letters from the community to key representatives, both the Australian Greens and the Australian Labor Party committed to funding substantial eradication programs in both regions.
Labor's yellow crazy ants announcement was part of a larger package of $225.5 million over four years to establish a Saving Native Species Program that aims to arrest species decline and restore populations of endangered plants and animals.
The Coalition also pledged $3 million for a 12-month extension to the existing Cairns eradication program with a promise to incorporate it into the National Landcare Program in future years.
That meant we were as sure as we could be that we would start to see action on yellow crazy ants in northern Queensland regardless of the results on election day.
These commitments would not have existed without our advocacy and, most importantly, the support of so many Australians who wanted to see the yellow crazy ant threat to northern Queensland taken seriously.
Gamba grass
There's also good news for the Top End.
Gamba grass is classified as a Weed of National Significance. It reduces tree cover, changes water availability, depletes nutrients and increases greenhouse gas emissions by fuelling hotter, more dangerous fires that also threaten homes and livelihoods. Initially encouraged as feed for cattle, it is now spreading through the Northern Territory and is expected to push into the Kimberley and Far-North Queensland.
The Invasive Species Council and Northern Territory community group Gamba Grass Roots called on all federal parties to commit significantly more to gamba control.
The Australian Labor Party responded to the call with a commitment of $9.8 million over four years which included the addition of 30 jobs to support the successful "Gamba Army" tackle gamba grass.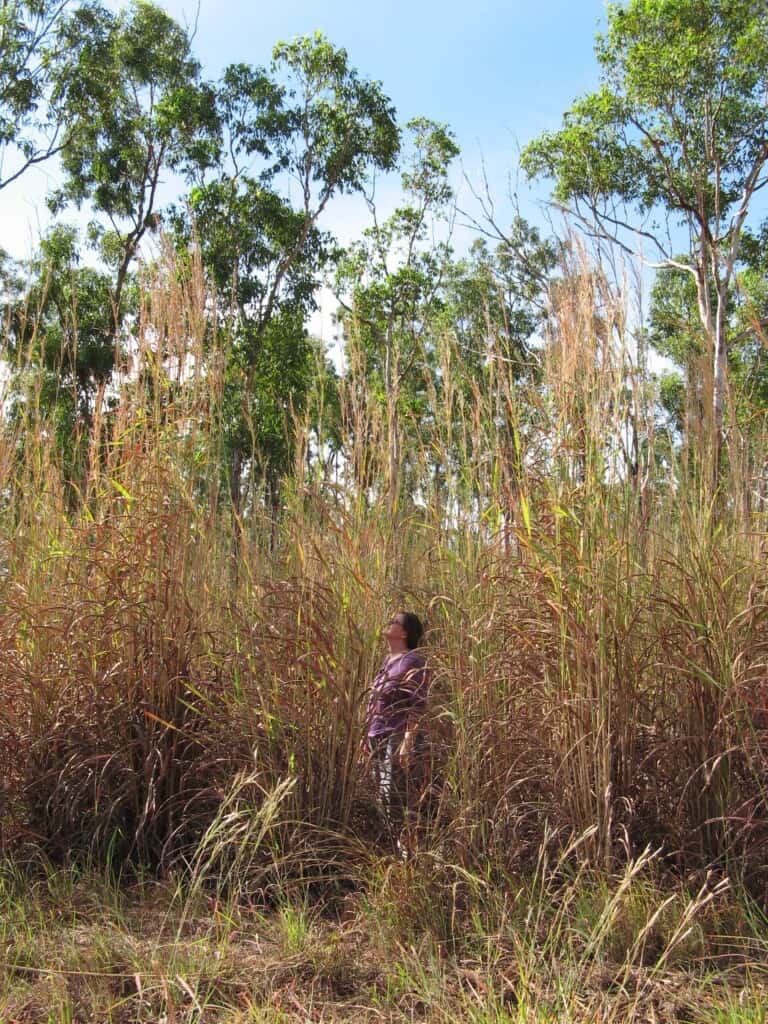 The Australian Greens also committed to a $24 million package to fund action on gamba grass and buffel grass, another major weed in arid and semi-arid Australia.
The Coalition, who's Country Liberal Party initially pledged $450,000 over three years to support Territory NRM, then pledged an additional $11 million a few days out from the election.
With that announcement, action on gamba grass was effectively locked-in before election day rolled around, and we will hopefully begin to see the invasive grass controlled across the Top End.
Reforming national environmental law
There are now around 1,250 native plants and animals being driven towards extinction by invasive species. Of the 21 "Key Threatening Processes" listed in Australia's premier environmental legislation, the EBPC Act (1999), 14 are invasive species.
Early in the campaign we put biodiversity on the agenda with extensive media coverage of our recent major report that found core components of the EPBC Act are barely functioning. Stopping extinction in Australia will require the incoming federal government to review and strengthen national environmental laws and policies and invest in the solutions that work .
In a welcome move, Labor committed to fully responding to the independent review of the EPBC Act, completed by Professor Graeme Samuel in 2021. A full response to the EPBC Act will enable a broader discussion on key reforms, including measures to improve threat abatement and recovery planning processes and implement strong environmental standards.
Importantly, Labor also committed to establishing a national Environmental Protection Agency that would handle both compliance and improved compilation of environmental data.
The Coalition had previously committed to rolling out regional planning pilots across Australia, but had not identified any areas. Worryingly, it had also committed to continuing with its stalled Streamlining Environmental Assessments bill and progressing the handing over of Commonwealth-approval responsibilities.
Indigenous rangers and Landcare rangers
The Labor Party committed to doubling the number of Indigenous rangers across the country by 2030. The Indigenous ranger program is a highly successful program that supports management of Country, so this expansion is a significant step. Our friends at Country Needs People have played a long term role in advocating for this important initiative.
Labor also committed to creating 1000 Landcare ranger jobs, a proposal born from the Working with Nature proposal which was backed by more than 100 conservation and farming organisations, including the Invasive Species Council. The Gamba Army commitments will be funded through the Landcare ranger program.
Environmental biosecurity
Environmental biosecurity wasn't a major feature of the campaign, however, there were some useful commitments made.
The Australian Labor Party has committed to 'deliver long-term, sustainable funding that will go directly to strengthening Australia's biosecurity system'. This is vitally important if we are to stop new pests, weeds and diseases entering and spreading across the country. They have also committed to additional detector dogs at our international airports. We will be watching to ensure these commitments deliver meaningful change.
What we still need
This election was dominated by Australians demanding environmental action. It leaves us with a huge opportunity to get invasive species back on the agenda, and trigger serious change in how we manage the nation's biggest environmental threat.
But that will only materialise if we continue to push the impacts of invasive species into the minds of our newly elected federal representatives. These are the other priorities we still need the new Australian Government to pursue to effectively tackle the invasive species threat to native wildlife:
Join all states and territories in endorsing the Decade of Biosecurity.
Release the 2021 national State of Environment Report.
Guarantee long-term federal funding for the implementation of a collaboratively developed national biosecurity strategy.
Commit to the eradication of red imported fire ants in SE Queensland and feral deer from the Tasmanian Wilderness World Heritage Area.
Control the impacts of feral and roaming cats and hard-hooved invasive species.
Reform conservation planning instruments under the EPBC Act and establish strong national environmental standards.
Establish an independent panel to develop new models for financing biosecurity and a Productivity Commission inquiry into the economic and environmental benefits of prevention of, and early action on, invasive species.
Eradicate invasive species from high priority offshore islands.
Invest in the research and development into invasive species control at all stages of the invasion process, including providing funding certainty to the Centre for Invasive Species Solutions.