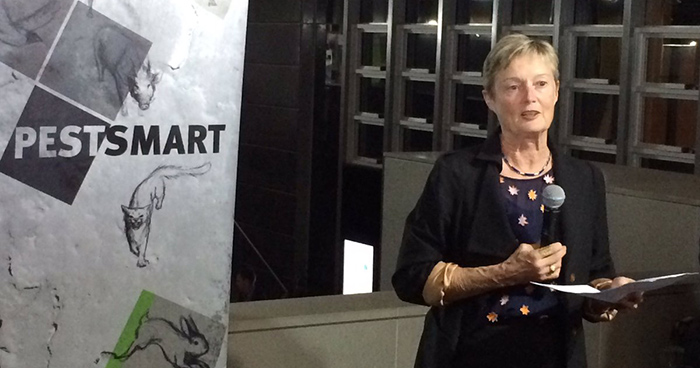 Last year the New Zealand government announced plans to be predator free by 2050, a challenging concept for the many Australians gathered at the Australasian Vertebrate Pest Management Conference, which was held in Canberra earlier this month.
Held every three years the conference highlighted the work being done on pests in Australia. It also demonstrated the need for a greater awareness of what still lurks beyond our borders.
There were several presentations on deer, including an international perspective on the terrible impact this pest species has in the United States. Kurt Van Cauteren of the US National Wildlife Research Centre outlined deer impacts from traffic accidents, impacts on farming, national parks and land management. These issues are becoming increasingly relevant in Australia as our deer population continues to grow. Results of the 2016 National Wild Deer management workshop were provided along with new NSW deer prevalence mapping, which we reported in April.
We heard accounts of deer impacts from land owners in Victoria, where deer are listed as game animals instead of a pest species.
In the upper Murray, fallow and sambar deer released decades ago from a government reserve are now having serious impacts on native vegetation, sensitive wetland areas, fencing and pastures. This contrasted with the successful control work being carried out in Queensland where deer are listed as a pest. The pest listing is essential for the job of controlling deer numbers that is being led by Charters Towers regional council, Dalrymple Landcare and NQ Dry Tropics. Their long-term objective is to stop north Queensland's growing chital deer population from spreading into Cape York and creating serious environmental damage.
Islands at risk
Island species are particularly vulnerable to invasive predators, and so island conservation was a key theme of the conference.
The eradication of foxes on Phillip Island in Victoria and the recovery of its penguin population are stimulating more ambitious island eradication projects. A key lesson from the long-term eradication effort is that once an invasive species penetrates an ecosystem they are very difficult to remove. Despite no detections for several years it is difficult to say with complete certainty that the Phillip Island foxes are gone and genetic tracing shows there have been additional fox incursions from the mainland over the past decade.
Intensive island-wide baiting, a long-term funding commitment and stable staffing all contributed to the success of this program – important considerations for other eradication efforts.
Deputy Prime Minister Barnaby Joyce brought a celebratory tone to the conference when he announced that 23 projects will share $10.5 million to strengthen the management of pests and weeds as part of the Agricultural Competitiveness White Paper fund.
The cat Felixer grooming trap, new remote animal detection innovations and weed biological control are among the 23 funded projects. Overall, the focus is on addressing agricultural weed and pest impacts first. Confirmed also in his speech and on budget night was $20 million in funding over five years for the Centre for Invasive Species Solutions to build and expand on the work of the Invasive Animals Cooperative Research Centre, which closes its doors in June. These investments will generate more innovative solutions to our country's pest problems.
Good work is occurring in eradicating late stage invasive species, with the greatest focus and money targeting agricultural needs. Australians are well aware of the invasive species already here: cane toads, foxes, deer, wild pigs and feral dogs are among the best known examples. Less visible is the legion of dangerous pest species not yet in our country but which threaten to breach our biosecurity.
As the only advocacy-based organisation at the conference and one of the few with a prevention and early invader focus it is clear that the Invasive Species Council continues to have an important role to play in speaking up for environmental biosecurity. Too often we are the lone voice advocating for action on early stage invasive species and a strong preventative environmental biosecurity system.
This work is not possible without our growing list of supporters and it is because of their financial support that we can play a role at forums and conferences like this in arguing the case for protecting our precious environment from dangerous new invasive species.
More info