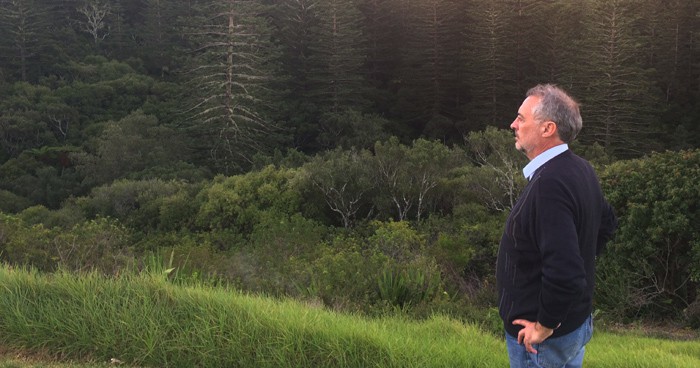 Our CEO Andrew Cox recently visited Norfolk Island in the Pacific to learn about efforts tackling invasive species and building a biosecurity system, the keys to its future conservation success.
There was a flash of green as my travelling partner Ray Nias looked out across a valley blanketed in Norfolk Island pines. "That was three green parrots!" he exclaimed.
We had been at our guesthouse for just five minutes when the parrots Australia almost lost flashed before our eyes. Our feeling of joy at seeing these beautiful birds became a familiar theme as locals delighted in telling us of places where they had seen the parrots for the first time in memory.
Ray, the Southwest Pacific Regional Director for Island Conservation, had triggered recovery efforts in 2012 after local conservationist Margaret Christian warned him that green parrot numbers were worryingly low.
Recent efforts to help Norfolk Island's critically endangered green parrots recover their numbers are working. Rat baiting and cat trapping around nest sites has stopped the chicks from being eaten and parrot numbers have risen from a low of eleven breeding pairs in 2014 to about 45 breeding pairs today.
A treasure island
Norfolk Island boasts many treasures. The islands and waters of Norfolk Island are home to 88 threatened species listed for protection under Australian federal environmental law, and most are found nowhere else on Earth.
Key to the survival of most of the land-based species is how well invasive plants, animals and diseases are managed. Being a remote ocean island, eradication is feasible and it is relatively easy to keep new invasive species out.
This is why the Invasive Species Council and Island Conservation are aiding efforts to tackle invasive species on Norfolk Island and why we visited the island recently.
Securing pests and diseases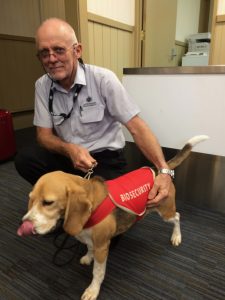 Almost one year after the end of self-government, we were keen to learn about Norfolk Island's new biosecurity regime, which is now run by the Australian government. With Norfolk Island being free from many of the diseases and pests that commonly plague mainland Australia, tough biosecurity measures are crucial to safeguard its unique natural assets.
If you arrive by plane you will be treated as though you are re-entering Australia, and will have to declare any meat and plant materials. Your luggage will be carefully checked, and cargo is also inspected.
During the transition phase the rules set during self-government are still in place – special provisions for Norfolk Island under the federal Biosecurity Act also apply. But ultimately there will be one set of rules, possibly drawing on NSW biosecurity legislation.
We have provided input to the transitional arrangements and, once the final biosecurity system kicks in, expect clear quarantine rules to maintain the island's status as being free of most pests and diseases through a single system.
We would also like to see emergency responses for new outbreaks on the island put in place and over time some pests or diseases will need to be considered for eradication. The lack of action after myrtle rust arrived six months ago showed response systems need improving.
Invasive ants on the run
Argentine ants are a recent arrival on Norfolk Island. First detected in 2005, they have not been afforded a high priority, and eradication efforts have been poorly funded and executed.
The ants managed to get into the island's free mulching service and as a result ended up occupying ten separate sites over about 240 hectares.
In the past year island staff, working with a CSIRO entomologist, began a $200,000 a year eradication program. We inspected one of the largest sites under treatment. Even though most of the sites had already undergone baiting, at least one site, the most difficult and which includes tall ocean cliffs, remains untreated and is expanding because of insufficient funds.
We will work with council staff as they reassess the program and identify future funding needs for Argentine ants on the island.
Rats, cats and green parrots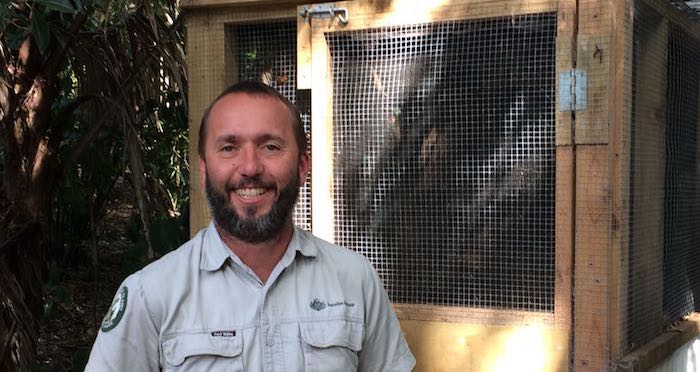 The eradication of feral cats and rats could deliver large conservation gains for the island, but needs to wait until islanders are supportive. For now the priority is giving green parrots relief from rat and cat predation.
In 2017 we contributed $10,000 towards local efforts setting up rat baits on private land at Anson Bay, which is to the west of the green parrot stronghold, Norfolk Island National Park. Expanding the range of rat-free areas will give green parrots a fighting chance of finding new nest sites. Rat baiting will also benefit other ground birds and seabirds nesting on the coast.
Parks Australia is leading efforts to relocate green parrots to nearby Phillip Island as a backup strategy for the main Norfolk Island population. Phillip Island was denuded by goats, rabbits and pigs but is now regenerating after these pests were removed.
When we visited eight green parrot fledgling chicks had been translocated to Phillip island and were under intensive care before being released. Eventually about 24 birds will form the start of a new colony. Recent crowd funding efforts led by Birdlife Australia and supported by the Invasive Species Council generated more than $80,000 in donations to assist the program.
By the time Ray and I left Norfolk Island, we had seen 20 green parrots. For an island in transition, things are starting to look up for the birds, plants and other unique wildlife that call Norfolk Island home.
Note: Our joint work on Norfolk Island with Island Conservation was made possible by a grant from the Eldon and Anne Foote Trust, managed by the Lord Mayor's Charitable Foundation. We're also working with Wild Mob, who have been supporting Norfolk Island rat eradication and vegetation restoration efforts, and the Norfolk Island Fauna and Flora Society.