Australia's quarantine system is failing to keep out very damaging environmental invaders and our federal parliament should be seeking to determine why that is.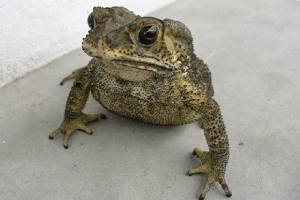 Of course, nowadays, Australia would never allow cane toads to be introduced. But judging by what else is making it through our borders, they would get here anyway.
In April, an Asian black-spined toad – probably just as bad as the cane toad – was found in a backyard in Sunbury, Victoria, 15 km from an entry point. And since 2000, many other really serious baddies with the potential to cause ecological mayhem have shown that Australia's biosecurity system is full of holes.
This is why the Invasive Species Council is calling for a Senate inquiry into Australia's state of preparedness for new environmental invaders.
Mistakes happen but the multitude of serious new and repeat incursions suggest systemic flaws. Table 1 lists 10 new diseases, plants and animals recently added to the already immense list of environmental invaders in Australia.
The new ones include myrtle rust, which can infect hundreds of species in our largest plant family (Myrtaceae), a bird disease, an aggressive bee, a newt and several types of tramp ants. A recent repeat incursion of red imported fire ants could have put at risk the entire $300 million eradication program in Queensland.
Lack of parliamentary oversight
Because new environmental incursions are so frequent and costly for biodiversity and economy, Australia's parliament should be seeking to determine what is going wrong and what needs to change.
There has been almost no parliamentary scrutiny of failures in environmental biosecurity. Table 2 shows that since 2000 there have been 18 Senate inquiries into aspects of agricultural biosecurity plus a commission of inquiry into equine influenza (2007). An inquiry into Asian honeybees was relevant to the environment although it focused on industry concerns. Other than that, the only other environmentally relevant inquiry – into the Environment Protection and Biodiversity Conservation Amendment (Invasive Species) Bill 2002 – was more than a decade ago and did not investigate specific environmental incursions.
We think the failings in environmental biosecurity are due to multiple weaknesses:
Insufficient import risk analyses focused in environmental threats
A lack of contingency planning for high priority environmental threats
Insufficient surveillance
A failure to initiate rapid responses to incursions
A failure to publicly review and learn from failures
Lack of transparency and reporting – there is no national database on environmental incursions.
Help us get a Senate inquiry
The Invasive Species Council thinks a comprehensive inquiry is essential to identify systemic flaws in biosecurity and recommend changes to strengthen protections for Australia's natural environment.
You can help us achieve this in three ways.
Send an email to Labor's Mark Butler and the Green's Larissa Waters supporting ISC's call for an inquiry into Australia's state of preparedness for new environmental invaders.
Donate to support our advocacy.
Let us know of any examples of quarantine failures leading to new environmental incursions. ISC will prepare a series of case studies.
Table 1. Examples of incursions detected since 2000 with high potential for environmental harm
| | | | |
| --- | --- | --- | --- |
| Organism | Year detected | Location | Potential impacts |
| Red imported fire ant | 2001, 2014 | Qld | Dominates areas, displaces native ants & kills small animals. New incursions put at risk the ~$300 million eradication program. |
| Yellow crazy ant | 2001 & multiple dates since | Qld, NSW | Dominates areas, displaces native ants & kills small animals. (Ecosystem meltdown on Christmas Island.) |
| Koster's curse (Clidemia hirta) | 2001 | Qld | Smothers native vegetation. |
| Electric ant | 2006 | Qld | Dominates areas, displaces native ants & kills small animals. |
| Asian honeybee | 2007 | Qld | Competition with native bees. |
| Mexican feather grass (Nassella tenuissima) | 2004, 2008 | NSW, Vic, ACT | Potential to dominate woodlands and grasslands. |
| Myrtle rust | 2010 | NSW | Infects hundreds of Myrtaceae species (our dominant plant family), including several threatened species. |
| Pigeon paramyxovirus | 2011 | Vic | Potentially infects a wide range of native bird species with a high rate of mortality. |
| Smooth newt | 2013 | Vic | Predation of and competition with native frogs, fish and other species, could be toxic to predators. |
| Asian black-spined toad | 2014 | Vic | Not yet known if it has established. Similar impacts to cane toad but with the capacity to inhabit cooler areas. |
Table 2. Senate inquiries held into biosecurity since 2000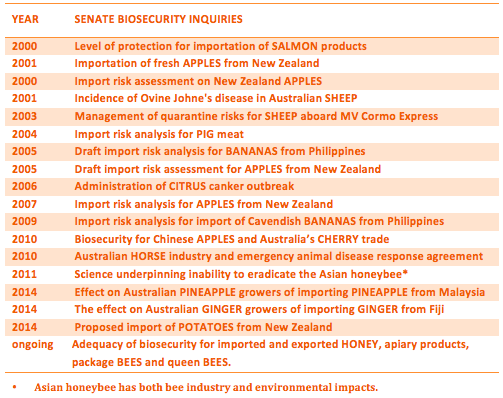 More info: