After more than seven years of research, community consultation and biosecurity checks, a micro-wasp from Malaysia has been imported to Christmas Island to control yellow crazy ants.
Staff from Christmas Island National Park and scientists from La Trobe University and the Forest Research Institute of Malaysia flew 167 of the wasps to Christmas Island in December last year. The wasps had been bred in captivity in Malaysia.
The team was chaperoned by an officer from the Department of Agriculture and Water Resources to make sure the wasps, packaged inside small vials in a very secure case, remained safe and sound. This follows a range of import, export and environmental approvals.
Among world's worst
The yellow crazy ant is listed as one of the world's 100 worst invasive species by the International Union for Conservation of Nature. They are a threat to Christmas Island's wildlife including the iconic red crabs that migrate in their millions each year.
Since the ants started to form destructive super colonies 20 years ago they have killed tens of millions of red crabs and taken over large parts of the island's forests. Their presence changed the structure of the forest.
The only option until now has been to poison bait the crazy ant super colonies every few years. This is not a long-term solution. It's very costly, and ant numbers can quickly rise again. Biological control is a more sustainable solution.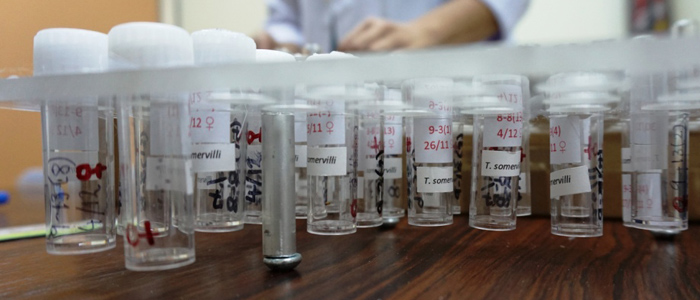 The tiny wasps lay their eggs into yellow lac scale, the main food source of the yellow crazy ants. When the wasp eggs hatch the larvae feeds on the scale, disrupting the yellow crazy ant's food supply, preventing them from forming super colonies and giving the island's native wildlife a chance to bounce back, including the iconic red crab.
The tiny wasp, which is about 2mm long, does not sting or build nests and has been confirmed as having no harmful effects on people, pets, plants or other wildlife. There are already many similar micro-wasps on Christmas Island and they're not causing any problems.
Unfortunately, none target the yellow lac scale insect, another recent island arrival.
The Malaysian-reared wasps are being used to breed more wasps in custom-built enclosures on Christmas Island. A close watch will be kept on numbers — two or three generations may be required to build up enough wasps for release. Already numbers have reached over 800 and a second consignment of wasps from Malaysia have begun breeding too.
The first of a series of monitored wasp releases into crazy ant super colonies on the island will focus on areas where there are suitable scale insects.
Park rangers and scientists will monitor these test sites to see how the wasps adapt to their new environment and how well they reduce the numbers of scale insects and crazy ants over coming months and years.
A side-benefit of the introduction of the new micro-wasp could be to improve horticulture by controlling the scale insects that attack fruit trees and other plants on the island.
Having learned from early mistakes, biological controls have proved an effective solution to many of Australia's agricultural and environmental problems. This is not the only biological control project underway. Researchers are looking at a control for European carp in the Murray-Darling river system.
Parks Australia staff have been supported by the Christmas Island Crazy Ant Scientific Advisory Panel, La Trobe University and the Forest Research Institute of Malaysia. Without their critical work, this project would not have been possible.
If all goes well, this small micro-wasp is set to be the next major initiative to help Christmas Island's unique nature survive and thrive.
Editor's note
The particular biological control agent for Christmas Island is not likely to help control yellow crazy ant infestations found on Australia's mainland in the Northern Territory and Queensland. This is because the biocontrol agent being released on Christmas Island targets a particular scale insect, the ant's primary food source on the island.
Dr Lori Lach, yellow crazy ant expert at James Cook University, informs the Invasive Species Council that there is constant consideration of potential biocontrol options for yellow crazy ants on mainland Australia.  For these mainland crazy ants, it is unlikely a single scale insect species is fuelling them.  In the Northern Territory crazy ants feed from at least a dozen honeydew producing insects as well as extrafloral nectar from native acacia trees. There may be other avenues, such as pathogens, but scientists have not yet been able to link any microbial agent to a spontaneous decline. Not knowing the precise native range of yellow crazy ants, we are limited in searching for what might keep them in check there.  
Even for red fire ants there still has not been a major biological control breakthrough, despite decades of well-funded research and knowledge of their origin. The best we can hope for is for a biocontrol agent to give native ants a chance.
More info
This article was written by Parks Australia and is an updated and edited version of an article first appearing in Christmas Island National Park Community Update 2 December 2016.