When the Department of Agriculture and Department of Environment fronted the Senate inquiry hearing in Canberra on 31 October they were asked what are the current priority threats and pathways for invasive species impacting on the environment.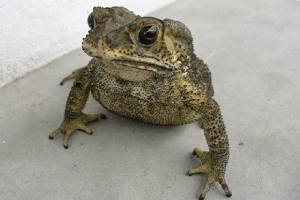 Department of Agriculture's Rona Mellor replied, 'There is probably, say, a 'top six on the Richter scale' that biosecurity scientists worry about and some of them are particularly invasive to the environment.' She agreed to provide the top six list after the hearing.
A week later this written answer was posted on the inquiry website:
'Six invasive species that are of high concern to the department and are considered as threats to the environment include; Didymosphenia geminate (didymo), Phytophthora cinnamomi, (root rot) Mytilopsis sallei (black striped mussel), Pseudogymnoascus destructans (causes white nose syndrome in bats), tramp ants and the Duttaphrynus melanostictus (Asian black spined toad).'
What does this list mean?
This is the first time such a list has been seen by the Invasive Species Council. The top six list begs many more questions than it answers.
How were these priorities chosen?
Why just six? (The agricultural industry has identified 413 priority pests and diseases.)
What do they represent? (Phytophthora cinnamomi is already well established in Australia and a key threatening process so why is it on this list?)
What work is being done to prevent these priorities arriving or establishing in Australia? (Most lack risk assessments and contingency plans.)
More info