Evidence provided to the Senate inquiry into how prepared Australia is to prevent the entry and establishment of invasive species likely to harm our natural environment has demonstrated that our biosecurity system is failing in multiple ways to prevent the arrival of harmful new invaders.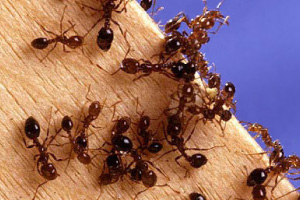 If public submissions are the foundations of the inquiry, the hearings bring the issues alive. As they progressed we saw the senators rapidly adopting the language and concepts of biosecurity and grappling with the consequences of an ever-growing invasive species threat. It was important new territory for the Senate Environment and Communications Committee.
The hearings dissected the failed attempt to keep myrtle rust from entering Australia in 2010. In Hobart, Anthony Cannon revealed the initial confusion during the early weeks after the detection, while Bob Makinson of the Australian Network of Plant Conservation shared the still unfolding consequences of myrtle rust for Australia's flora. In Sydney ant expert Lori Lach critiqued the piecemeal approach, limited funding and failed attempts to prevent and eradicate the dangerous and costly red imported fire ants, yellow crazy ants, Argentine ants, browsing ant and other tramp ants.
Most witnesses were quizzed on our proposal for Environment Health Australia (EHA). Many were supportive, some were not while others were confused about what EHA would do. The Nursery and Garden Industry Association's Robert Prince refused to answer the question unless it was confirmed there was money available, saying, 'Good ideas have to be funded'. A few witnesses preferred that the work be done by Plant Health Australia, Animal Health Australia and Wildlife Health Australia but failed to explain how these industry bodies would do it. Sophie Riley of the University of Technology Sydney outlined other cooperative models in operation in the US and UK. Nobody argued that the work should not be done.
Ebay turned down a request to appear before the inquiry so we didn't get a chance to hear their response to our jaw-dropping evidence about the ease of buying banned weed seeds over the Internet.
The Wet Tropics Management Authority explained the weakness in systems to identify and respond to new incursions, which have led in the past few years to the arrival ofmyrtle rust, yellow crazy ants and Asian honeybees in the world heritage area.
The Invasive Animals and the Plant Biosecurity Cooperative Research Centres reminded us of the need to maintain their critical research after their short-term funding expires while the CSIRO explained that many aspects of their work on biosecurity flagship was declining, limited by the lack of 'investors'. Three Australian Museum scientists gave compelling evidence of the need for taxonomists in responding to new biosecurity outbreaks, yet their number has been cut by more than half. Without a correct identification of an unusual marine worm, for example, a decision to mount a response cannot be made.
Carolyn Hogg of the Zoo and Aquarium Association highlighted the risks associated with the smuggling and illegal keeping of exotic wildlife. The Natural Resource Commission of NSW explained the nature of the weed threat in NSW and argued for a more proactive risk-adverse solution: a permitted list approach to the sale of plants.
Other recurring themes were the valuable role of the community in data collection and surveillance, such as through the Atlas of Living Australia, the need for compiling and sharing information through a national database of interceptions and incursions, and the need for improved transparency in biosecurity.
Islands were a recurring theme because of their vulnerabilities and the opportunities they present to protect species threatened on the mainland. Strongly featured were Christmas Island and its yellow crazy ants, WA's Barrow Island with its world-class quarantine system and Tasmania with its helpful water borders and regional differences.
Tasmanian Richard Stoklosa, who led the work designing Barrow Island's biosecurity system (for Chevron), explained six principles vital to successful biosecurity, which we summarise here.
Firstly you need a clear objective. What does success look like, how realistic is this, do certain regions warrant special protection? Then you can decide how to prepare for an incursion and how to respond.
Prevention is far better than eradication. The costs of prevention pale in comparison to those for eradication and control, as exemplified by the >$300 million spent on eradicating red imported fire ants.
Strong leadership and clear responsibilities for decisions are essential. The corollary for government is having a minister who gives very clear instructions to departmental staff. Ambiguity about what to report and what processes to implement when an incursion occurs undermines effectiveness.
We need leadership that is not punitive. The system should reward good behavior and encourage people to report new pests or diseases rather than hide them.
We should empower people to participate in biosecurity such as detecting new incursions or identifying weakness in the system. There are many experts throughout Australia who are willing to help identify and respond to risks.
Finally we need openness and transparency. One benefit of this is that people with knowledge come forward and help solve the problems.
More info