The feral deer population has exploded so much in recent years that people have referred to them as the next rabbit plague. Australia now has millions of feral deer and, without action, scientists predict they could soon inhabit nearly every ecosystem across every part of the continent.
The good news is a draft National Feral Deer Action Plan has been developed and is open for consultation. Make a submission before the deadline at 5pm on 20 March 2023 or read on to learn more about why a plan is needed and how a national approach can be a game changer.
The rise and rise of feral deer
The spread of feral deer through Australian landscapes has been explosive. They have doubled their range since 2002 when they numbered about 200,000. Today, their numbers are estimated to be between 1-2 million, but in the absence of a comprehensive survey we don't precisely know.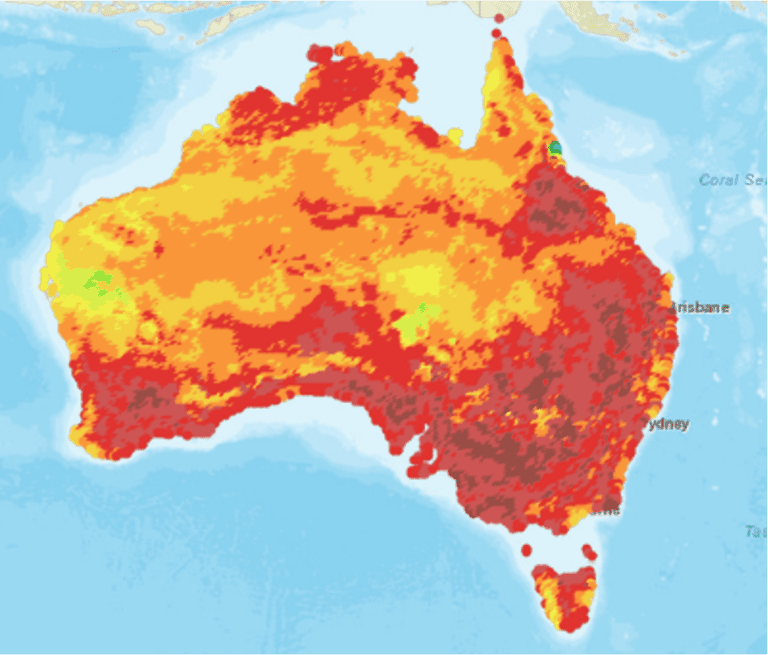 For many communities, deer have become an inescapable pest. You can learn more about their impacts on our bushland, environment and community by reading our background briefing on feral deer.
Time for urgent action
For too long, some state governments have relied on recreational deer hunting to control feral deer numbers. While there can be a role for recreational hunters in management, exploding feral deer numbers mean we must invest in coordinated, science-based, systematic efforts to deal with the problem effectively and without delay. We can't lay the responsibility of widespread feral deer control on recreational hunters alone, and governments must back intensive and targeted professional operations to lead feral deer control programs.
We also need a wake up call for the Victorian and Tasmanian governments. Both states still legally protect feral deer as a game animal for hunters, rather than declare them as a pest like every other state. This reflects an outdated colonial attitude to feral deer, but has serious implications for landholders in those states who have to wade through excessive bureaucratic permitting processes and pay shooters out of their own pocket to control feral deer on their properties.
We need change. All of our federal, state and territory governments must come together to revoke these legal protections of feral deer and work together to stop their continued spread. The Invasive Species Council is working with local communities and advocating with governments to help bring about this change.
The Plan
The good news for Australian bushland, farmers and the community is that a draft National Feral Deer Action Plan has been developed by a working group that included representatives from state and federal governments, farmers, shooters and the Invasive Species Council. This is the first time we have ever had a nationally coordinated response to dealing with this serious invasive species.
Implementing this national plan is our best shot at avoiding wall to wall deer across the continent.
The Plan sets out what is needed to stop the westward spread of deer and protect our precious places and wildlife in areas where deer are already established.
It seeks to create a containment buffer zone that stretches from western Victoria, through the central west of NSW, to Rockhampton in Queensland. The aim is for surveillance and removal efforts to eradicate feral deer populations to the west of the containment zone and hold back the tide of feral deer spreading from the east.
This containment zone is welcomed by the Invasive Species Council, although it could be more ambitious, and better aligned to plans already adopted by the South Australian and Tasmanian governments.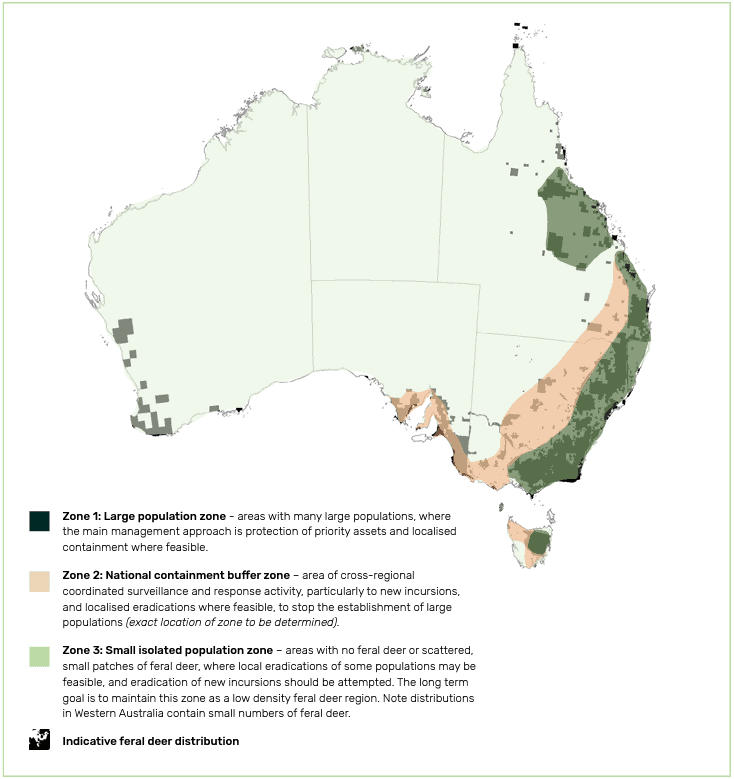 There will also be a focus on reducing feral deer populations around sensitive ecosystems, including those in the Australian Alps and in World Heritage-listed areas like the Tasmanian Wilderness and the Blue Mountains.
While we wish specific sections were more ambitious, the Invasive Species Council fully supports the thrust of the Plan. Now is the time for unity and action to stop feral deer from becoming Australia's next rabbit plague.
We must ensure that the plan is adopted and properly funded by the federal government and all state and territory governments early next year. This is where you come in.
Without significant resources from the federal government and a commitment to action from state governments, the plan is just a plan. You can register your support for the draft plan during the public consultation period that is open until 5pm, 20 March 2023.
To make it as simple as possible, we have set up a form you can complete that instantly sends a submission to the national deer management coordinator, with the option to add your own message detailing your personal concerns or experience with feral deer.
This plan is our chance to stop feral deer from being added to the list of Australia's most devastating invasive species.
If we fail to check the proliferation of feral deer now, Australia will be overrun. Our World Heritage and National Heritage areas will lose understories, lose trees, lose waterways and lose out-competed native herbivores. Suburban households will see parks and gardens ruined. Farmers will lose hundreds of millions in damage to crops and lost pasture while having to spend more to shoulder growing management costs. And more motorists may lose their lives.
Australia needs the National Feral Deer Action Plan, and the plan needs your support. Send your feedback today.