With no natural predators and an ability to adapt to almost all environments, feral deer already occupy every state and territory. They have so far been concentrated in the eastern and southern parts of Australia, including Tasmania, but climate and habitat suitability modelling predicts they could inhabit virtually every habitat in every corner of Australia if we don't control their spread now.
How many feral deer are there?
The spread of feral deer through Australian landscapes has been explosive. They have doubled their range since 2002 when they numbered about 200,000. Today, their numbers are estimated to be between 1-2 million, but in the absence of a comprehensive survey we don't precisely know.
Uncontrolled, feral deer populations can grow by 34 to 50% every year. So far, they have been concentrated in the eastern and southern parts of Australia.
In Victoria, feral deer inhabit nearly 40% of the state. In New South Wales, they cover about 22% and are expanding their range by about 1 million hectares every year – that's roughly the size of four ACTs!
Tasmania's feral deer population is reported to have surpassed 100,000. Estimates suggest that tally will soar to 1 million and cover half the island state by 2050 if the Tasmanian government fails to respond to the scale of the problem.
How did we get here?
Feral deer were introduced into Australia in the mid 1800s amidst a wave of efforts to create England in Australia. Initially brought here so that recreational hunters could continue to enjoy their English sports, a series of deliberate releases by hunters and uncontrolled releases from deer farms in the 1990s has made feral deer Australia's worst emerging pest problem. More than six species of feral deer are currently trampling our bushland. Like a rabbit, they are broad eaters and will eat almost anything, including vegetation in bushfire affected areas.
Deer don't belong in the Australian bush. Unlike much of the world where deer are native, our ecosystems haven't evolved to cope with their hard hoofs, heavy weight and voracious appetite. They overgraze native grasslands and shrublands, ringbark native shrubs and trees and cause erosion and pollution by wallowing in wetlands and trampling the banks of streams.
Further, they browse on and kill trees planted by landcare groups, foresters, farmers and local councils. Of great concern in an era of increasing bushfire frequency and severity, deer hinder post-fire recovery by eating new growth, potentially inflicting permanent changes on native ecosystems.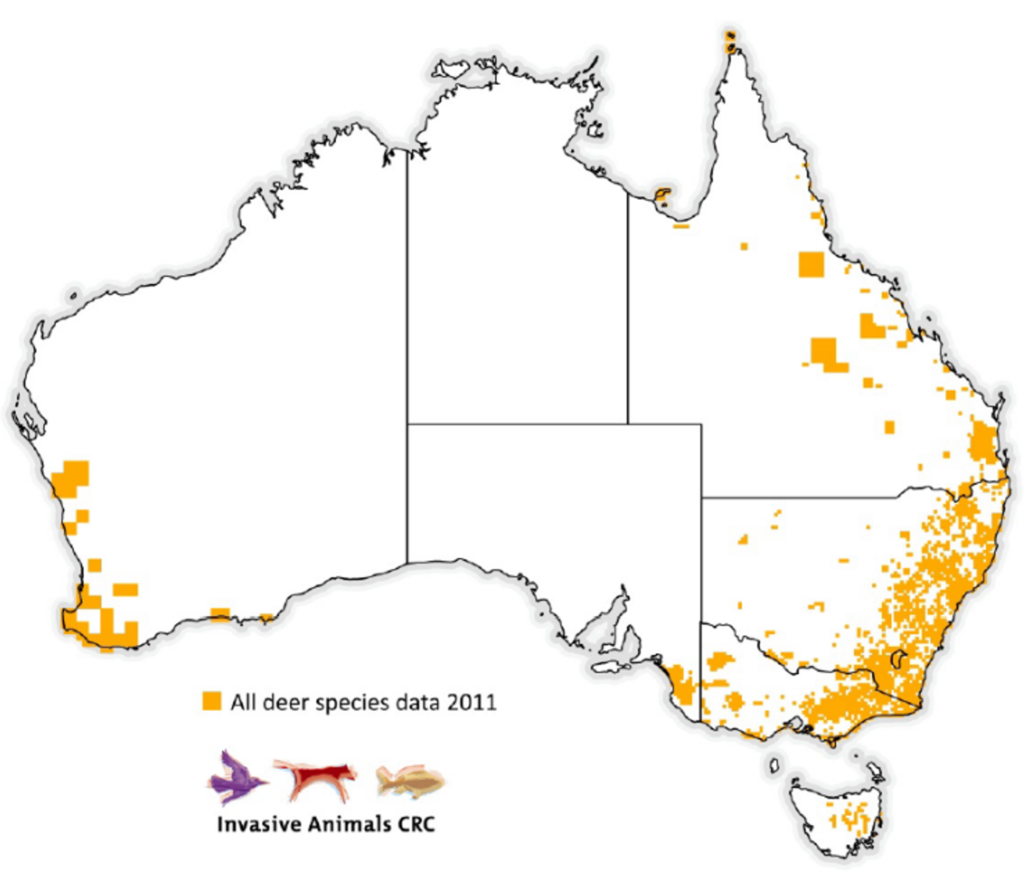 Feral deer have also proven extremely problematic for the agriculture industry. They eat fruit trees, grapevines, crops and pastures and destroy fences, costing farmers millions of dollars every year. Then there is the serious risk of feral deer becoming major vectors that could spread devastating diseases like foot and mouth disease from farm to farm should it ever arrive in the country.
As feral deer spread into urban areas, including Sydney, Canberra, Melbourne and Brisbane, they are destroying gardens, contaminating critical water catchments, damaging the few patches of urban bushland that remain and causing serious accidents on our roads. In the most extreme cases, vehicle collisions with feral deer have even resulted in cases of injury and death.
Take action
Australia needs the National Feral Deer Action Plan, and the plan needs your support. This plan is our one big chance to stop feral deer from being added to the list of Australia's most devastating invasive species.
To make it as simple as possible, we have set up a form you can complete that instantly sends a submission to the national deer management coordinator, with the option to add your own message detailing your personal concerns or experience with feral deer.