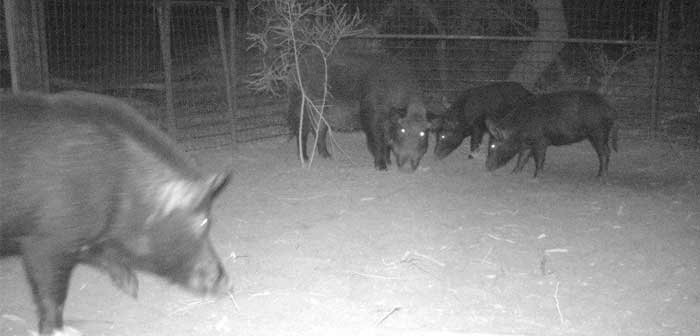 On Lindsay Island in the far northwest corner of Victoria a new approach to feral pig control is being trialled using remotely operated and monitored electronic traps.
The traps are saving days of work, says Shane Kelly, a senior ranger with Parks Victoria who has worked in the area for nearly eight years.
"I use cameras to monitor what is moving in the local area and eating the bait I put out," he says.
"Once I know where the pigs are, I can set the traps up with the electronic gates. The gates also have cameras attached that let me see what has entered the cage. Once I know that pigs have gone into the trap to feed, I enter a code into my phone, which then closes the gate remotely."
Some of the traps are almost an hour's drive from Shane's office, but now he can check them remotely from one location.
The island on the Murray River floodplain in Murray-Sunset National Park is prime habitat for feral pigs, which prefer wetland and riverine habitats where they destroy native vegetation by digging up large areas looking for food. They can also carry and transfer animal diseases. The new technology should result in a more successful control program, especially given how quickly the pigs breed.
It is the first time remotely-operated pig traps have been used in the Victorian Mallee, and more are planned for nearby national parks, including Hattah-Kulkyne.
"I've trapped more than 700 pigs on Lindsay Island over the last eight years," says Shane. "But I hope now with this new technology I can increase that number exponentially."
This project has been funded by the Victorian Government's Biodiversity Response Planning program.