Around the country, inspiring people are doing outstanding work to protect Australia's native plants and animals, ecosystems and people from invasive species. We began the annual Froggatt Awards to celebrate their initiative and impact and bring their story to you. Scroll down to see all of this year's winners and commendations.
Like many of Australia's most disastrous weeds, the flowers of a rubber vine are annoyingly pretty – flashing striking white flowers to lure pollinators. But its vanity is also the secret to its downfall along the Fitzroy River in WA.
Rubber vine was first found near the Fitzroy at Willare, West Kimberley, in 2005. Local resident and former Queenslander John Szymanski knew what came next.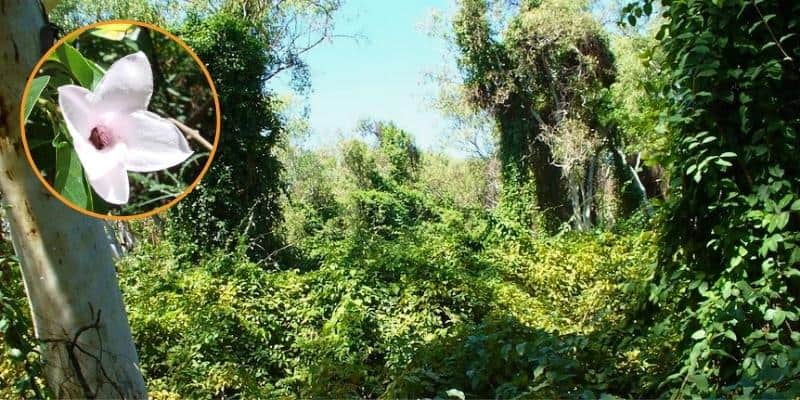 Choked with rubber
Rubber vines were already choking pastoral land and waterways across the sunshine state. Queensland's grazing industry was losing tens-of-millions of dollars every year to rubber vine infestations. Untold damage was being piled on to natural environments strangled by the weed.
So when rubber vine crept into Mr Szymanski's new digs in WA's far north, he made it his mission to eradicate it.
With a bunch of allies he formed the Friends of the Fitzroy. Their sole objective? To rid the Fitzroy River and its surroundings of rubber vine – one of just two infestations in WA.
They quickly ran up against the scale of the problem.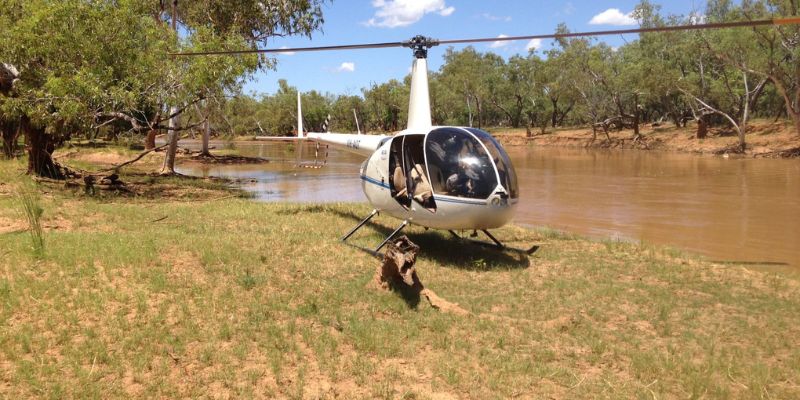 A beautiful weakness
Even treading 25 kilometres a day, the core ground team can only ever cover about 15% of the 265 square kilometre area infested with rubber vine over the course of a year. Alone, they would be playing an endless game of 'whack-a-weed' at mammoth scales.
The Friends of the Fitzroy needed to change the game. By turning to the air, the group invented a process to exploit the weed's weakness – those beautiful big white flowers.
At the end of every wet season, they fly a beloved Robinson $44 helicopter over the entire infestation area. A lot of rubber vine plants are spotted in flight, but they can't spot them all. To catch the plants they miss, a camera attached to the underside of the helicopter collects millions of high resolution images.
Then it's over to the keyboard weeders.
Computer software simmers the millions of images down to tens-of-thousands, which Friends of the Fitzroy volunteers sitting behind their screens anywhere there is an internet connection scour for a glimpse of rubber vine's distinctive white flowers.
It's high-stakes screen searching. Rubber vines can flower year-round but each individual flower only stays open for a day. That means you may only get one shot to make a detection.
Once identified, the ground team races to remove flowering plants before they seed.
Can you spot the rubber vine? Test yourself on some of the Friends of the Fitzroy's training images. Two of these images don't have rubber vine flowers in them, just some floral-looking water reflections or a beer bottle!
After more than a decade of this intensive management, the Fitzroy River rubber vine infestation has nearly reached eradication. Just 140 vines were detected in the latest round of surveys.
A type of artificial intelligence called machine learning has recently been recruited into the process, detecting 99.9% of flowering vines photographed from the helicopter. Coupled with the keen eyes of well-trained volunteers, it's hoped AI will help the group close a small but stubborn gap between them and eradication.
But they aren't the only ones mapping their way out of a weed-filled future. As the dedicated Friends of Fitzroy volunteers toiled away out in the field and in front of their computers at home, another weed-fighter down in the ACT was building the map to end all maps.
Pocketable weed maps
If you don't map weeds, you can't manage weeds. That's the simple principle that's generated file upon file of maps documenting the weeds being controlled by different people in different ways in different years across the ACT.
But with everyone mapping anything, no one was mapping everything. Work went unrecorded, paper maps were lost, errors sprouted up as data was processed and stored.
Steve Taylor, as manager for the Invasive Plants Control Program, set about fixing the mess.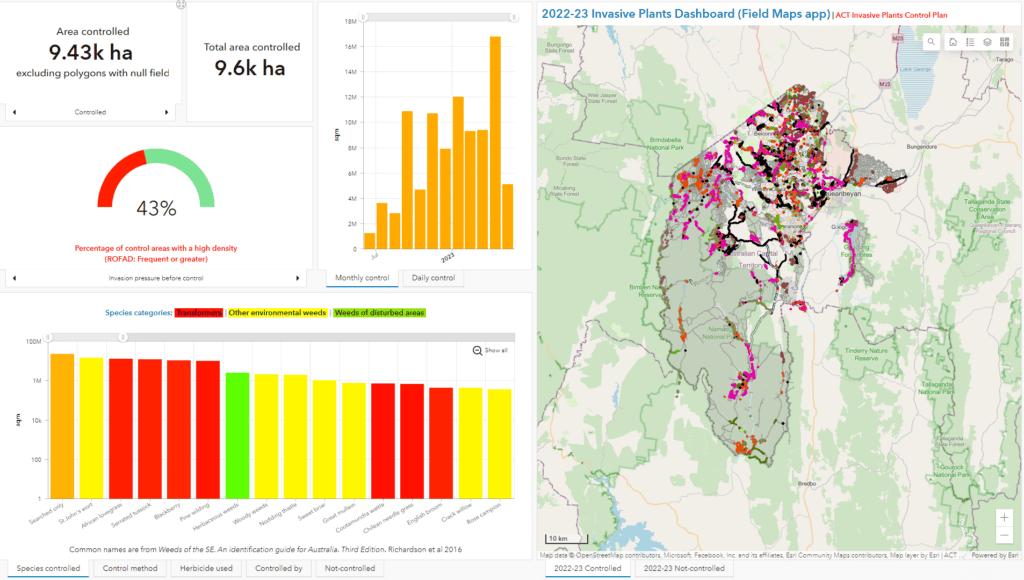 Beginning in 2014, Steve championed a user-driven process. Founded on an existing mapping program used by land managers all over the world called ArcGIS, they developed an app. The app utilises the GPS everyone now has in their pockets to build a single map that tracks all treated and non-treated weeds across the ACT – be it 36 square metres of common prickly pear or nearly 17 million square metres of African lovegrass. It is the most comprehensive dataset of environmental weed control work for any Australian jurisdiction to date.
And the entire thing is open access and mobile-compatible. Anyone from government or the community can access the Operations Dashboard at any time during their work controlling and eradicating priority weeds.
An award for unsung heroes
Usually, tireless efforts like those displayed by Friends of the Fitzroy and Steve Taylor pass by under the radar. But it's efforts like theirs that turn the tide against the continental-level damage wrought by invasive species.
That's why we established the annual Froggatt Awards to recognise and spotlight the outstanding contributions of individuals and groups who protect Australia's native plants and animals, ecosystems and people from invasive species.
We're delighted to announce that both Friends of the Fitzroy and Steve Taylor are the two winners of the 2022 Froggatt Awards.
An additional 6 special commendations were awarded to the outstanding work of the following organisations:
Holdfast Habitat Heroes for proactive work over more than 15 years to identify and control invasive species and to advocate for dune protection in Adelaide.
Tambo Bluff Landcare Coastcare for 30 years of well planned awareness raising, weed control, replanting and encouraging pest animal control in eastern Victoria.
City of Gold Coast Natural Areas Restoration Team for a prolific program of outreach, weeding, restoration, monitoring and strategic prioritisation.
Save Our Waterways Now Enoggera Catchment Care for almost 30 years of inspiring invasive species control and replanting of the Enoggera catchment in Brisbane's western suburbs.
Conservation Ecology Centre for an innovative and collaborative landscape-scale feral pig surveillance and control program in the Otways.
South West Woody Weeds Action Team led by Garry Kerr for regular woody weed control efforts and landholder engagement in south west Victoria.
Nominations for the 2023 Froggatt Awards will open in the coming months. The nomination form will be available via our Froggatt Awards page where you can also find details of past winners. If you know of, or are a part of, an effort that has made a major contribution to protecting Australia from invasive species, please keep an eye out for the nomination form!
Congratulations to all Froggatt Award 2022 winners and commendations, and to all Australians who toil away and innovate for nature.