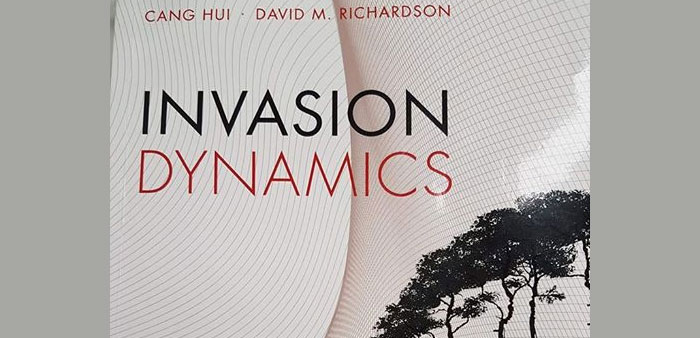 Invasive Plants Coordinator Steve Taylor from the ACT Parks and Conservation Service explains how a new book about invasion dynamics is already helping to protect native plants and animals in his region.
For years I wondered why decision makers do not understand the importance of weed and pest control for national park management. Then a chance conversation with a senior government official made me realise that for those not involved in land management, weeds and pests are mainly an amenity issue.
It's not easy to compete for resources with such a misconception, so I started to use language taken straight out of the book Invasion Dynamics, written by Distinguished Professor DM Richardson and Professor C Hui.
Terminology such as invasive species, invasion debt, bio-economics, biosecurity and optimal control have resonated with senior government officials and helped secure additional resourcing for the control of invasive plants and animals in the ACT region.
Managing impacts
One of the main tasks in national park management is to manage the impacts of invasive species. When I studied ecology, such issues were not a major part of the course – it is very different now. There are increasing numbers of research papers looking at the spread of invasive species and their impacts.
The requirement for a separate discipline of invasive species ecology arose from the need for informed efforts to manage introduced species.
"The magnitude of biological invasions is increasing worldwide: more species are invading, and the area affected by invasions and the types and overall extent of impacts are increasing."

– Invasion Dynamics, by C. Hui and DM Richardson (2017)
Native species in their native range are constrained by co-evolution with other native species. When they are released from such constraints in a new region or country the result can be unrestrained spread and significant impacts. They can become a major threat to native biodiversity, water catchments, agricultural enterprises and recreational areas.
Dealing with the impacts
Being a land manager I went straight to Part II of Invasion Dynamics – dealing with impacts. There is a summary of the reasons for plant and animal invasions of native ecosystems: characteristics of species that makes them strong invaders, and features of communities that makes them more susceptible to invasion.
Invasive species ecologists have modified the intermediate disturbance hypothesis to take into account the impact of invasive plants on native plant diversity. Some invasive plants foster reinforcing feedback loops (eg increased fire intensity and nitrogen fixation) to allow them to dominate and transform native plant communities.
Part I looks at the spread of invasive species. The lag phase studies from New Zealand are fascinating – 20 to 30 years was common for pest plants from the point of introduction until when they spread noticeably.
This is why invasive species ecology is so important to land managers – we need to be able to predict which of the 'sleeper' species are most likely to spread and impact on environmental and socio-economic assets.
If you are a student of ecology then Part III – Chapter 11 is for you. It has a detailed table of priorities for future research in invasive species ecology.
Invasion Dynamics has arrived at the right time. This is an excellent book and essential reading for all land managers and ecology students.
More info
Invasion Dynamics, by C. Hui and DM Richardson (2017), is published by Oxford University Press.
Reviewed by Steve Taylor, Invasive Plants Coordinator, ACT Parks and Conservation Service, Steve.Taylor@act.gov.au