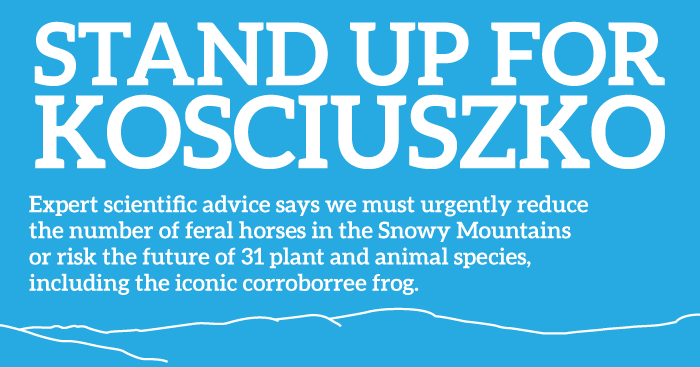 There is no doubt that the 'wild brumbies' of yesteryear have a place in history as part of Australia's cultural heritage, but in modern-day Australia feral horses have no place in national parks, and should not be given special status at the expense of our threatened species.
Feral horses ringbark trees, overgraze alpine meadows and spread weeds in Kosciuszko National Park and other protected areas. They outcompete our high country wildlife, displacing and starving wombats, wallabies and other native animals.
Feral horses trample Kosciuszko National Park's fragile landscape, destroying streams and alpine wetlands.
And yet on Wednesday 6 June the NSW Government passed the Kosciuszko Wild Horse Heritage Bill 2018, entrenching feral horses in one of Australia's most important protected areas.
Our CEO Andrew Cox was in the NSW Parliament until midnight to witness the passing of this retrograde legislation, which protects feral horses in one of Australia's most iconic national parks while overriding native wildlife protection.
The legislation ignores expert scientific advice and modern conservation thinking. It is the opposite of what we expect in a national park.
If allowed to stand this decision will cement long-term feral horse damage in sensitive alpine wetlands and plains. It will also lock in pain and suffering for the horses, which, as their numbers grow, will eat out the bush and then starve.
Feral animals such as horses and deer are inflicting increasing damage on national parks and other natural areas across eastern Australia. The NSW Government decision to protect feral horses at the expense of our national parks sets a dangerous precedent – do we now ignore or even encourage feral species in our parks?
We have been fighting hard to counter this dangerous pest management decision, working closely with other key environment groups and offering expert advice about the need for humane pest management in our national parks.
We need to continue this work, as well as fighting for better environmental biosecurity to keep dangerous new invasive species from entering Australia.
Can you help by making a tax-deductible donation?
[button link="https://invasives.org.au/donate/" size="large"]DONATE NOW[/button]
Reclaim Kosci
The Invasive Species Council is fighting back against the failure to protect Kosciuszko National Park from feral horses and is the lead organisation behind Reclaim Kosci, which is:
Raising awareness about the impacts of feral horses in Kosciuszko National Park.
Championing the campaign to repeal the Kosciuszko Wild Horse Heritage Act 2018.
Seeking a substantial reduction in the feral horse population in Kosciuszko National Park through humane and effective means.
[button link="https://reclaimkosci.org.au/"]Visit ReclaimKosci.org.au >>[/button]