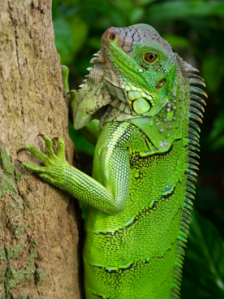 Technology giant Hewlett-Packard has made an embarrassing gaff in its latest Australian marketing campaign by encouraging people to help a young boy find his pet iguana, Ralph.

Production values used in the marketing campaign are all very slick, the only problem is that it's illegal to own iguanas as pets in Australia.

Apart from the error being highly embarrassing for the company, it's also a worry that it could encourage people to buy pet iguanas, increasing the risk that they will one day escape into the wild.

The 'Help Find Ralph' campaign with a pet green iguana video clip looks like it has been been lifted from a similar US campaign, with Australian voices then dubbed over the top of the original American script.

We reckon HP should be sent to the dunce's corner for not doing its homework. If Ralph was the pet of an Australian kid, the owner's family would be in hot water. It also puts our Australian wildlife at risk.

The responsible course of action for HP is to issue an apology and do all they can to reverse the dangerous message they have been sending out through their marketing campaign.

The green iguana is officially rated as an extreme risk of establishing in the wild in Australia and becoming a major environmental pest. If a breeding pair of green iguana pets escaped their descendants could spread over large areas of northern and eastern Australia.

While HP's competition rules require participants to act legally, their product promotion could encourage Australians to break the law.

The HP promotional video begins with a young boy with an Australian accent discovering that Ralph, his pet green iguana, has escaped, and ends with relief when it is returned after using HP products to help with a city-wide search.

The import and keeping of green iguanas is illegal in Australia and attracts significant penalties.

Researchers have found that when animals are promoted in the media or movies they become more popular as pets. This happened with clownfish due to Finding Nemo. Authorities have regularly found illegally kept pet green iguanas in Australia. Increased demand leads to increased smuggling and trading.

Like crocodiles, green iguanas make appealing pets when young, but may grow up to two metres long and weigh about 9kg, increasing the risk that illegal pets will be dumped in the bush.

The fact that HP was oblivious to the threat also shows that much more needs to be done by authorities to warn of the dangers of illegal pet ownership.

The Invasive Species Council has written to HP requesting that they immediately halt their irresponsible campaign and warn their legion of Twitter, Instagram and facebook friends that keeping the green iguana in Australia is illegal.
Tell HP to stop!
Use your voice to ask HP to halt their 'Help Find Ralph' competition:
Post to HP Australia's Facebook page
Post to HP Australia's Instagram page
Tweet @HP_Australia and #HelpFindRalph
More info: