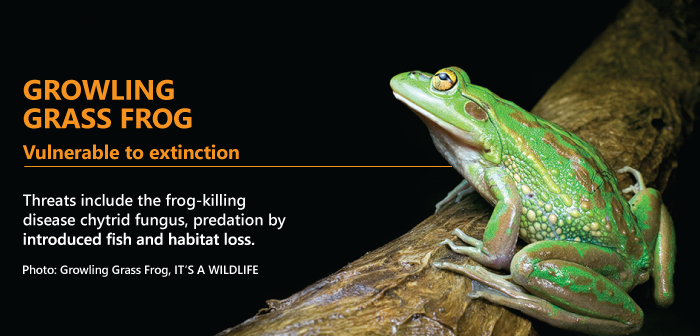 New research shows Australia is facing an invasive species-led extinction crisis, massively compounding the threats our most vulnerable native plants and animals already face from climate change and habitat loss.
We're not being flippant. Research by 12 ecologists has revealed a disturbing truth: invasive species are driving more than 80 per cent of our most vulnerable native plants and animals towards extinction.
Habitat loss and climate change have long been recognised as leading threats to our precious native wildlife. Now we know the threat from invasive species is just as bad – 1257 of Australia's listed threatened species are on death row because of environmental invaders like feral cats, rabbits, weeds and the killer plant disease Phytophthora.
It's heartbreaking, but we've listed every one of them on our extinction crisis poster, which you can download for free.
The list includes lovable Aussie battlers like the mountain pygmy-possum, orange-bellied parrot and the growling grass frog as well as perhaps less charismatic characters like the Christmas Island red crab, Mary River turtle and bronzeback snake-lizard. The last three might be harder to love, but their survival is just as important.
The research was led by the University of Queensland's Stephen Kearney and paints a grim future for Australia's native plants and animals if we don't throw everything we've got at this growing catastrophe.
Help us stop extinctions
We're working hard to stop Australian native plants and animals from being pushed towards extinction by invasive species, but need increased tax-deductible donations to help us continue this fight.
In the past 12 months alone we:
Led the charge against the decision to protect destructive feral horses in Kosciuszko National Park by kick-starting and leading the Reclaim Kosci campaign.
Joined forces with farmers, local councils, industry groups and others to ensure a $9.2 million commitment from the major parties contesting the federal election to eradicate yellow crazy ants from Queensland's Wet Tropics World Heritage Area.
Helped create a new national Office of Environmental Biosecurity within the federal government to better prevent invasive species from entering Australia.
Played a major role in creating a new levy on shipping imports that will fund improved environmental biosecurity.
These wins have been massive gains in the fight against invasive species and demonstrate that we can work with all sides of politics at all levels of government.
None of this would have been possible without financial aid from our supporters, people who understand the huge threat invasive species pose to Australia's incredible, but vulnerable, native plants and wildlife.
We need to get this message to as many Australians as possible. Can you make a valuable tax-deductible donation today?
Our six-point plan
Australia is in the midst of an invasive species-led extinction crisis and every year more and more environmental pests arrive, taking hold and spreading across the country. More native mammals, frogs, birds, reptiles, fish and plants will be lost if we don't reduce the damage from invasive species.
That's why we have come up with a six-point plan to protect Australia from new and present invasive species by:
Solving problems through research and innovation.
Strengthening environmental biosecurity institutions and capabilities.
Preventing new species invading Australia.
Nipping invasive species in the bud.
Abating Australia's worst invasive threats already here.
Protecting islands from invaders.
What's at risk?
Let's not forget what we're fighting for – four out of every five threatened Australian native species are being driven towards extinction by feral animals, weeds and diseases, and the situation will worsen.
Any donation you can make today will help us step up our fight against invasive species and make our voice even stronger right across Australia. We must put a stop to Australia's extinction crisis!
PS: Donate now and help us stop Australia's invasive species-led extinction crisis. We won't avert it unless we tackle invasive species.