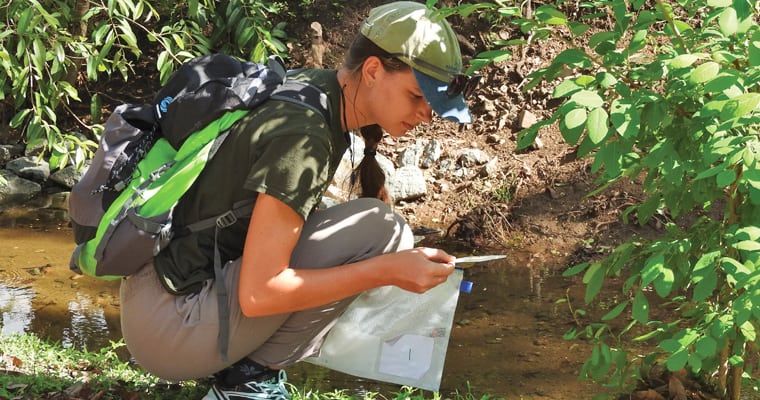 Our Townsville Yellow Crazy Ant Taskforce team has been busy keeping a lid on the spread of this highly invasive creature at Nome, just south of Townsville.
They've just recently put out large signs throughout the suburb warning locals to remain alert and report any sightings of yellow crazy ants, which are a threat not just to the local environment but people, pets, and even electrical infrastructure.
They've also distributed a kit of yellow crazy ant stickers and magnets to help locals identify these ants if found in homes or gardens.
Yellow crazy ants have been present in and around Nome since 2008, but our taskforce team is working closely with the City of Townsville and getting on top of the situation.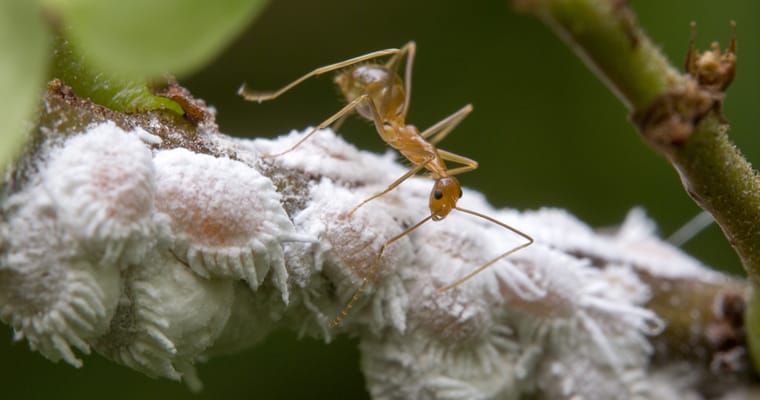 Stay alert and report suspected ants!
Although there have been very few signs of yellow crazy ant activity in the area recently locals are being reminded to remain vigilante.
And while our intensive monitoring efforts are paying off, a number of nests were found recently just outside of the Nome residential area, which will be spot treated.
If you live in Nome or anywhere in the Townsville region you can help eradicate yellow crazy ants by ensuring there are no nests hidden in your backyard:
When disposing of green waste make sure you mulch on site, compost or burn it.
Check pot plants before moving house or giving pot plants away.
Check all rubbish before you dispose of it.
Check and clean cars, boats, trailers and caravans before travelling if they have been sitting idle for longer than 24 hours.
Spotted an ant? Snap Send Solve
LLocals are also being urged to report any possible yellow crazy ant sightings using the Snap Send Solve app.
It's a quick and easy way of reporting yellow crazy ants in three simple It's a quick and easy way of reporting yellow crazy ants in just three simple steps:
Snap: Take a photo of the suspected ants and add a short note. For example "Found in my front yard – are these yellow crazy ants?"
Send: Use the Snap Send Solve app to send your photo to the council.
Solve: Council will analyse your photo and contact you on the outcome of their investigation.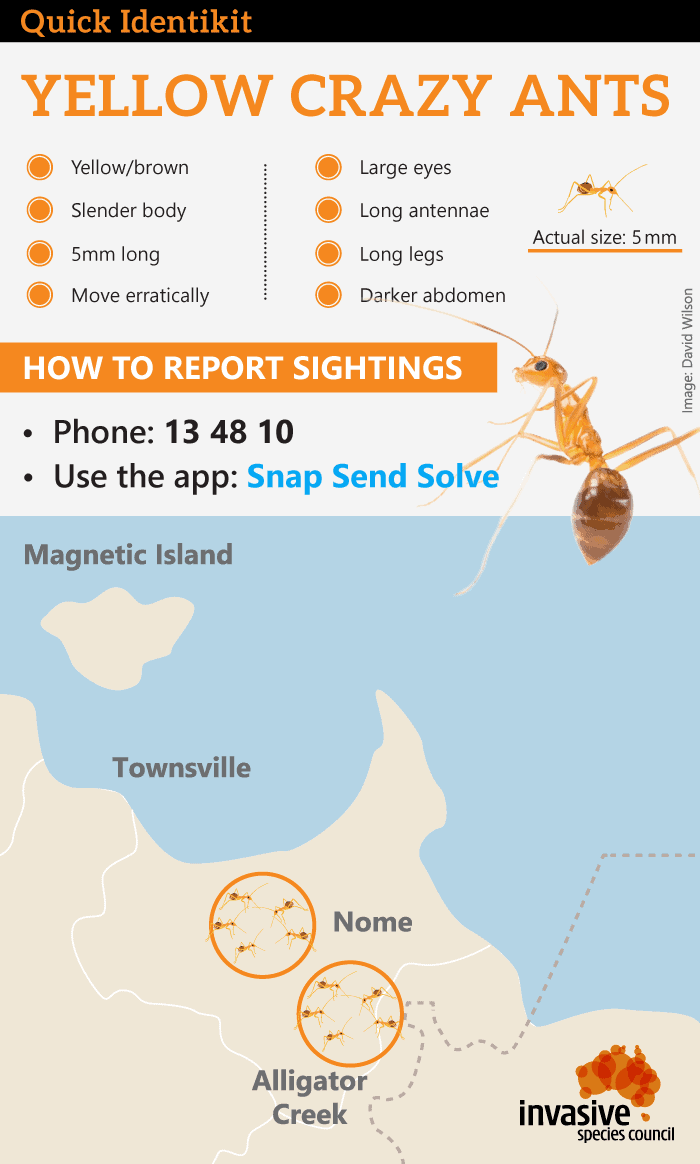 Getting the kids on board
Year 3 kids from Townsville Grammar School's Annandale campus were introduced to the world of invasive ants in Australia when our taskforce coordinator Bev Job paid them a visit earlier in the year.
They learned about the threats yellow crazy ants pose to the region's natural areas and wildlife, including Queensland's Wet Tropics World Heritage Area, and they were shown how to use 'lure cards' in the school grounds to find out what sort of ant species live nearby.
The lures draw ants to the cards, and once the students had collected their lure cards, photographed and analysed them, they were shocked at just how many ant species were making a home of the school grounds.
Thankfully, no yellow crazy ants were found!
Can you help turbo charge our team
Our yellow crazy ant taskforce team is now in the running for an Australian Ethical Community Grant.
The grant would turbo charge our fight to eradicate yellow crazy ants from northern Queensland.
The more votes we get, the more chance we will get the grant. Can you help by voting for us at: bit.ly/Ethical-grants-2020
We're listed under Animals, Invasive Species Council. Look for the photo of one of our ace yellow crazy ant volunteers in monitoring stance!
More info