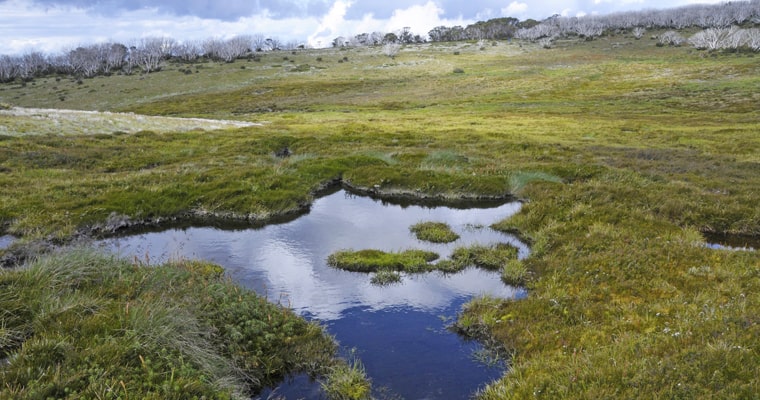 Victoria's alpine sphagnum bogs, burnt during the horrendous 2019-20 bushfires, won't recover without protection from feral animals, namely horses, deer and pigs, new research warns.
Scientists from Victoria's Arthur Rylah Institute have warned that without "urgent management action to address these pervasive threats, many burnt bogs are likely to contract in size or disappear entirely".

Willows as well as feral animals need controlling.

The research found that around 20 per cent of the bogs in north-eastern Victoria were damaged by the fires. Many NSW alpine bogs were also burnt.

Climate change has been blamed for the extreme nature of the fires, but recovery will depend on control of these invasive animals.

Sphagnum bogs are a threatened ecological community and a haven for native alpine plants. They provide significant habitat for a number of threatened species, including the southern and northern corroboree frog.
Alpine bogs in both Victoria and NSW are already under pressure from climate change and now the ongoing impacts from of the summer bushfires.
Tackling climate change requires a global response. Reducing feral animal numbers in Australia's precious alpine ecosystems can be done by state and federal governments.
Victoria is moving ahead with feral horse control measures that will reduce horse impacts on sensitive alpine vegetation, but in NSW feral horses in Kosciuszko National Park are being protected through legislation and management options to reduce numbers are being thwarted.
All state governments that manage Australia's alpine ecosystems must heed the institute's warning:
"In the longer term, the threats posed by wide-ranging hoofed animals and environmental weeds across the alpine region will be exacerbated by the impacts of climate change, hence alpine bogs must be buffered against known threats to maximise the chances that some of this important vegetation community can persist in an uncertain future."
More info