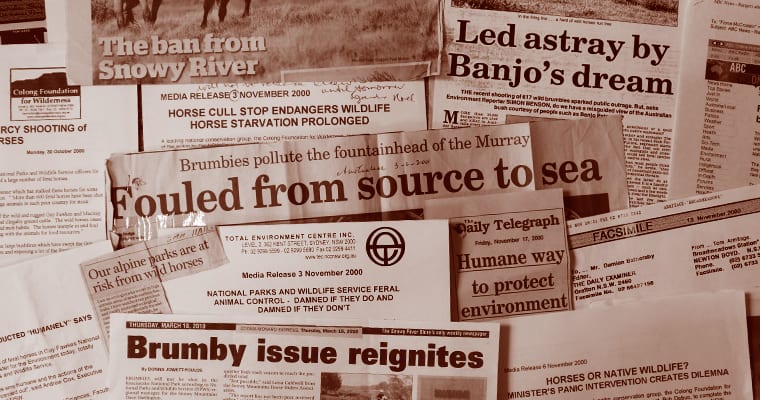 Sorting through faded newspaper articles from the early 2000s the stagnant state of feral horse management in Kosciuszko National Park is puzzling, but clear.
An article dated 24 July 2002 reads: The New South Wales National Parks and Wildlife Service says it will continue trialling removal methods to capture about 3000 brumbies in the Kosciuszko National Park.
Sound familiar?
For the past 20 years Kosciuszko's horse population has continued to grow, proving existing management plans are ineffective.
It is estimated there are now as many as 20,000 horses in the park, up from a few thousand at the turn of the century. More and more horses have been allowed to change the landscape and contribute to the degradation of the already limited habitat available to unique indigenous species such as corroboree frogs, the broad-toothed mouse and stocky galaxias.
The timeline keeps drifting, but it is now expected a new horse management plan will be publicly exhibited in the coming months.
With the NSW environment minister Matt Kean showing promising signs as a conservation leader and our Reclaim Kosci campaign working constantly to back a science-based, humane management plan, will 2020 be the year we finally see a positive shift forwards and the natural environs of Kosciuszko protected from introduced hard-hooves?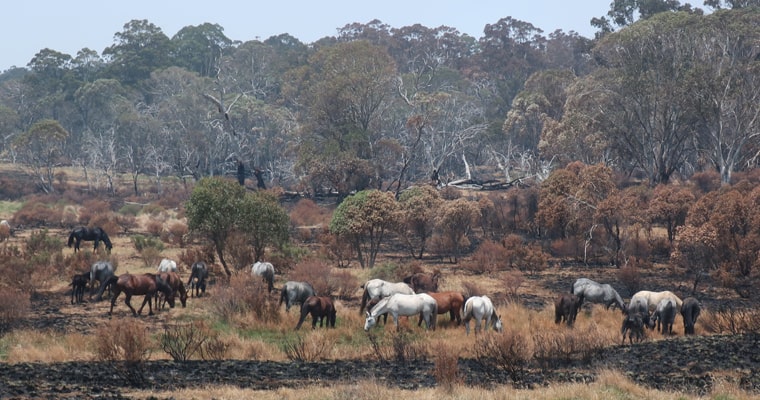 Emergency post-fire horse removal proceeds
When NSW Environment Minister Matt Kean announced renewed pest control efforts following the unprecedented summer bushfires, Reclaim Kosci called on the NSW Government to ensure these measures included horses.
For the first time in decades the NSW Government has set ambitious goals to significantly reduce horse numbers in two critically sensitive conservation areas in northern Kosciuszko and completely remove horses from a third through trapping and removal (including rehoming) as part of the post-fire recovery efforts. The NSW National Parks and Wildlife Service estimate there are 4000 horses in the targeted areas.
Removal commenced last week, with 12 horses already taken out of the park. More intensive control of other introduced species – including deer, pigs, goats and foxes – began back in March.
Implementation of these measures did not go without challenge. A small lobby group called the Snowy Mountains Brumby Sustainability & Management Group Incorporated lodged an injunction in the NSW Land and Environment Court against the removal.
The court rejected the group's application and National Parks and Wildlife Service began proceeding with the removal plans.
This is an encouraging start, but time will tell whether the removal goals are achievable. They are being carried out under the guidelines of the outdated 2008 horse management plan that has seen horse numbers skyrocket in the park.
What's more – it appears no removal is occurring in the southern and north-west sections of the park, where horses also occur.
What do the locals want?
During the Eden-Monaro by-election an independent poll asked 643 Eden-Monaro voters what should be done about feral horses, which are devastating Kosciuszko National Park's unique plants and animals, and destroying its once pristine waterways.
51 per cent of people polled were in favour of a significant reduction in horse numbers.
A further 29 per cent said horses should be managed so that current numbers do not increase.
80 per cent believe action is required to manage horses.
A minority of just 13 per cent supported leaving the horses alone.
Just seven percent replied, "don't know".
Still waiting for a new horse management plan
Reclaim Kosci is now urging the NSW Government to prepare and release the new draft wild horse management plan by the start of September.
When the internationally criticised Kosciuszko Wild Horse Heritage Act 2018 was introduced dictating that yet another new plan be developed, it overturned the widely supported, balanced 2016 draft horse management plan that had been prepared after an extensive three-year public consultation process funded by taxpayers.
In 2020, we're calling on the NSW Government to demonstrate leadership, stop wasting resources and commit to the implementation of a plan that will effectively and humanely reduce the feral horse population in Kosciuszko to limit the negative impacts on the environment.
Horse impacts are growing and the excuses for action are wearing thin.
More info
Find out more about our campaign to protect Kosciuszko National Park from feral horses by visting our Reclaim Kosci website >>