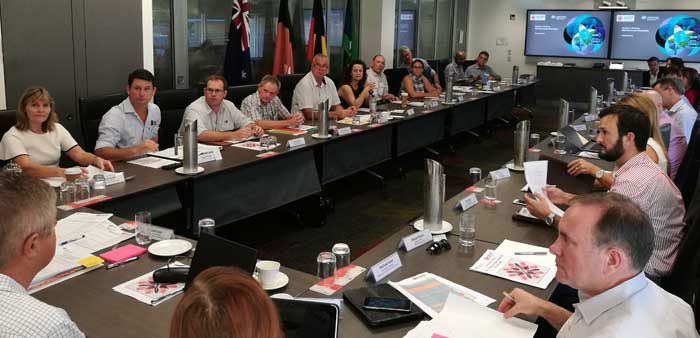 By Andrew Cox
The small conference room in Darwin is packed with about 30 people. June mornings in the Northern Territory hover in the low 30s and outside the air-conditioned government offices, board shorts, singlets and t-shirts are popular winter attire.
We start with introductions – buffalo industry council, cattlemen's association, a nursery industry group, Northern Territory farmers, cattlemen's association again, crocodile farmers. It quickly becomes clear that I am the only person at this biosecurity roundtable with an environmental perspective – the only non-government one anyway.
You could call Darwin Australia's biosecurity epicentre – it suffers ongoing battles against banana freckle, browsing ants and cucumber green mottle mosaic virus, just to name a few. And even though it's almost two decades since the outbreak of the black striped mussel, people still talk about it.
For this community, invasive species are an existential threat – it might have something to do with the small population and a fragile economy reliant on exporting plant and animal material. It could also have something to do with a closer connection to the land and natural environment.
The government representatives at this meeting, in particular the Territory government team, clearly understand holistic biosecurity and the need for good environmental biosecurity responses. Those from industry want to drill down on the specifics of burdensome reporting regimes, stock tagging and tracking procedures. Monitoring of internal overland interstate trade routes is also high on their agenda.
Two participants from Groote Eyelandt arrive late. The traditional owners and the Groote Eyelandt Mining Company (GEMCO as it's better known) are investing in environmental biosecurity focused on ridding the island of cats and rats. The Darwin experience highlights just how divergent and broad the term biosecurity is becoming – it almost means something different to each participant.
Polar opposites
As an Australian continental experience, the polar opposite of Darwin is Canberra in late June, where the early morning temperature on the day of the national environmental biosecurity forum reaches minus five.
I attended this forum before Australia agreed to fully fund the fire ant eradication program, before the intergovernmental agreement on biosecurity review was released and several days after the federal government's response to the Senate enquiry into environmental biosecurity.
It is clear from the federal departmental officers in attendance that they are excited – there's a feeling Australia is on the verge of some big changes.
While the Darwin forum is dominated by localised industry interests, this forum is explicitly about the environment. It's the second forum with an environmental focus in two years and there are a lot of familiar faces from the first roundtable in late 2016.
The natural resource management groups are well represented – Andy Sheppard from CSIRO opens his presentation with a declaration that environmental biosecurity is "back on the agenda".
These forums are part of a series of general biosecurity roundtable meetings being rolled out across Australia in 2017 that include two that are expressly environmentally-focused. With relatively new federal legislation and so many reviews and changes happening combined with state and territory legislation and programs rarely, if ever, have government departments consulted so widely on biosecurity issues.
So far the unifying message of the forums is that governments cannot go it alone on biosecurity – they need industry and community support. These biosecurity forums are a good way to establish a new consultative relationship and build a biosecurity conscious network, but genuine engagement will need to extend beyond presentations and workshops.
We are in the midst of some major changes to how the community is involved with our biosecurity landscape, but there is still a long way to go.
There are several biosecurity forums still to occur:
Tasmania Roundtable – 29 August 2017.
Queensland Roundtable – 15 September 2017.
National Roundtable (Canberra) – 24 October 2017.
Sydney Environmental Biosecurity Forum – 16 November 2017.
For those representing an organisation interested in the environment, we encourage you to attend one of the meetings. Contact us for more details.
Andrew Cox is the Invasive Species Council CEO and a past president of the organisation.