Fire ant fight 2.0: A battle we must win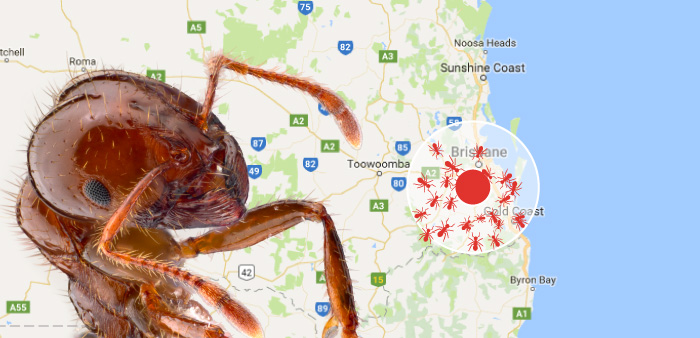 Australia's agriculture ministers have signed off on the new $411 million fire ant eradication program and pressed go on one of the biggest biosecurity operations ever undertaken in the country.
So much is at stake. Fire ants are a serious environmental, health and agricultural pest in Australia. If not eradicated they will have a greater impact than rabbits, cane toads, foxes, camels, wild dogs and feral cats combined, and cost the economy more than $1 billion a year.
In the US where they are out of control, fire ants have caused the deaths of almost 100 people, wiped out native species and impacted all aspects of life.
Why we still have fire ants
Despite 16 years of eradication efforts, the area infested with fire ants is still incredibly large – over 400,000 hectares. Eradicating fire ants from such a large area has been incredibly complex.
We now know that if more resources had been poured into eradication during the early stages Australia would probably be fire ant free. Recently, funding became uncertain and was capped, resulting in insufficient baiting and a lack of public support for controlling fire ant movement, allowing the ants to spread. Past reviews have also highlighted deficiencies in the program that were slow to be rectified.
A major independent expert review of Australia's fire ant eradication program released in December 2016 called for more funding – $38 million a year over ten years. It also called for a permanent oversight body. By ensuring the program is properly funded and has the right structures, success will be more likely.
A long hard fight
Eradicating fire ants from Australia remains technically feasible, but the operation will be long, complex and require everybody in the affected areas and beyond to play a role.
It will require sufficient funds and an open and independent structure that builds trust and learns from the lessons of the past.
That's why we have released a seven-point plan on the essential governance requirements for the national red imported fire ant eradication program. These are:
Design an effective governance approach, including by consulting stakeholders and seeking the advice of experts.
Ensure structures and processes provide robust oversight and accountability to funders, industry and the community.
Make sure decision-making is transparent so that stakeholders understand the rationale for decisions and can have confidence in the program.
Develop a comprehensive eradication plan that includes techniques, costings, assumptions, milestones, roles and responsibilities.
Create an independent body to ensure the program is managed effectively.
Involve experts from relevant fields for program design, advice and review.
Make sure the community and industry is meaningfully engaged in the program.
These detailed management and decision-making structures will be the most effective way to spend the fire ant eradication money.
Our last chance
The independent review made it very clear that the window of opportunity to eradicate fire ants from Australia is closing – the identification of fire ants on the Sunshine Coast in July is a terrible reminder of how easy it is for these ants to spread to new areas.
Thankfully in July Australia's agriculture ministers set a clear course that ensured we have the best chance to eradicate this deadly invader.
Many organisations had joined our statement of concern that had been calling for a full, ten-year eradication program, including the National Farmers Federation, AgForce, CANEGROWERS, Local Government NSW, the Nature Conservation Council of NSW and the North Queensland Conservation Council.
There is no aspect of our lives that will not be impacted by a fire ant infested Australia. We are extremely pleased that our agriculture ministers showed the leadership required to get the job done.

More info