More than 5.7 million bats have died in North America since 2006 from white nose syndrome (WNS), a disease caused by the fungus Pseudogymnoascus destructans, which is indigenous to Europe.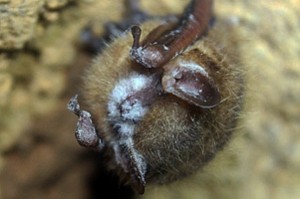 The name of the disease derives from a white growth often seen on the muzzle and other parts of the surface of infected bats. It disrupts their winter hibernation, causing them to wake more frequently, which causes dehydration and the accelerated consumption of fat reserves. Infected bats have been seen flying outside in the day. In some caves, 90 to 100 percent of bats have died. It threatens some species with extinction.
The fungus can survive for long periods in the absence of bats, so cavers or tourists who visit caves could carry it from overseas on their clothing or gear. The Australasian Bat Society made a submission (pdf 530 kB) to the Senate inquiry into environmental biosecurity calling for basic preventative measures including risk assessment, contingency planning, and adding it to the list of notifiable diseases.
The emergence in Australia of several devastating exotic diseases — chytridiomycosis that has caused frog extinctions, myrtle rust in Myrtaceae plants, and dieback caused by Phytophthora pathogens —should be motivating biosecurity authorities to assiduously assess and prepare for emerging disease risks for Australian wildlife but this mainly occurs when the disease is a threat to human health or industry.
In a submission to the Senate inquiry, Australia's peak wildlife health body, Wildlife Health Australia, said, 'Australia's current wildlife health system is almost entirely driven by agricultural and human health needs' and that 'Diseases of wildlife that impact upon Australia's biodiversity and environment are a low priority.'
The lack of focus on the risks of white nose syndrome can be contrasted with the many millions of dollars spent on responding to bat pathogens that infect humans or horses (Hendra virus and Australian bat lyssavirus).
A submission by the South Australian government noted a disease caused by an unknown pox virus that caused mass mortalities in critically endangered southern bent-wing bats (Miniopterus schreibersii bassani) at Narcoote caves, infecting 10 percent of the entire population in 2009. The South Australian government identified one of Australia's biosecurity weaknesses as the lower priority given to environmental threats in comparison to threats to primary production and human health.
ISC too highlighted in our submission the lack of preparation for exotic diseases emerging overseas that are a threat to Australian biodiversity in our case studies on diseases of eucalypts and wattles, pigeon paramyxovirus and Avian bornaviruses that cause disease in captive parrots.
We hope that the inquiry will recommend that Wildlife Health Australia be funded to focus on diseases that are a risk to biodiversity, not just those that also affect agriculture and human health.
More information