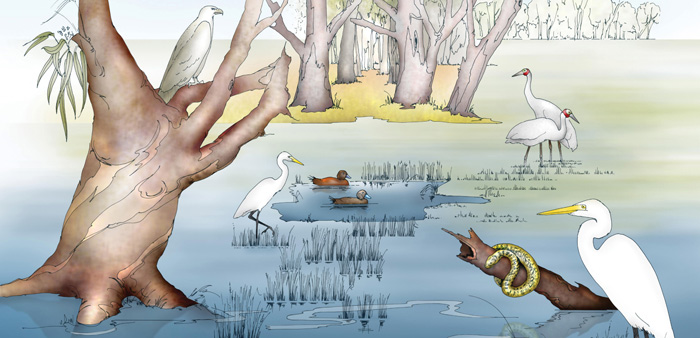 The Victorian Government has released a park action plan that tackles destructive feral horses in Barmah National Park, an internationally significant wetland and part of the largest stand of river red gum forests in the world.
Barmah Forest supports nearly 300 native species of birds, fishes, reptiles, frogs and other animals and more than 500 native plant species, including endangered or vulnerable species.
The park is jointly managed by the Yorta Yorta nation and has exceptional Indigenous cultural heritage.
Changes to the natural flooding patterns, invasive plants and introduced grazing animals – especially feral horses – are having a severe impact on Barmah Forest and action is necessary to protect the Barmah Forest's fragile ecosystems.
At particular threat is native moira grass, which provides food and habitat for turtles, waterfowl and other aquatic organisms. This wetland grass has declined by 96 per cent over the past 80 years and could be locally extinct by 2026 without action.
Feral horses are considered the most destructive grazing feral animal in Barmah and the plan supports eradicating horses, first reducing horse numbers from about 700 to 100 using professional shooters and rehoming.
Have your say
This fragile ecosystem must be protected from feral animals. Support the Barmah draft strategic plan and in particular the plan for managing feral horse numbers at www.engage.vic.gov.au/barmah-strategic-action-plan.
Submissions must be made by 30 May 2019.
Park Victoria resources