The release of Victoria's Feral Horse Strategic Action Plan is a game changer – it finally gives Parks Victoria the power to protect the state's incredible Alpine National Park from feral horses by utilising the most humane and effective control methods we have at our disposal – ground and aerial shooting.
Recently Parks Victoria used these methods to remove more than 4300 feral deer from across 200,000 hectares to aid the recovery of threatened species and habitats.
There is no reason why a similar approach cannot be applied to feral horses by removing the 5000-strong population from the Victorian Alps over the 10-year life of the action plan.
However, to achieve this, Parks Victoria needs to be bolder, it needs to increase the number of feral horses it plans to remove from the park from just 10 per cent in the first year to a sustained 45 per cent of the population every year for ten years.
Anything less and in another ten years from now the park will still be facing the same problems it faces now – hard hooves trampling habitat critical to the survival of many threatened plant and animal species, damage to waterways, ongoing soil erosion and compaction. Much less and the impacts will worsen.
Why 45 per cent?
Previous studies in the Alps (Dawson 2009) have put forward that a 21% reduction in feral horse numbers is required every year to simply sustain a horse population. Subsequent population growth estimates of horses in the Alps have supported a similar figure.
Removing 500 feral horses from Victoria's Alpine National Park in year one, as noted in the action plan, is just 10% of the total population. As an ongoing target this will clearly not reduce horse numbers, but instead allow them to increase.
A simple analysis based on the horse population growing at 15% a year indicates that a sustained 45% reduction in the population each year will still leave 50 horses in the final year of the action plan.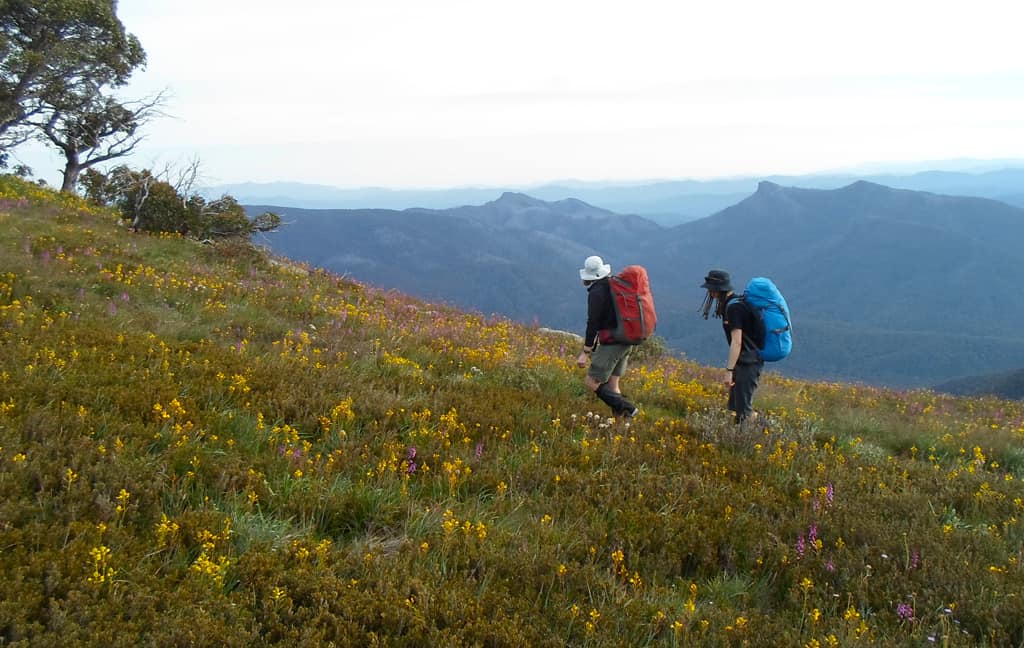 Resetting the balance
Now is not the time to shy away from strong action that protects Victoria's Alps from feral horses. Over the past three years the feral horse population has increased at about 15% annually or more while the alpine environment struggles to recover from the impact of drought and landscape-scale bushfires.
Following the ACT government's lead, Parks Victoria has set a new course for protecting the Alps from feral horses by introducing ground and aerial shooting as a control option, and if it has the courage and can show strong leadership, in just ten years we could be witnessing a rebirth of the Alpine National Park as it enters a period of steep recovery from decades of feral horse damage.
To do that the final feral horse action plan must set a goal of eradicating feral horses from the Alpine National Park within ten years or less and prevent any re-introductions of horses.
This is entirely feasible through an integrated ground and aerial shooting program. As a first step the feral horse population in the Bogong-Cobungra area must be eliminated.
A clear threat to the Alpine National Park
The strategic action plan clearly identifies why growing numbers of feral horses threaten the Alpine National Park's conservation values and the many threatened species that rely on the park for survival.
Feral horses have a preference for the native grasses, tussocks and heaths that provide critical habitat for threatened native animals such as the smoky mouse.
They compact the soil with their hard hooves, and in wet areas their hooves cut up the ground, creating microhabitats for weed invasion.
Feral horses impact water quality through streambed disturbance, pugging and streambank collapse.
Large piles of horse manure suppress vegetation. As well as suffocating native grasses and herbs on which it lies, the dung can act as an accessible surface fertiliser that assists the invasion of non-native weed species.
Horses also can also carry diseases, a threat that must be taken into account by the final strategic plan. Feral horses can carry equine influenza, strangles and anthrax – which can potentially spread to humans. These diseases are a serious threat to domestic horses and the Australian horse industry. Horses are known to carry the parasite Cryptosporidium parvum, which can cause serious gastroenteritis in humans if it contaminates drinking water.
Now is the time to follow the science
Science-based feral horse control in both Victoria and NSW has been stymied for far too long by a small coterie of people willing to see the ongoing destruction of our natural places by introduced, feral horses, no matter how strong the scientific evidence that the horses should be removed or that protocols have been adopted to address animal welfare concerns.
Over the past three years we have seen science-based feral horse control put on hold due to legal challenges, offensive and aggressive actions by some in the community, logistical challenges, and the reliance on ineffective methods such as trapping and rehoming in the existing Feral Horse Strategic Action Plan 2018-2021.
The release of Victoria's feral horse action plan is a chance to finally reset the balance in how we manage and protect our native species from the growing impacts of feral horses.
The RSPCA and independent expert reports show that professionally-conducted aerial shooting is an effective and humane way to manage horse numbers. It has been repeatedly shown as causing less suffering and distress to horses than other control methods, including mustering and trapping.
Parks Victoria has been given the tools it needs to accomplish what a year ago seemed impossible – removing the entire feral horse population from the Alpine National Park.
It just needs the Victorian Government and Parks Victoria to be bold.
More info
Banner image: Eve Conroy