Enigmatic, affectionate, playful, mischievous, lazy, regal, snuggly. These are just some of the fond descriptions that may spring to mind when we think about our lovable pet cats.
Yet free roaming cats, both pet and feral cats, have impacts on our environment that are dark and disturbing. Most of these impacts are often hidden from view or are invisible to the naked eye. Few of us witness the moment a cat stalks and kills its prey and the transmission of cat-dependent diseases is impossible to see with the naked eye.
In recent years, there has been a significant amount of research on cats, including by the Threatened Species Recovery Hub.
First, let's have a closer look at the impact of cats on Australian native wildlife.
A quick snapshot: cat impacts in Australia
Cats were introduced to Australia by First Fleet settlers who brought them here in 1788 as companion animals, as reminders of home, and for their perceived role in controlling pest rodent populations.
Now, 232 years after they were introduced, cats:
have spread across the entire Australian mainland and its larger islands;
have played a significant role in the extinction of 34 mammals;
are a major factor causing the imperilment of at least 123 nationally threatened species.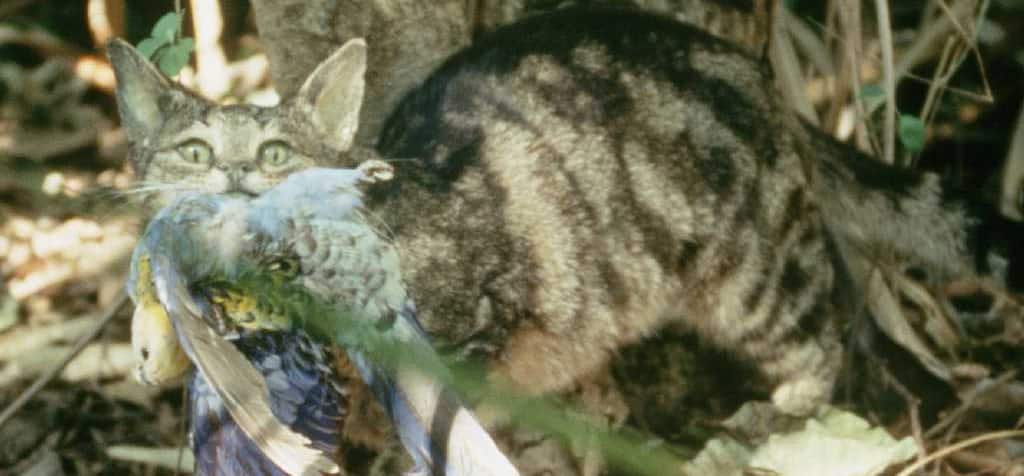 Fight, escape or freeze?
We've all heard of the "fight or flight" stress response. This concept was developed by influential physiologist Walter B Cannon who in 1911 noted in his journal:
"Got idea that adrenals in excitement serve to affect muscular power and mobilise sugar for muscular use-this in wild state readiness for fight or run!"
This "fight or run" concept gradually morphed into the "fight or flight" response so commonly used today to describe how animals respond to an aggressive encounter with a member of the same species, or exposure to a predator. The concept suggests that the key physiological responses for animals in response to a competitor or predator are to fight, or quickly escape.
However, evidence suggests not all animals show this stress response when they should.
Many Australian animals have proven particularly susceptible to introduced predators, probably due to:
their slow life histories, including low rates of reproduction;
some form of predator naivety;
the widespread distribution of cats all over Australia-no habitat or mainland site offers refuge from cats;
the compounding impacts of many other threats (notably, habitat loss, degradation and fragmentation).
The result has been that our native wildlife populations are incapable of coping with the impacts of highly efficient predators that can increase in numbers faster than their Australian prey, such as cats and foxes.
Overall, the impacts of cats on Australian wildlife are far more severe than for any other continent. A comprehensive and in-depth discussion of the impact of cats in Australia can be found in the book Cats in Australia, written by John Woinarski, Sarah Legge and Chris Dickman.
Just how many Australian animals do cats kill?
A key component of the Threatened Species Recovery Hub's cat research has been focused on improving our understanding of the impact of cats on Australian wildlife.
To underpin this work, it was important to develop improved estimates of the number of feral and pet cats in Australia. That estimate allowed us to quantify the annual toll taken by cats on reptiles, birds, mammals, frogs and invertebrates in Australia.
To achieve this, information was collated from about 100 cat dietary studies, and where possible, modelling and extrapolating from these to derive a spatial layer of the variation in numbers (and types) of animals killed per cat, and multiplying this by the number of cats in Australia.
The research findings from these studies has been synthesised into a fact sheet on the impact of cats in Australia.
Authors: Tida Nou, John Woinarski, Sarah Legge and Jaana Dielenberg-Threatened Species Recovery Hub