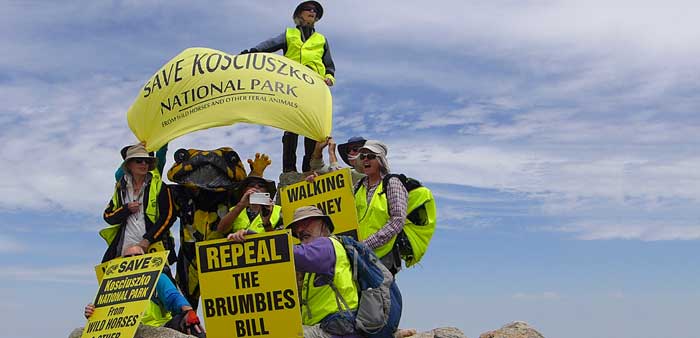 Join us on Thursday, August 22 when the NSW Parliament debates the impacts of feral horses on Kosciuszko National Park.
More than 12,000 people signed a petition calling for this debate and it's now going to happen!
WHEN: Thursday 22 August 2019 – 1.20pm-5pm AEST.
WHERE: Parliament of New South Wales, 6 Macquarie Street, Sydney, NSW 2000.
IMPORTANT: Some of the day's activities have limited seating so please RSVP for each activity you would like to attend.
Presentations: There is limited seating for the presentation and talks at 1.20pm, so book your spot early.
Join the rally: We want as many people as possible to join us at the 3pm rally, but please let us know you are coming to help organise numbers.
The debate: The debate in Parliament starts at 4pm, but we have just 100 seats available, so again, get in early.
The day's activities
1.20pm – Presentations and talks
Join us in the Macquarie Room at the NSW Parliament House and hear scientists, politicians, Aboriginal elders and environmentalists discuss the Save Kosci petition and the feral horse issue.
Tea and coffee will be provided but please RSVP, there is limited space.
3pm – Demonstration
We will assemble at the Archibald Fountain, a short walk from Parliament House, where we will rally for the protection of Kosciuszko National Park's native plants and animals from feral horse destruction.
You will be grouped by occupation or interests – e.g. scientists, motorists, horse riders, families, cross-country skiers, members of a club or association. Where possible, we hope each group's members will wear something representing their interest – for example scientists and researchers could wear lab coats, ski club members could wear ski gear. We welcome suggestions from groups that would like to participate. Please bring an outfit that best suits your interest or occupation outfit, or we can lend you a Save Kosci vest on arrival.
No RSVP is required for attending the demonstration, but we would love to know you are coming – just show up!
4pm – Petition debate
The debate will start at 4pm. We have booked 100 of the allocated 120 seats for supporters so grab your spot as you can. Please note we have been told specifically that we will not be able to view the debate if we are dressed in 'protest' outfits or seen protesting outside of parliament, so if you have a Save Kosci vest or outfit on please make sure to get changed before entering the Parliament.
PS The Invasive Species Council leads the Reclaim Kosci campaign, which is also supported by the National Parks Association of the ACT, National Parks Association of NSW, Colong Foundation for Wilderness and the Nature Conservation Council of NSW.
Please donate today to the Reclaim Kosci campaign and help protect Kosciuszko National Park from feral horses.