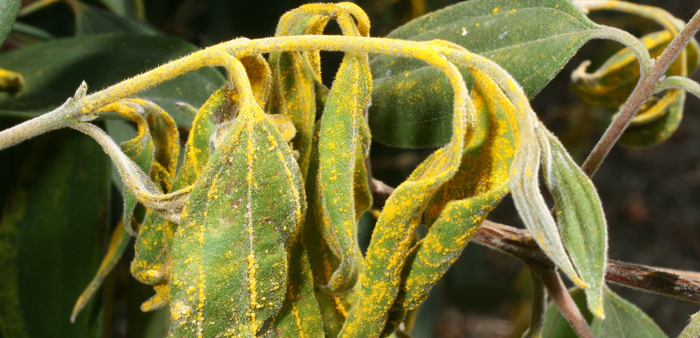 New Zealanders have just discovered that the serious plant fungal disease, myrtle rust, has arrived on their shores.  The New Zealand government response so far has provided an embarrassing comparison for how our two countries respond differently to early stage environmental diseases.
Myrtle rust was detected on plants in a commercial plant nursery north of Auckland and has since been found in a neighbouring garden. The properties are in quarantine lockdown, and further surveillance and testing is being carried out to narrow down the source and confirm if the disease has spread.
This is the first detection of myrtle rust on mainland New Zealand. The fungal disease could affect iconic New Zealand plants such as pōhutukawa, kānuka, mānuka and rātā. Pōhutukawa is famed as New Zealand's Christmas tree and Maori regard it as one of the "chiefly trees".
Depending on how long the rust has been in New Zealand, containing it may be difficult. Modelling shows the rust could spread to all mid- to low-altitude areas of the North Island and parts of the east coast on the South Island.
Restrictions were in place to prevent the import of plants that can potentially host myrtle rust, but finding the rust in a commercial nursery raises questions about the effectiveness of quarantine arrangements.
New Zealand's primary industries minister Nathan Guy said the country "can't afford not to try" to eradicate the rust even though it may have been carried on winds from Australia.
Learning from the Australian experience
The main advice that we can offer New Zealand is to wholeheartedly commit to eradication unless there is clear evidence myrtle rust is spreading naturally.  Don't stint on resources, for the consequences of failing will inevitably be far more costly.
From all reports New Zealand is treating its myrtle rust outbreak far more seriously than we did here in Australia when the disease was first detected in NSW in April 2010. More than 100 agriculture and conservation staff are conducting surveillance across 800 sites and encouraging public reporting.
In Australia our response was a stop-start affair that was poorly managed, failed to utilise a contingency plan and downplayed the potential environmental impacts.
Seven years after our myrtle rust outbreak, the significance of the event still has not sunk in. Measures to prevent new strains of myrtle rusts arriving in Australia are poorly developed and little research is being carried out to understand the impacts on Australian plants.
There has been only very limited collection and storage of genetic material and paltry resources to safeguard our most highly susceptible plants to prevent their extinction.
The arrival of myrtle rust in New Zealand should be a wake-up call for the country. Even if the rust is not contained and ultimately spreads throughout New Zealand (something we hope can still be averted), there will need to be increased vigilance to prevent new strains from arriving, strains that could infect other myrtle species and exacerbate the impacts and losses.
Myrtle rust on Australia's islands
Over the past six months myrtle rust has been detected on both Lord Howe Island and Norfolk Island. Australian authorities have responded poorly to both outbreaks.
On Lord Howe Island, Lord Howe Island Board staff swung quickly into action to try to eradicate infected plants but received little support from the NSW government's primary industry and environment departments beyond advice.
Lord Howe Island Board staff had to rely on their own limited resources because myrtle rust is now considered "endemic" in NSW.
On a recent visit to Norfolk Island our CEO Andrew Cox discovered that myrtle rust had been found on planted rose apples (Syzygium jambos) six months ago. No public information about the detection has been released, and the federal agriculture department is still determining a response. The new Norfolk Island regional council seemed unaware of the arrival. Thankfully there are no native myrtles on the island.
Myrtle rust outbreaks on these two iconic islands should have been prioritised at state and federal levels. Once established, the rust could spread to other offshore islands and possibly to mainland New Zealand. Last month myrtle rust was found at Raoul Island, about 1000 km northeast of New Zealand and a similar distance east of Norfolk Island.
More info