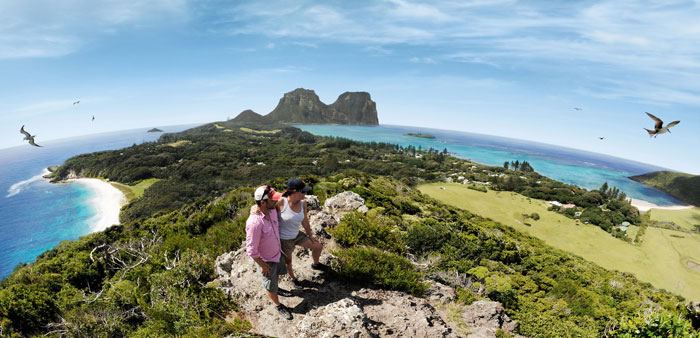 Are you up for a challenging but rewarding volunteer position on Australia's incredible Lord Howe Island?
The Lord Howe Island Rodent Eradication Project aims to eradicate introduced rodents, the black rat and the house mouse, from this beautiful island, but needs volunteer field officers to finish the job.
If you're dedicated to protecting Australia's incredible natural environment and want to make a lasting contribution to conservation, then being part of this world first eradication project could be just for you.
One of the most unique and beautiful places in the world, World Heritage Lord Howe Island is three-quarters conservation reserve and encompassed in a marine park.
The rodent eradication project has been 10 years in the making and is the largest undertaking of its kind anywhere in the world.
Volunteers will help recover one of the world's rarest insects while taking part in a program that will change the lives of critically endangered animals.
The project reached the halfway point for ground baiting operations in August 2019 and is now entering one of the most critical phases of the project – hunting down the few remaining individual rodents.
Volunteer field officers will undertake pest and weed management and revegetation work.
They will also join the ground baiting crew servicing 18,900 external bait stations and 2200 monitoring devices over the settlement area of the island, replenishing bait, logging bait take and rodent sign.
Conditions
Return flights to Lord Howe Island from Sydney/Brisbane.
Hotel style accommodation for the duration of your stay.
A small stipend to cover living expenses.
Requirements
Physically fit.
Hold a ChemCert qualification or be willing and able to obtain this qualification.
Available to volunteer for 4-8 weeks (Min 4).
Field work experience with an emphasis on attention to detail highly regarded.
Note: Preference will be given to candidates indicating they are prepared to stay for longer periods and who hold a valid ChemCert pre arrival.
Starting date: As soon as possible.
For additional information regarding the project please visit the Lord Howe Island Rodent Eradication Project.
There are multiple positions available, please apply via email including covering letter, CV and the contact details of two referees to:
Darcelle Matassoni
Project Officer (Community)
darcelle.matassoni@lhib.nsw.gov.au
02 6563 2066 ext 40