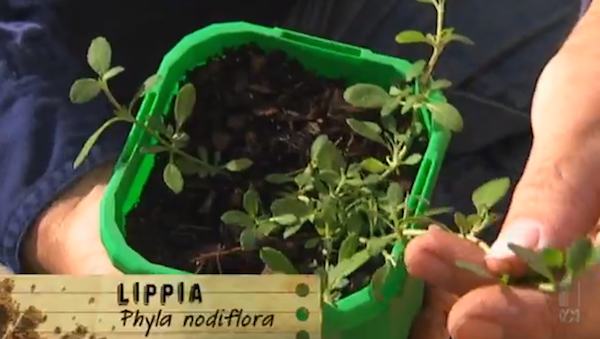 An alarmed supporter contacted us with a warning that ABC TV's Gardening Australia program had promoted a serious environmental weed, lippia.
Lippia (Phyla canescens) has established in all mainland states apart from the Northern Territory and is now a serious threat to biodiversity, particularly in riparian areas in the Murray-Darling Basin. It is extremely hard to control.
Unfortunately, it is legal to sell Lippia in most places (it is declared only in NSW), and despite its high weed risks,, it is sold in many plant nurseries as a garden ornamental and a lawn substitute.
Adding to the problem, it is often confused with and sold as a closely related species, Phyla nodiflora (variously known as lippia, carpet weed or frog fruit), which is also weedy, although it has not yet proven to be as devastating as lippia.
During the Gardening Australia segment, broadcast on 28 June 2014, presenter Josh Byrne suggests suitable plants to fill in small high-traffic gaps in small suburban gardens. A plant labelled 'Lippia (Phyla nodiflora)' is suggested as a 'great sprawling groundcover'.
The Invasive Species Council contacted Gardening Australia to warn of the danger of promoting a serious weed. We were pleased when Executive Producer, Tim Mitchell, replied agreeing that the issue of weeds is critical.
He confirmed that they will add a note about the dangers of lippia to the fact sheet that accompanies the show but refused to modify the online version or make any mention in the show the following week.
More info