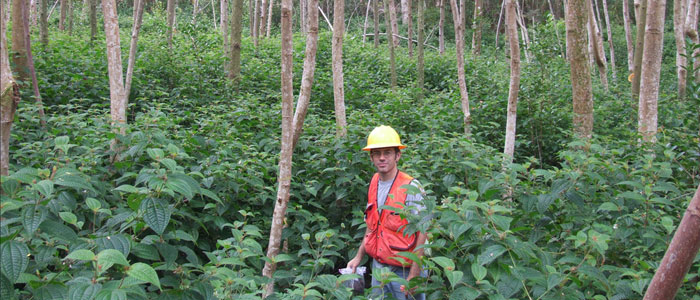 They've just decided to let loose the next lantana, Koster's curse, and nobody thought to ask us if maybe that was a bad idea.
Ten months ago a decision was made to abandon the eradication of a highly invasive weed, Koster's curse, and we've only just found out.
There was no advance notice, no consultation and not even a requirement to let anybody know the outcome.
We only know because up until now Koster's curse has been targeted as part of the 'four tropical weeds eradication project', which began in 2002 under national cost-sharing arrangements.
Initially few funds were allocated for the eradication, but this improved between 2011 and 2014 when $4.6 million over three years was allocated for eradication of the four weeds. This information was known, but it's harder to find out what happened next.
Koster's curse (Clidemia hirta) is a densely branching, long-lived shrub that grows to between 0.5 and 5 metres. It is predicted to cover humid coastal sites in the Northern Territory and much of northeast Queensland.
Worryingly, Koster's curse is highly invasive, described as a 'nightmare weed'. It has already spread from its home in South America to dominate forests in many tropical countries including Hawaii, Malaysia and Fiji. According to the federal environment department it can form 'dense thickets that smother plantations, pastures and native vegetation, much like lantana'.
On the move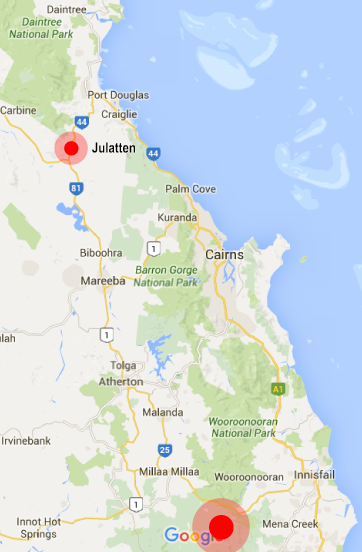 It was first found in 2001 at Julatten, 50km north of Cairns. Fortunately, the infestation was small – only a few hundred plants. But since the numerous berries can be spread by birds and wash downstream, an extensive search had to be mounted for new plants.
This all changed when a new infestation was found 150km to the south in a national park near Innisfail. It had been there some time. Eradication was to be a major undertaking and beyond the resources of the current eradication program. It was deemed not technically feasible to eradicate.
While the serious weed remains a declared pest in Queensland, a panel of state and federal public servants decided to halt the government-led eradication program. The weed will now be allowed to spread and expand its range, and could become the new lantana of the north.
Local fury
Ian Adcock, Chair of the Mitchell River Watershed Management Group found out about the decision in September and was distraught. "It beggars belief that we're going to leave the doors open and walk away," he said.
Ian noted that the eradication effort at Julatten that used expert field teams and local contractors was costly.
"People would be right to think that's a lot of money to spend every year, but the teams were making great progress on getting rid of this plant. Once it gets away, we'll be spending ten times that amount just to protect some of our key assets from being over-run.
"Our ecosystems and primary producers will be devastated by yet another invasive weed that takes expensive resources every year just to keep a paddock and a creek line cleared. In other countries graziers have had to simply walk off the land once Koster's takes hold. It's that bad."
The Mitchell River Watershed Management Group has not given up. It will keep going with Koster's curse eradication efforts near Julatten, calling on landowners, council and the rest of the community to make up for the loss of government funds. We don't know what will happen to the new outbreak.
Keeping us in the dark
Secretive decision-making is the norm when it come to how Australia decides if it will begin or halt eradication of dangerous weeds, pests or feral animals.
In 2012 a decision by the Newman Government to abandon Queensland's yellow crazy ant eradication program was done without consultation, without justification.
Decisions about whether to continue eradicating red imported fire ants, one of the worst invasive species ever found in Australia but one that we can still eradicate, are conducted in secret.
In 2011 the smooth newt was found in a creek to the southeast of Melbourne, the first time a newt or salamander type species had established in Australia.
Despite the potential impacts on our river systems, two years later it was decided to do nothing. Months later we found out about the decision by accident and then had to request documents via freedom of information legislation to establish what happened.
The secretive processes raise serious questions about government decision-making on whether to eradicate or not to eradicate a major new environmental pest in Australia.
Why is the public kept in the dark about the consequences of a decision before it is made?
Why can't the public have a say in the fate of our natural environment threatened by invasive species before the government decides for them?
What chance does the community have to offer help before government abandons an eradication program?
If prevention is the stated goal of Australia's biosecurity system and confirmed as the most cost-effective approach, why are eradication programs so readily abandoned.
One rule for agriculture, another for nature
If a pest impacts agriculture, affected industries are routinely consulted.
For a major development that affects the environment there is usually a public environmental assessment and the chance to provide submissions and participate in a public debate about its merits.
The impact of not eradicating a particular plant or animal pest will be experienced by generations of conservation land managers and volunteers. The pest may transform vast areas of Australia's environment and be the trigger to push some species to extinction decades later. For ants like the red imported fire ant, they may completely alter the way we interact with nature and the outdoor, making many people afraid to visit open spaces and parks for fear of being attacked.
Secretive biosecurity decision-making must change. Eradication decisions must be open to public scrutiny.
This is the only way to give people a real say in their future and to put invasive species prevention into practice.