A count of horse numbers in Kosciuszko National Park after the 2020-21 bushfires has confirmed the urgent need to reduce growing numbers of destructive feral horses in Kosciuszko to protect the park from their damaging impacts.
The estimated post-bushfire count was released by the NSW Government and puts the estimated number of feral horses in Kosciuszko at 14,000. The report also says there could be as many as 22,000.
NSW deputy premier John Barilaro, who instigated the post-bushfire horse count, is reported as now supporting drastically reducing horse numbers in Kosciuszko and the need for science-based feral horse management.
"In recent years the debate had been stuck on distracting issues like the precise number of feral horses and the impacts of last summer's devastating bushfires on the horse population," said Invasive Species Council CEO Andrew Cox.
"It looks like the NSW Government has turned a corner and now has all the information it needs to draw up a new horse plan for Kosciuszko that will work."
ANU environmental management expert Professor Jamie Pittock said the numbers confirm the need to immediately reduce horse numbers in the park.
"Confirmation that around 14,000 feral horses are roaming Kosciuszko National Park reiterates what we have known all along, that there is an unsustainable level of horses in the park that are destroying Kosciuszko's incredible natural values," Professor Pittock said.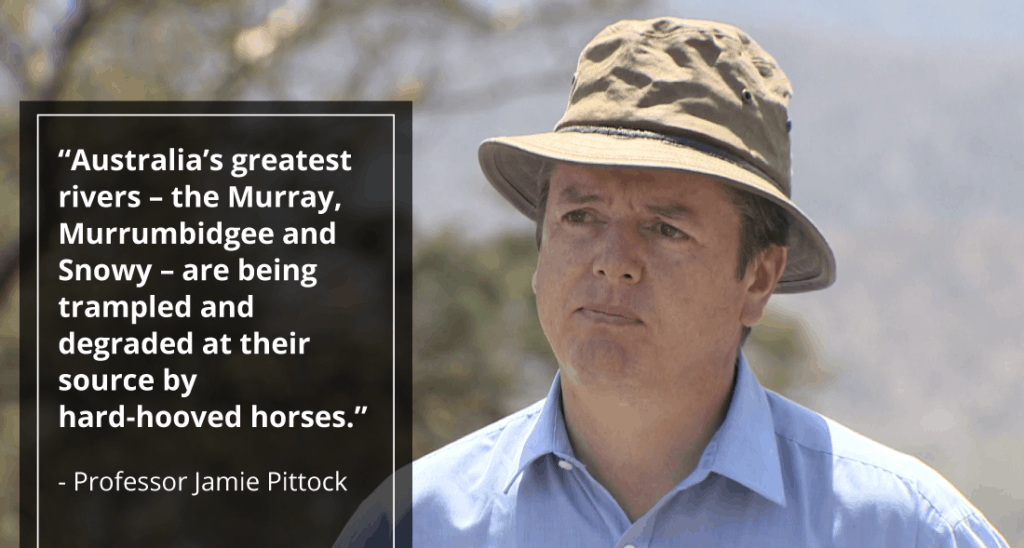 "These results confirm that there are thousands upon thousands of horses in Kosciuszko, and as the park continues to recover from bushfire their numbers will continue to grow.
"The environmental damage speaks for itself, horse numbers in Kosciuszko National Park must be immediately reduced."
The Invasive Species Council has long called for science-based feral horse management in Kosciuszko National Park, and is greatly concerned by the unrestrained growth in numbers.
The council has been a lead player in the creation of the Reclaim Kosci campaign, a community-based push for greater protection of Kosciuszko National Park from increasing numbers of feral horses.
Candice Bartlett, who works for the Invasive Species Council and on the Reclaim Kosci campaign, said deputy premier John Barilaro's admission that horse numbers need to be drastically reduced, echoes the widely-supported draft plan proposed in 2016 by former environment minister Mark Speakman.
"We've lost valuable time over the last two and a half years and we still don't have a new horse plan in place," Ms Bartlett said.
"The Kosciuszko Wild Horse Heritage Act has been a huge distraction and is the wrong way to manage a serious environmental pest.
"It was in June 2018 that Mr Barilaro pushed through the horse protection law, dumping the 2016 plan and overriding national park legislation. He said his approach would see a reduction of horses in the park and protect sensitive areas," Ms Bartlett said.
"Every year we wait sees the scale of the problem grow and the damage to the park increase.
"Now that Mr Barilaro supports a science-based horse management plan, Reclaim Kosci looks forward to working constructively with the NSW government on the rapid implementation of a new plan."
At a glance
The new Kosciuszko survey shows there has been no significant change in horse density in northern Kosciuszko since comparable estimates carried out in 2019. Northern Kosciuszko is crucial habitat for a number of threatened animal species, has the highest horse population in the park and was the area most impacted by last summer's bushfires.
The survey provides a population estimate of around 14,000 horses in Kosciuszko National Park, and concludes with 95% confidence there are at least 9000 horses in the park but there could be as many as 22,000.
Previous horse estimates across the Australian Alps have shown positive trends in horse population growth in Kosciuszko over more than a decade. Kosciuszko was estimated to have a population of around 2000, 6000 and 20,000 horses in 2005, 2014 and 2019 respectively.
The new report is the first population estimate to be conducted specifically in Kosciuszko. The new estimate falls within the error range of the 2019 estimate.
Analysis of bushfire severity mapping shows the 2019-20 summer bushfires affected only 30% of Kosciuszko National Park occupied by feral horses and the new survey confirms that horse numbers in most areas are largely unchanged.
Reclaim Kosci represents a broad consortium of individuals and organisations that love Kosciuszko National Park and seek to protect it from the impacts of feral horses.
For the latest news on this issue and to support the campaign to protect Kosciuszko National Park go to ReclaimKosci.org.au