We pay tribute to Ian Thompson, Australia's first Chief Environmental Biosecurity Officer, who stepped down from his post at the end of November last year.
The creation of this role by Australia's agriculture minister David Littleproud in October 2018 marked a major turning point in how we approach the treatment of the environment within our national biosecurity system. Up to that point the federal government insisted that the systems protecting animal and plant-based agricultural industries would adequately cover the environment.
Clearly this was wrong, but it took the 2017 independent review of biosecurity and persistent pressure from the Invasive Species Council calling for environmental biosecurity to be given a formal place within the national biosecurity system.
The role's creation earned the minister one of our 2019 Froggatt awards. Ian was a fitting choice as our first chief environmental biosecurity officer and, once in the role, was an energetic advocate who cleverly began the daunting task of building up the environmental biosecurity system within a national government framework.
He brought to the role more than 40 years of public service experience and a vast network of people, having worked at the forefront of many flagship environmental and rural programs: the National Landcare Program, the National Heritage Trust, the National Action Plan for Salinity and Water Quality, water reforms and drought responses.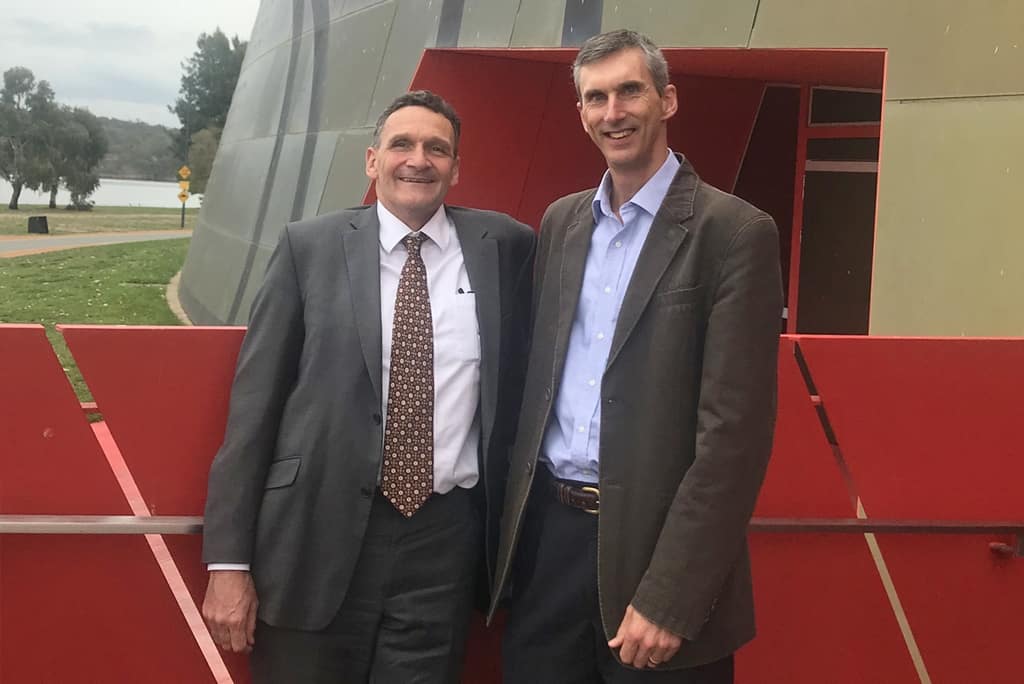 Understanding the value of community
Our encounters with Ian in some of his earlier roles revealed a senior government employee who understood the value offered by the community sector. He never tired of reminding others of the importance of the vast data birdwatchers collect through Birdlife Australia's annual Aussie Backyard Bird Count.
Progress in the realm of national biosecurity can be glacial – it relies on infrequent meetings of federal and state agricultural ministers as well as department heads. Yet Ian and his small team at the Office of Environmental Biosecurity managed to rapidly address key structural issues that had held back environmental biosecurity for years.
Key among these was the adoption of a National Priority List of Exotic Environmental Pests, Weeds and Diseases, filling a major gap that had inhibited a risk-based approach to dealing with biosecurity risks that could harm the environment.
He also worked hard at the international level to address one of the main biosecurity risks facing Australia – global trade – by convening and hosting an international symposium 'Limiting the spread of contaminant pests' under the auspices of the International Plant Protection Convention. This work has real potential to deliver long-term global benefits by reducing the incidence of hitchhiker pests on shipping containers.
His style was consultative and open, evidence-based and ambitious. He recognised the challenge ahead and was blunt about the deficiencies of the current biosecurity system and the huge work needed to build an understanding in the broader community about the risks posed by exotic pests and diseases and how best to manage them.
Ian would regularly warn, 'not doing something can often be the worst thing you can do', a reference to the typical government inertia when faced with a difficult problem.
It was probably no coincidence that Ian's appointment coincided with a greater participation by the agricultural sector in environmental biosecurity deliberations, such as attendance at environmental biosecurity roundtables, and greater collaborations with the other biosecurity 'chiefs', the Chief Plant Protection Officer and the Chief Veterinary Officer.
In a similar way to how Australia's first Threatened Species Commissioner provided national leadership on the need to take more robust action on feral cats, Ian provided important national leadership on environmental biosecurity.
Ian and his team were highly productive and resourceful as they brought to life Ian's prolific ideas and sharp intellect. They quickly pivoted after the twice-yearly biosecurity roundtables were cancelled in 2020 due to COVID. In its place they organised a series of eight webinars attended by more than 1000 people. Of particular interest were those focused on plant diseases – myrtle rust and phytophthora.
In a short period, Ian Thompson, Australia's inaugural Chief Environmental Biosecurity Officer, built a solid foundation for our maturing environmental biosecurity system. It was a fitting end to a distinguished 43-year-long career in the federal government public service.