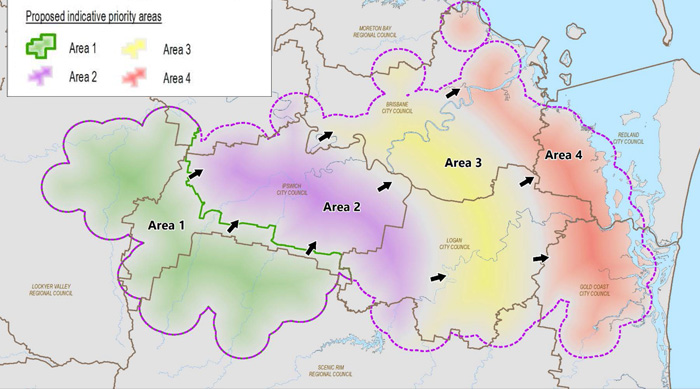 When state and federal agriculture ministers approved a ten-year, $411 million plan to eradicate red fire ants from southeast Queensland in July 2017, it was a watershed moment. Finally, the program had the long-term funding experts said was needed.
But a long, hard road still lies ahead. Eradicating fire ants from such a large and complex area will be enormously challenging and something no country has yet achieved. But it is worth doing.
Daryl Quinlivan, head of Australia's Department of Agriculture and Water Resources, told the national biosecurity roundtable late last year that with new funding, close to a billion dollars would be spent on fire ant eradication. However, due to the benefits of delaying their spread, he reminded us that even if fire ants were not eradicated the billion dollars would have been 'a good investment'.
So what has happened over the past nine months?
Nine months on
The new funding has already resulted in increased fire ant baiting and surveillance.
The baiting strategy is to work intensively from the western edge of the infestation in Queensland's Lockyer Valley and Scenic Rim council areas, then progress east in three more stages.
In the second stage, Logan and part of Ipswich council areas will be treated, then Brisbane City and the rest of the Ipswich area, and finally Redland and Gold Coast council areas. It is not feasible to treat the whole area at once. There will still be surveillance and some treatment in areas awaiting full treatment.
The difficulty in detecting every fire ant nest in an infected area means widespread baiting is necessary and public support is essential. We need people to report fire ant infestations, especially those outside treatment areas, and avoid moving material such as pot plants, soil and mulch that may carry fire ant queens.
A new steering committee overseeing the program has been formed, headed by independent chair Wendy Craik, and consisting of state and federal biosecurity officials. It is another reporting layer, but adds some independent oversight and transparency. The committee has already met three times and summaries of the past two meetings are on the steering committee section of the fire ant eradication website.
Expanding sources of advice
While former Queensland's Chief Biosecurity Officer Jim Thompson was steering committee interim chair, he committed to an annual stakeholder forum to share information and seek external views. The first stakeholder meeting will be held on Wednesday 9 May this year.
An interjurisdictional scientific advisory body will be established to provide 'advice and direction on scientific operational aspects' of the eradication program. A fire ant volunteer rangers program has been created to help with surveillance and raise awareness.
Improved governance
The Invasive Species Council was hopeful of a big shift in the way the red fire ant program was run after it received new funds, modelled on governance recommendations in our 'Seven Essentials' report. Wendy Craik wrote to us this year and said our 'sensible' recommendations are 'largely reflected' in the ten-year work plan.
Many of the changes are in line with our report, but there is still work to do in areas of transparency and community engagement. Quarterly progress reports and a map of infestation areas are not publicly available. The biosecurity zone map that describes fire ant movement restrictions has not been updated since July 2016, despite the detection of new infestations since then.
Elements of effective governance for eradicating red imported fire ants, as recommended in our report Seven Essentials:
Design an effective governance approach, including by consulting stakeholders and seeking the advice of experts.
Ensure structures and processes provide robust oversight and accountability to funders, industry and the community.
Make sure decision-making is transparent so that stakeholders understand the rationale for decisions and can have confidence in the program.
Develop a comprehensive eradication plan that includes techniques, costings, assumptions, roles and responsibilities, milestones.
Create an independent body to ensure the program is managed effectively.
Involve experts from relevant fields for program design, advice and review.
Make sure the community and industry is meaningfully engaged in the program.
No time to lose
It is in the interest of all Australians that we eradicate red fire ants from Brisbane's suburbs and beyond. Valuable time was lost when federal and state governments took a year to decide to fully fund the red fire ant program after the independent review delivered its findings.
Now there is a renewed determination and funding to eradicate the ants, we cannot let this chance slip by.
More info
Contact the Biosecurity Queensland red fire ant eradication program on 13 25 23 to report potential fire ant sightings and learn about movement restrictions in fire ant affected areas or view their online resources.