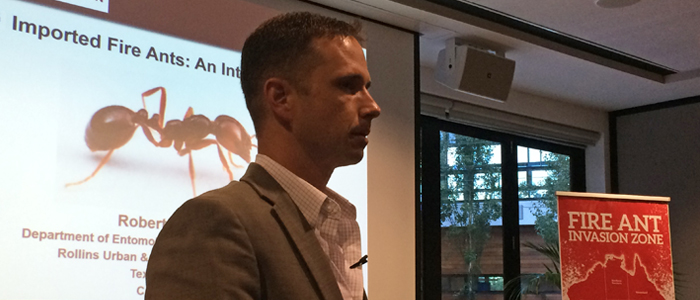 Our national fire ant tour, in which we visited five capital cities in just one week with US fire ant expert Dr Robert Puckett, was as much about reaching Australian political decision-makers as it was about warning Australians of the dangers if we fail to eradicate fire ants from Queensland.
Eradication of fire ants will only occur if all contributing parties – the federal government and every state and territory government – sign-off on the $20 million-a-year boost in funding recommended by the independent review of the eradication program. Funding is based on a per-capita formula (see our Feral Herald blog Who's Funding Fire Ant Eradication). All nine governments must come to a unanimous decision and one reluctant state can threaten the entire program.
So how close are we to getting the unanimous support needed?
Federally, Australia's deputy prime minister Barnaby Joyce has been a clear leader in advocating for fire ant eradication, publicly backing the review's findings in December 2016. When the deputy prime minister met Dr Puckett during our national tour, not only did the pair hit it off, the deputy prime minister reconfirmed his enthusiastic support for fire ant eradication.
Support from the eight state and territory governments is less clear.
The Queensland Government, being responsible for Biosecurity Queensland's fire ant eradication program, remains committed to action on fire ants. During our tour we introduced Dr Puckett to the state's agriculture and fisheries minister, Bill Byrne, with the conversation focusing on practical eradication measures. We all agreed that oversight, accountability and public confidence will be essential elements in a new eradication push.
On 4 April 2017 NSW's primary industries minister Niall Blair hosted a biosecurity briefing of the state's members of Parliament that included our detailed presentation on the red fire ant threat. The minister's strong association with our work on eradicating red fire ants suggests the NSW government backs the boosted eradication program.
We wrote to all state, territory and federal government agriculture, health and environment ministers seeking their positions. While the replies from South Australia, Victoria and Northern Territory were non-committal, all noted the major impacts from fire ants and the upcoming meeting of agriculture ministers where the final decision would be made.  No reply was received from the ACT government. We believe that the governments of South Australia, Victoria, the Northern Territory and the ACT are likely to include the boosted fire ant funding in their 2016-17 budgets.
This leaves Tasmania and Western Australia. Western Australia voted for a new government on 11 March this year, delaying its position. The head of the Western Australia department of agriculture and food wrote in support of the proposed enhanced 10-year eradication program while in caretaker mode prior to the election. The department reiterated this position when meeting Dr Puckett but we await the incoming government's final view. We are still to confirm the Tasmanian government's position.
Thanks to our national fire ant emergency tour, our awareness campaign and your support Australia is very close to achieving a national consensus on fire ant eradication.