Biosecurity is an increasing feature in all our lives. The detection of varroa mites in 2022 saw the emergency destruction of tens of thousands of commercial and feral honey bee hives in NSW; a red fire ant outbreak in Queensland threatens our Aussie way of life forever; and foot-and-mouth disease looms on our border.
Every day more potential invasive species threaten to hitch a ride on growing international travel and trade to Australia. The Decade of Biosecurity seeks transformative change to keep Australia safe from dangerous pests, weeds and diseases.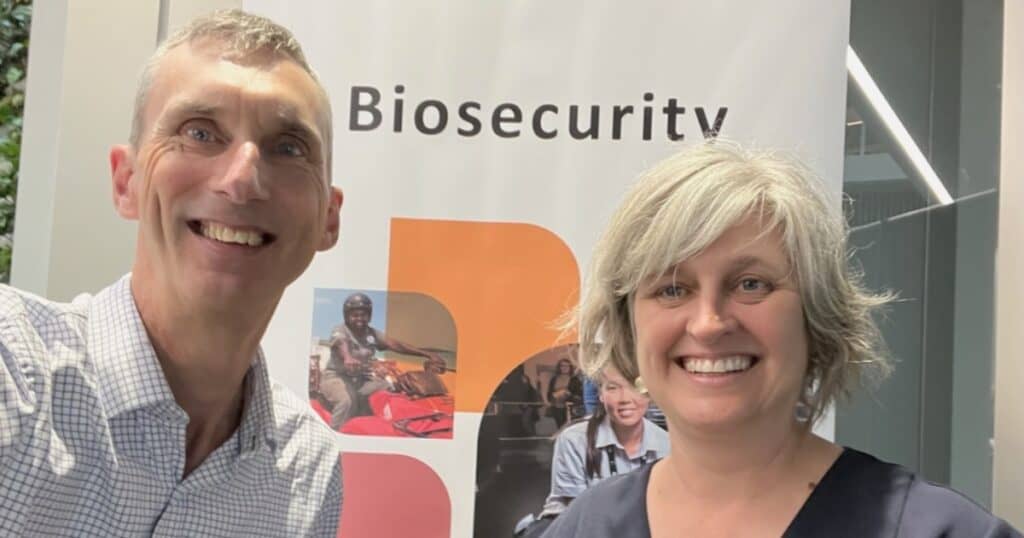 So we are pleased to welcome on board Emily Mellor as our new Decade of Biosecurity coordinator to lead this crucial work. Emily has a strong background working on advancing biosecurity and fisheries issues within the federal and South Australian governments, and collaborating with the livestock sector. Most recently she headed up the Red Meat and Wool Growth Program where her team was awarded SA and NT Rural Communicator of the Year.
I'm very excited to have been appointed as the Coordinator for the Decade of Biosecurity. I live in Adelaide and I'm a mother of three awesome kids! For me, transforming biosecurity is a vital way to protect our environment and way of life in Australia right now, and for my kids and their future families as they grow up.
I'm passionate about collaborating with government, industry and the community to find innovative ways of tackling our biosecurity challenges and identifying meaningful actions to achieve better biosecurity outcomes. I'm excited by the concept of all Australians playing their part as biosecurity warriors to protect our environment, our industries and our way of life.
Please feel welcome to contact me at emilym@invasives.org.au to discuss how you can play a role in making this the Decade of Biosecurity, and don't forget to sign the Decade of Biosecurity Pledge to stay in touch!
Industry and community groups, the federal government and all state and territory governments have committed to calling this decade the Decade of Biosecurity. Hundreds of government, industry and community representatives signed-up to support the project. Take the pledge at the Decade of Biosecurity website.
Note: The Decade of Biosecurity coordinator is hosted by the Invasive Species Council on behalf of the initiative partners.