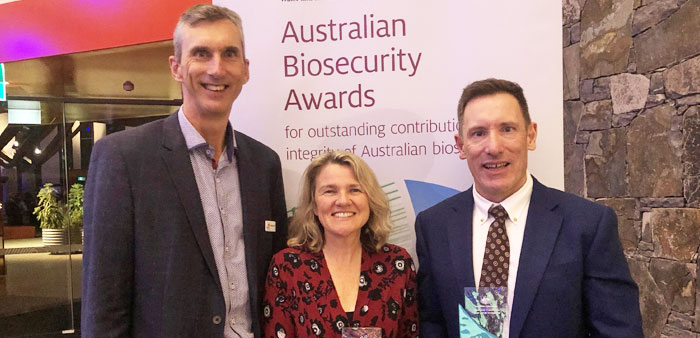 Successful efforts to eradicate yellow crazy ants from NSW have been honoured with a 2020 Australian Biosecurity Award.
The award went to the NSW Department of Primary Industries and the North Coast Local Land Services, who coordinated the eradication effort.
Yellow crazy ants are on the list of 100 of the world's worst invasive species and can swarm in great numbers, killing much larger animals like lizards, frogs, small mammals, turtle hatchlings and bird chicks.
A Lismore local, Milo Yeigh, first spotted the ants in the city's CBD in May 2018, earning him one of our 2019 Froggatt Awards. Further investigation revealed the ants had spread across 19 hectares of the city.
The ants were also detected at Terania Creek north of Lismore and close to the world heritage listed Nightcap National Park. This infestation is believed to have originated from the transfer of building materials from Lismore.
Over 18 months the NSW Department of Primary Industries and North Coast Local Land Services carried out an intensive biosecurity response that included treatment and surveillance as well as the use of Australia's first yellow crazy ant detector dog, Jet.
Six hundred residents within 10km of the two infestations received a letter asking them to check for yellow crazy ants. The results indicate eradication of the ants from the two areas has been achieved to a 70% level of confidence but locals will need to stay vigilant for any undetected yellow crazy ant nests for a number of years.
The nomination was made by the Invasive Species Council. The award winners were announced at the ABARES Outlook Conference dinner in Canberra on Tuesday 3 March.
Supporting agencies included the National Parks and Wildlife Service, Rous County Council, Lismore City Council and Wollongbar cattle tick inspection staff. Two local environmental consultants, Envite and Reconeco, were engaged while Landcare, the NSW Rural Fire Service, SES and other community volunteers assisted with surveillance.
The highly invasive yellow crazy ants are a serious threat to tropical and subtropical areas in northern Australia and are found on Christmas Island, Arnhem Land and parts of coastal Queensland where they are under a mix of eradication, containment and control.
The Invasive Species Council is working with Townsville Council to eradicate the ant from the Townsville area.
Other winners
The David Banks Lifetime Achievement Award
Ron Glanville: Over 40 years Ron played a leading role in Queensland's biosecurity including leading efforts to eradicate bovine tuberculosis, overseeing the establishment of Biosecurity Queensland and being part of recent reviews of the state's biosecurity capability and biosecurity on Cape York.
Farm Biosecurity Producer of the Year category
Seafarms Group, Australia's largest producer of farmed prawns, was recognised for its biosecurity preparedness and prevention programs.
Templeton Farming Enterprises, Australia's largest ginger producer, was recognised for its management of biosecurity risks.
Industry category
Andrew Crawford has worked in the customs broking and international freight forwarding industry and was recognised for educating and raising awareness about biosecurity within the industry.
Manildra Group won its award for putting in place innovative biosecurity measures for the import of wheat during the drought, including the use of a secure, closed loop system.
Zoran Kostadinoski is an industry representative who has championed improvements of Australia's biosecurity requirements with offshore suppliers.
About the Australian Biosecurity Awards
The Australian Biosecurity Awards recognise individuals, groups and organisations to support and promote Australia's biosecurity and the systems that uphold it.
The awards have government and industry categories. The Invasive Species Council would like to see future awards better acknowledge the significant contributions made by the community to Australia's biosecurity efforts.
Nominations for the 2021 Biosecurity Awards are now open. For more information, visit awe.gov.au/aba.