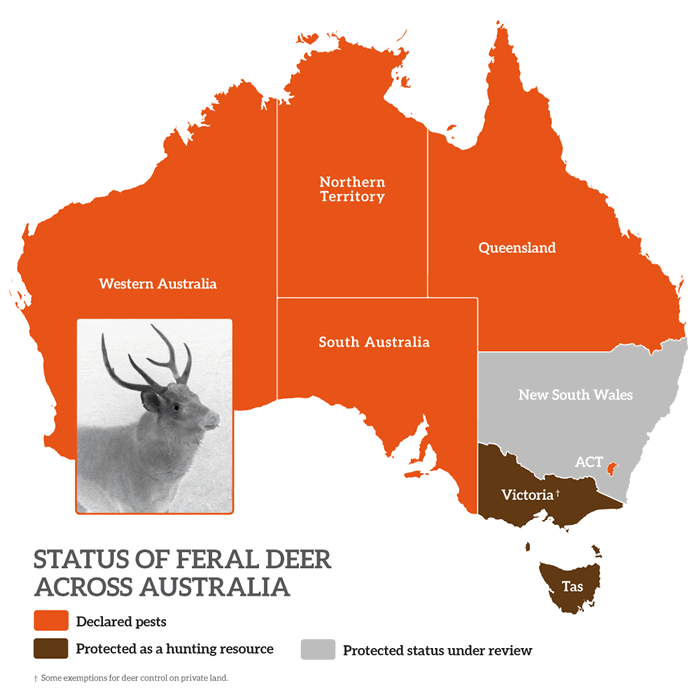 Time is running out for the NSW Government to declare wild deer, the state's most urgent feral animal threat, a pest species rather than continuing to protect it as a hunting resource.
"Feral deer are out of control in NSW," Invasive Species Council CEO Andrew Cox said today.
"For years their numbers have been allowed to grow, and now we're suffering the consequences – they are a major environmental threat to Australia's oldest national park, the Royal, and are becoming a menace on our roads – in the Illawarra region feral deer have caused nine fatalities in a seven year period and 100 collisions with trains."
In March an independent draft report by the Natural Resources Commission into pest animal management recommended deer be declared a pest species. The Commission delivered the final report to NSW Premier Mike Baird at the beginning of August. The final decision now lies with the premier.
"It is important the Baird Government back the overwhelming majority of the 400 submissions to the draft report that regard deer as an environmental, agricultural and social menace rather than cave in to narrow hunting interests determined to maintain deer's status as a protected species", Mr Cox said.
Feral deer can now be found in most regions of NSW, threatening the Royal National Park and the Illawarra escarpment rainforests, Kosciuszko National Park, the coastal forests between Newcastle and Coffs Harbour and even woodlands and rangelands in the west.
They damage fences, pastures and crops and can spread weeds and diseases.
"In NSW deer are still managed as a recreational game animal, aimed at keeping deer numbers high enough to be a game resource," Mr Cox said.
"As well as a pest species declaration, a statewide feral deer containment plan must be funded and implemented to prevent their further spread.
"Queensland, South Australia, the Northern Territory and Western Australia have all declared deer a feral pest. It's time NSW followed suit."
For comment
Andrew Cox on 0438 588 040.
More info