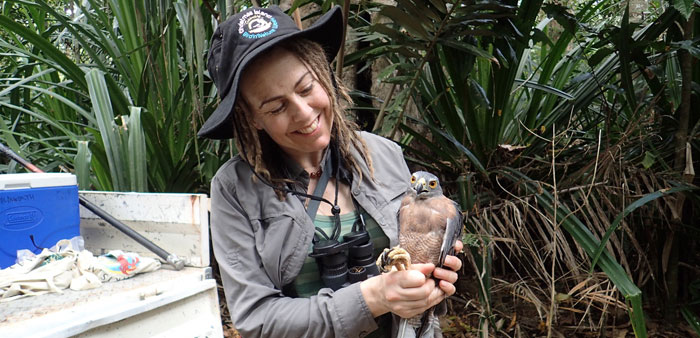 The author of a children's book championing super dogs, hero rats and cyborg bees has been honoured in this year's Froggatt Awards, given annually to Australians protecting our native plants and animals, ecosystems and people from dangerous new invasive species.
"Tasmanian author Nic Gill has won a Froggatt Award for her extraordinary children's book, Animal Eco-Warriors," Invasive Species Council CEO Andrew Cox said today.
"It's hard to believe, but Nic has turned the frightening world of dangerous invasive species into a mesmerising children's book filled with inspiring stories about animals operating on the frontline of biosecurity in Australia."
The Froggatt Awards are named in honour of Australian entomologist Walter Froggatt, a lone voice in the 1930s warning of the dangers of releasing the cane toad into Australia to control beetle infestations in sugar cane.
"Animal Eco-Warriors is filled with inspiring stories like the one about biosecurity beagles at Hobart airport, sniffing out diseases and other environmental threats before they make it past the security gate, terriers ensuring Tasman Island remains free of feral cats, and sniffer dogs hunting down orange hawkweed in Kosciusko National Park," Mr Cox said.
Ms Gill was awarded a Froggatt Award for 'creating positive and engaging stories for children about biosecurity'.
"I wrote Animal Eco-Warriors because I wanted to share stories of animals and people working together to protect our planet, and a lot of the chapters in the book focus on invasive species," Ms Gill said.
"A lot of people know that our native species are directly threatened by habitat loss, but not so many understand the role invasive species play in pushing native plants, animals and environments towards extinction.
"When a forest is clearfelled, there's an obvious, immediate loss, but when invasive species threaten an ecosystem, they do so incrementally, in a way that's not so immediately obvious.
"I think it's so important that people, particularly children, come to understand these threats, so that we can better protect our native ecosystems, plants and animals."
Animal Eco-Warriors is published by the CSIRO.
The former head of the National Farmers' Federation, Dr Wendy Craik, was also awarded a Froggatt Award, alongside David Palmer and Dr Richard Sheldrake.
The three formed an independent panel reviewing Australia's national biosecurity system and handed down a landmark report recommending 42 actions to strengthen and future-proof Australia's biosecurity system.
About the Froggatt Awards
Invasive species have become one of the largest threats facing Australia's natural environment, but their continued arrival and spread is all too often neglected as a conservation issue.
The Froggatt Awards are given to those who have made a major contribution to protecting Australia's native plants and animals, ecosystems and people from dangerous new invasive species.
For comment
Invasive Species Council: CEO Andrew Cox – 0438 588 040.